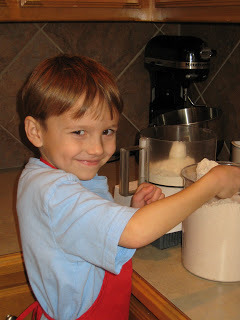 I'm not sure if it's his age or his personality, but FishBoy 6 has been loving all sorts of cooking and crafting activities lately. I have a myriad of pink, handcut hearts strewn all over the school room floor as he has been working on Valentines this week. Yesterday he helped me prepare a veggie tray. And here he is helping me make some of our favorite scones. They are delicious and super easy to make with kids.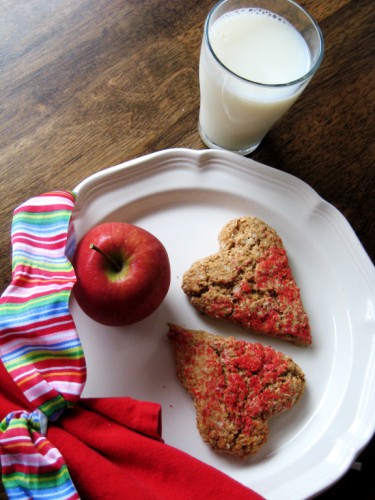 Maple-Oat Heart-Shaped Scones
1 c. unbleached flour
1/2 c. whole-wheat flour
1/2 c. quick-cooking oats
1/4 c. brown sugar
1 Tablespoon baking powder
1/4 teaspoon salt
1/4 c. butter, cut into pieces
3/4 c. buttermilk
1 egg
1 Tablespoon maple extract
white, pink, or red sugar
Measure flours, oats, brown sugar, baking powder and salt into the bowl of food processor fitted with metal blade. (Adults only should handle metal blade.) Secure lid and pulse briefly to mix. Add butter pieces and process until coarse crumbs are formed. Pour crumb mixture into a large mixing bowl.
(If you do not have a food processor, the same effect can be achieved in a mixing bowl with a pastry blender, fork, or two table knives held together.)
In processor bowl, combine buttermilk, egg, and maple extract. Slowly pour wet ingredients into dry crumb mixture and stir quickly, just until dough forms. Overmixing will result in tough scones. Empty dough onto lightly floured surface. Knead three or four times with floury hands. Dough will be sticky. Shape dough into large, flat round. Cut into eight wedges. As you separate the wedges, indent the rounded side so that it forms the top of a narrow heart. The point of the wedge will form the point of the heart. Place the eight hearts equally spaced on ungreased baking sheet. When ready to bake, sprinkle heavily with colored sugars and bake for 15-20 minutes at 375 degrees.
You can also freeze the scones, baked or unbaked. Flash freeze and store in an airtight container in the freezer. If baking from frozen, increase baking time 5 minutes. Alternatively, bake and cool the scones and store them in an airtight container in the freezer.
For more ideas of what could work for you, too, visit Rocks in My Dryer every Wednesday.
And for a great Valentine's Exchange of Ideas and Inspiration, visit Parenting the Tiniest of Miracles. Today Jessie Leigh is hosting a roundup on activities to do with children. Come back to Life as MOM tomorrow for a Sweetheart Treats recipe swap.