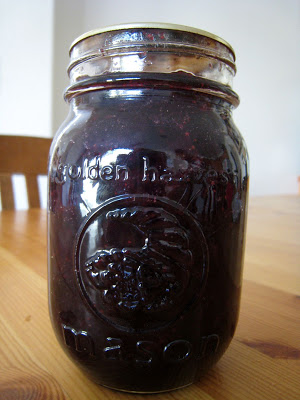 I am not a canning expert. Nor do I play one on TV. But, I have canned a few jars of jam in my time. We enjoy homemade jam as a healthier alternative to storebought.
I say healthier, because I usually make jam without added pectin. This can be a tricky process as pectin is the natural element in fruit that makes jam "gel." Many fruits, when ripe, don't have enough pectin to make that gelling thing happen. However, if you add commercial pectin, you have to add a lot more sugar. While sugar is necessary for preservation, I prefer to have less when possible.
(I don't pretend to know the science. I'll let someone else explain that.)
Last year I got strawberries and blueberries on a fantastic sale and then went hunting for some jam recipes without added pectin. My search turned up this recipe for Strawberry Jam without Pectin. While it was a little labor intensive with the limes and the apples and all, it worked perfectly.
I must confess that I did try to cheat on my subsequent batches by simply adding chopped apple to my jam. That did not work perfectly. We have lots of lovely berry-apple syrup.
Making homemade jam can be a wonderfully economical practice if you can:
find jars inexpensively
find fruit inexpensively
have time to stew over a hot stove
I enjoy the process as well as the finished product. So, it definitely works for me.
Do you can?
Want the dish on delicious ways to act your wage? Subscribe to GCE in a reader or via email.