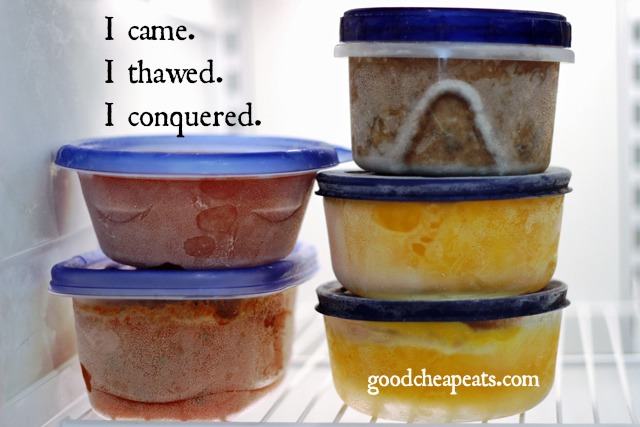 You can be a freezer cook extraordinaire or a whiz at grocery shopping on a budget or even a dynamo when it comes to creating a delicious and nutritious meal plan, but if you don't get food on the table in a timely manner, all your prior efforts kinda fall on their faces. If the freezer meal stays rock solid or the bargain ingredients just sit in the pantry, you haven't reached the ultimate goal: feeding your family.
Take these steps right now to make dinners happen this week:
1. Take inventory.
What do you have already that you can use up this week?
2. Create your plan.
Grab one of my free meal plans or follow this meal planning series to craft one of your own.
3. Shop for necessities.
Store your purchases accordingly. If you know you're going to cook that meat tonight, don't put it in the freezer. If you're going to make pasta right now, leave it on the counter and get a pot of water going.
4. Start prepping.
Need to cook eggs, make salsa, chop vegetables. Do those things right now so you're ahead of the game. Check out this list to see what you can prep in just an hour to give you a great jump on the week. Grab this meal prep printable to make it even easier.
5. Make a list of things to thaw.
If you have both a side-by-side and a deep freeze, move the things you will use this week into your kitchen freezer. Tack a list on the front of what you need to pull. Maybe even pull some things in advance. Some things take longer than you expect.
Making dinner yourself will save you money. It will help you eat better. And it will give you the opportunity for more face time with the people you love. Now, get busy!
What's YOUR trick for making meal plans happen?