Wondering how to do all you need to do and still get dinner on the table? Time to make dinnertimes easier!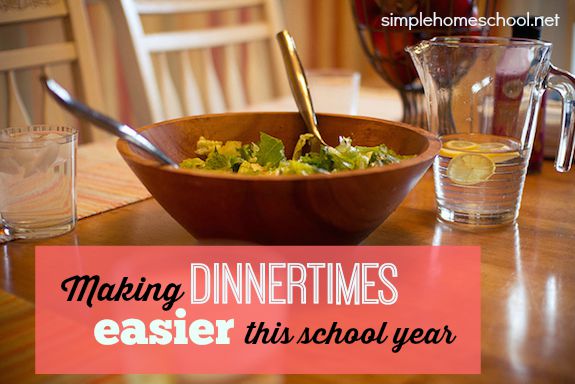 As a mom who teachers her kids at home, I've really benefitted from reading the Simple Homeschool blog over the years. It is so nice to hear how other folks tweak systems to make it work for them.
Last month, Jamie graciously let me chat over there about how to Make Dinnertimes Easier This School Year.
Make Dinnertimes Easier
Several times during a school year, the thought hits me: I just can't do it all.

I can keep a perfectly tidy home, or I can rock an awesome homeschool, or I can make healthy, three-course meals three times a day, or I can run a great home business.

Did you see the or's?

I simply cannot do them all, all the time. When school lessons are going great, the house is often a mess. When I am writing great content and keeping up on all aspects of my writing business, I might end up skipping science for the week. When my house is spotless, it's probably a sign that everything else has fallen by the wayside.
HEAD HERE TO LEARN HOW I MAKE DINNERTIMES EASIER .
The tips will apply to anyone, regardless of how you do school. 😉
Be sure to check into my ongoing series, Quick Dinner Ideas, for more ways that you can eat real food without a lot of hassle or expense.