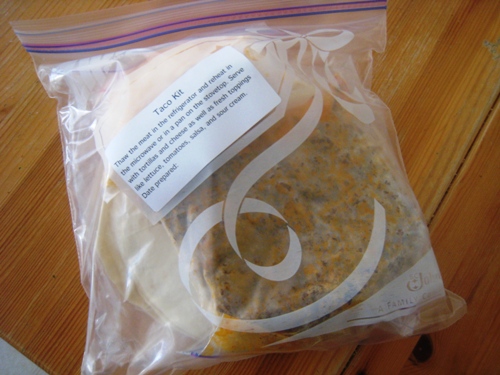 Years ago in my couponing days, I found these pasta kits that came with all you needed to create a full dinner. No doubt you've seen similar kits for tacos, burritos, or even pizza.
Why not make your own kit and stash it in the freezer?
I did this yesterday, creating taco kits complete with seasoned taco meat, tortillas, and shredded cheese. We'll thaw a kit in the fridge, reheat the meat, supplement with fresh lettuce and salsa. Voila!
Dinner is served.
You can make kits for pizza, tacos, burritos, and stirfry. Simply package the components individually and combine them in a larger freezer bag. Be sure to label it so that the fam can prepare dinner on their own on the night when you're out.
Ready to get cooking, freezer cooking, that is?

Take the Freeze Your Assets workshop.

Over four weeks, I'll help you get organized so you can make freezer meals a regular part of your kitchen strategy.

Through a printable workbook, five learning modules, five 30-minute coaching calls, and a private chat group to share ideas, ask questions, and get personalized help, you'll up your freezer cooking game so you can save money, time, and a few brain cells.