A pantry challenge is a concentrated effort to shop the kitchen before heading to the stores. I learn lessons afresh each time I do it.

Every January now for several years I give special attention to "eating down the pantry". It's a great way to scale back after the business and excesses of Christmas.
It's also a great way to clean out the freezer.
The Pantry Challenge is one way that I "get back to basics".
It's in January that we do a type of clearing house, using up what's in the fridge, freezer, and pantry, rotating stock, and trying to cut our expenses a little. We have so much after the holidays, that it's actually pretty fun for the first few weeks of the pantry challenge.
While we could certainly "live" off the food in our home for an extended period of time, it would produce some very interesting, not to mention monotonous, meals. I don't forbid myself from spending money. I just try to shop my kitchen first and only buy what we really need.
I don't stop our produce box during this time so we still get fresh fruits and vegetables. And special dispensations are allowed to take advantage killer deals on items that we normally use. I can still stockpile, but in the absence of any great deals, I just use what we have.
Here are some of the lessons I've learned from a Pantry Challenge:
1. Core basic ingredients allow you to make a myriad of meals.
I realized early on that there are some ingredients that give me so many options. They are the basis of my frugal pantry. If I have an abundance of these items, I can keep my family happy for weeks on end:
flour
whole grains and pastas
eggs
leavening
sweeteners
herbs and spices
root vegetables
legumes
fruit
vegetables
fats and oils
tomatoes
nuts and seeds
rich flavors, like spicy peppers, rich cheeses, vinegars and sauces
liquid dairy
Sure, we add in meat, but we could live without it if we had to. These basics are things that I stock up on when I find a good sale and they build a pantry that is easy and fun to cook from.
When things started to get dicey during this recent Pantry Challenge, I found that eggs, flour, milk, and cheese could get us over a number of hurdles.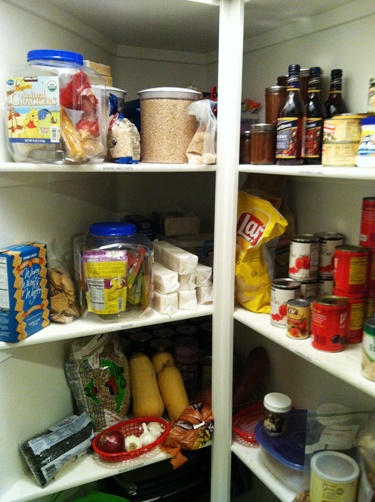 2. We have more than we need.
We live an abundant life here in the US. While it's been some time since I traveled abroad, my earlier experiences teach me that we really do have an abundance. The pantry challenge is a small but poignant reminder to be thankful and not to take my full cupboard for granted.
Once upon a time, we had an involuntary pantry challenge. We had no income and lots of debt. This was years ago and I still had more than enough in the cupboard to see us through a rough spell.
3. I bake more during a pantry challenge, and that's a good thing.
In order to keep my kids from complaining due to lack of snacks, I found myself baking a lot more. Not only did this provide my kids with ample "fun food" but it was also better fun food than if I had loaded the cupboards with boxed crackers and chips. Plus, homebaked is usually a lot cheaper than storebought.
Now that my boys are coming along in their own culinary endeavors, I'm able to hand off a recipe and let one of them do the baking.
We made a many, many batches of Artisan Bread Dough in 5-Minutes a Day which at fifty cents a loaf saved us a fair chunk of change each week.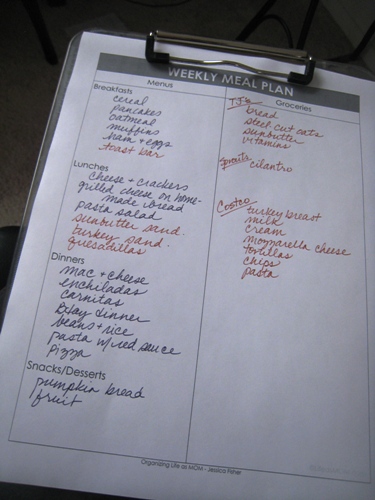 4. I meal plan more carefully.
Careful meal planning means I'm less likely to run for take-out — though it did happen on occasion — or just throw together a meal. I found that I felt better about what I was feeding my family on the days when I put careful effort into our meals. Not only was that effort saving me money, but it was an expression of my care for my husband and children.
Those fend-for-yourself meals just weren't that much fun.
5. I build a better pantry.
In the weeks and months directly following a pantry challenge, I tend to buy more carefully. It's fresh in my mind that my family doesn't love eating too many pork dinners in a row and that dark meat really isn't a favorite.
This guides my shopping and helps me buy things that I know are better for our family. I end up with a pantry that works for us. Since my kids and our seasons of life are always changing, this is an ever-evolving process.
Years ago I stocked up on organic pumpkin at 50 cents a can. I bought two cases, fearing the inevitable pumpkin shortages. Well, I still have some of that pumpkin, but I don't need it like I once did since our produce box drops a wealth of butternut squash on my doorstep each week. (Butternut can be used in place of pumpkin in most recipes.) Thusly, my pantry needs change over time.
6. I waste less.
A Pantry Challenge takes me back to the basic wisdom of our grandmothers: waste not, want not. I repurposed leftovers, made homemade stock, incubated my own yogurt, stirred up multiple pots of Thursday Night Soup, and used up little random bits that would have gone to waste had I not been mindful of what we had.
(An inventory at the beginning of the challenge showed me what I had to work with.)
In fact, I remembered to check the dates of some things in our Emergency Food Supply and was able to swap out some crackers that were expiring this month. It's not a good deal if it ends up going in the trash.
7. I spend less.
All this homebaking, using up leftovers, and cleaning up odd bits of stuff in the freezer results in an overall savings on groceries. For our 28 days of this Pantry Challenge, I ended up spending $468, shaving several hundred dollars off our $800/8 people/month grocery budget.
We ate well and the savings helps offset fluctuating grocery prices throughout the year, helping us keep our spending in check.
The pantry challenge was a success, in more ways that one. Could we live on less? Sure. But, we might not enjoy it as much as we do now. We pick and choose our special to us things.
As for our family, we're learning to find balance, buying the things we love, eating well, and spending less.
Eat Well, Spend Less

This post is part of an ongoing series about how to eat well and spend less. Along with some fabulous foodies, organizers, and frugalistas, I've been bringing you suggestions on how to eat like a king without becoming a pauper to do it.
This month we're going back to basics. From how to cook pasta or make homemade chicken stock to how to cook from scratch or get your husband on board with diet changes, we've got you covered.
Be sure to check out what the other ladies are sharing this week:
What's YOUR experience with a Pantry Challenge?