This is the week to change some habits and set some goals. Many people have put "healthy eating" on their list of changes to make in the new year. Our family is no different. With my husband's blessing, we've decided that we are going to make a concerted effort this year to reduce fat, increase whole grains, and transfer to more natural forms of sweeteners. Oh baby, it's going to be rough. But, if FishPapa's onboard, we're good.
A house divided against itself cannot eat whole grains and be happy.
We're "eating from the pantry" this month, so that means using up the "less than healthy" ingredients and then replacing them with more nutritious options. But, in the meantime, Sunday night we ate the last Slab Apple Pie. My! Was it good! Out of this world, actually. I'm not ditching that recipe. Oh, no, ma'am. It's just moving to the once-in-awhile list.
Today's URS is dedicated to sharing healthier recipes. Lately, I've been substituting whole grains wherever I can, like using this whole wheat pastry flour that I got for a great deal instead of regular flour. It's resulted in some "wheaty" meals, but I think we'll get used to it after awhile. Some recipes haven't really flown well, but others have been a hit, like this coffeecake.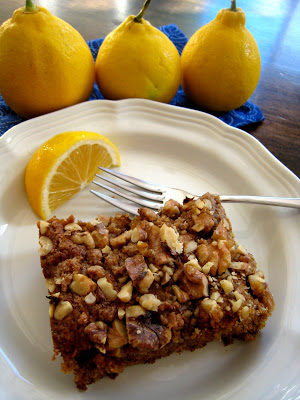 Lemon-Walnut Coffeecake
Made with whole wheat pastry flour and light olive oil, sweetened with sucanat, and accented with lemon zest and walnuts, it promises to be "nutritious and delicious." The first time I made it, I didn't even get to taste it! The kids scarfed it down before I got home from my Mom's Morning Off! So, I just had to make it again. Feel free to use brown sugar and unbleached flour if that's what your pantry holds.
1 cup unbleached flour
1 1/4 cup whole wheat pastry flour
1 1/4 cup sucanat or brown sugar
1 teaspoon cinnamon
1/4 teaspoon ground ginger
1/2 teaspoon salt
zest of one lemon
3/4 cup light olive oil or other cooking oil
1 cup chopped walnuts
1 teaspoon baking powder
1 teaspoon baking soda
1 egg
1 cup buttermilk
Preheat oven to 350°. Spray 9×13-inch pan with nonstick spray. In large mixing bowl combine flours, sucanat, cinnamon, salt and ginger. Blend in oil until smooth. Remove 3/4 cup mixture and combine with walnuts. Set aside.* Add baking powder and baking soda, egg, and buttermilk to remaining flour mixture. Blend until smooth. Pour into prepared pan. Sprinkle crumb-nut mixture over batter. Bake for 30 minutes or until tester comes out clean.
* You can also leave the crumb top and the nuts separate and sprinkle them on separately. This is helpful for families that have nut-haters and nut-lovers. Just put nuts on one half — or 3/4's — whichever you prefer.