Juicy, late summer peaches make a fabulous foil for smoked turkey breast, Asiago cheese and salad greens.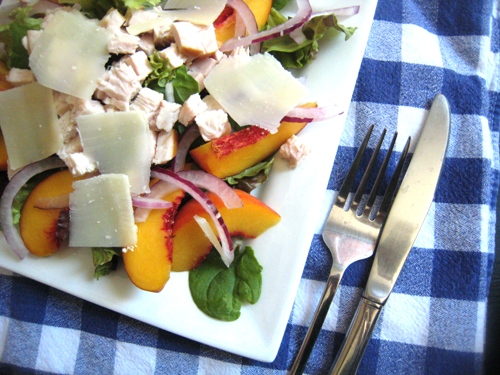 If you like to eat seasonal, this may be your last chance for peaches. We have had our fair share this summer. I was sick of them at one point. And now I kinda miss them.
Isn't that just like fickle me?
You'll love this salad if you've got late summer peaches on hand. But, since fruit is so forgiving and versatile when it comes to salads, know that you could trade the peaches for plums, apples, pears, or grapes. It's all good!
Recipe: Late Summer Salad with Turkey, Peaches, and Shaved Asiago
Summary: makes one salad
Ingredients
1-2 handful salad greens
2 ounces cubed smoked turkey breast
1 peach, sliced
several rings sliced red onion
1/2 ounce shaved Asiago cheese
Instructions
Layer the ingredients on a large dinner plate. Drizzle with vinaigrette.
Preparation time: 5 minute(s)
Number of servings (yield): 1