Kitchen Winning in the art of making the most of your resources in the kitchen so that you can WIN at the table and have it carry over into other areas of your life.
Hey hey hey! I just wanted to let you know about something new on the horizon. After years of experimenting with different livestream social media platforms, I decided to do something a little different.
Every other Saturday morning, I invite you to come sit at my kitchen table so that we can talk about ways to win in the kitchen.
They say that great abs are made in the kitchen, but I believe that's where great DAYS, and by extension, great lives.
What you do in the kitchen has a direct impact on your budget, your health, and your relationships.
Heck! They say that your kids will even do better in school if you eat together every night!
There is no better time than now to start winning in the kitchen.
Join me for Kitchen Winning: a bi-monthly livestream all about cooking and winning in the kitchen.
I believe cooking and meal planning don't have to be overwhelming. You CAN get organized in the kitchen and make great meals without going broke or freaking out. In each bi-weekly episode we'll talk about some new way that you can WIN in the kitchen.
Coming soon:

I'm looking forward to chatting with you during episode 3 of Kitchen Winning! I'll be interviewing one of my favorite Kitchen Winners, Kate Schat from Venison for Dinner.
I'll be producing this livestream via the Crowdcast app. It'll kinda be like a podcast but with my face to look at. 😉
What is Crowdcast?
Crowdcast is a little different than other live streaming platforms. There's a cool polling function, a time-stampable Q&A function, and a chat box. Best yet, since it's not on widespread social media, there will be less likelihood of trolls joining us. Booyah!
Is there a cost?
The 30-minute episodes are free for you to attend, so I hope you'll join me. You do need to register, though, which you can do here: https://www.crowdcast.io/e/kitchen-winning-episode
What if I can't attend the live event?
Kitchen Winning replays are available whenever you are. If you register in advance, however, you can submit your questions beforehand so that they can get answered on air.
When's the next episode of Kitchen Winning?
The next episode goes live on Saturday, January 19 at 10 am PST. Say you'll come! It's gonna be so fun!
Past and Future Kitchen Winning Episodes: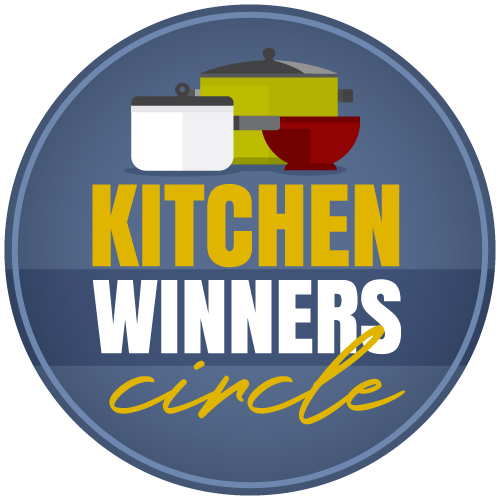 If you enjoy this type of learning, you will love the Kitchen Winners Circle, a place to connect with fellow home cooks, learn new strategies and skills, and get cooking in ways that help you reach your goals.