It's great to have a full freezer, but unless you know what's IN your freezer and actually serve it for supper, it's not really a help to you. And if you have a large freezer, it can be easy to forget what you have or how long it's been there.
I defrost my freezer at least twice a year during our Pantry Challenge in January and again in July. But, in between those times, it can be anybody's guess what we've got on hand.
Unless of course, I keep an inventory of the freezer contents.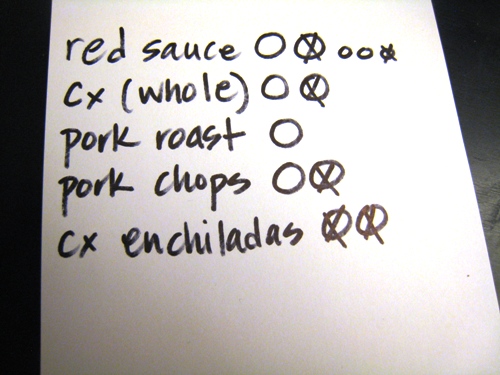 Keep a running list of what you have in the freezer so that you can make meal planning easier and use your tasty meals before they're not so tasty anymore. My method is pretty simple.
Write down the names of the items.
Draw large or small circles or square next to each item. The number you draw determines how many you how in stock. The size signifies how big or small the package or container is. For instance, sometimes, I store pasta sauce in small containers for pizza and larger containers for pasta night.
Put an X in each circle or square as you use the item.
It's pretty easy to do. And if you add to your list as you add to your freezer, you won't ever have to go digging to figure out what you have.
31 Days of Freezer Cooking
For more ideas about how to make freezer cooking work for you, follow along with us here in October as I post 31 Days of Freezer Cooking. You can see past posts here.
For even more Freezer Cooking how-to's you can also buy my book, Not Your Mother's Make-Ahead and Freeze Cookbook.
Don't want to miss a post in this series? Subscribe to 31 Days of Freezer Cooking by RSS oremail.