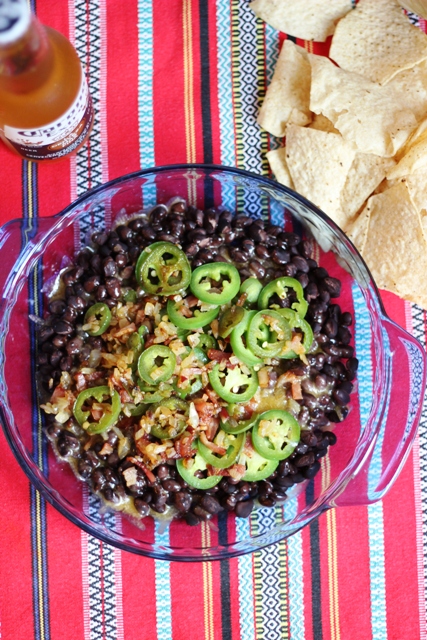 I love jalapeno poppers.
I particularly love these bacon-wrapped balls of cream cheese, pineapple, and jalapeno that I had at a party once. They were amazingly good. I can't find them online, so I'll have to make them for you sometime. I could have eaten an entire pound of bacon cooked that way.
Well, I could probably eat a pound of bacon cooked any way.
Except that bacon is expensive! When I was a kid, bacon was cheap. My parents were not extravagant grocery shoppers, but I know we had bacon. A lot. Therefore, it must have been cheap.
Bacon is cheap no longer. A stroll down the aisle at Walmart, bastion of cheapness, showed me that. They didn't even carry a "good kind", ie nitrate/nitrite-free. All their preservative-laden bacon cost $4/ pound and more, rising as high as $7 or $8.
And that wasn't even the "good kind".
Trader Joe's sells "the good kind" for $2.99 to $5/pound, depending on if you want pretty slices or if you're happy with "ends and pieces". My general point in this diatribe is that bacon ain't cheap, no matter how you slice it.
That makes it a little hard to pull off an all-you-can-eat-jalapeno-popper platter at your next shindig or tailgating party. That is why I propose an alternative:
Jalapeno Popper Nachos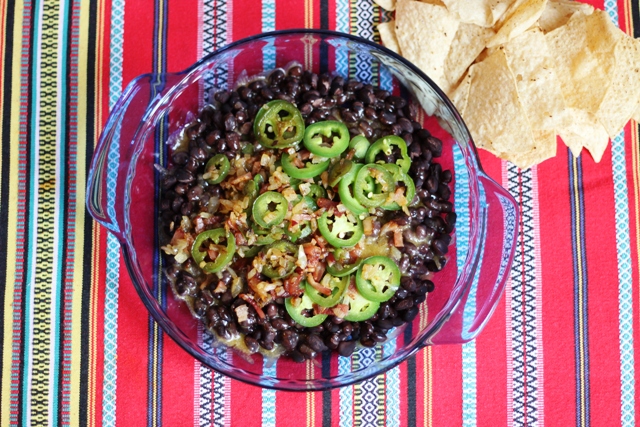 This nacho dip platter contains bacon and jalapeno chiles, just like a standard popper recipe. The flavors are there, but at a much lower cost. Since you're only using 2 slices of bacon (1/8 of a pound), you're reducing your cost significantly. The dish is just as smoky and spicy, but has a little twist going for it.
Someone at our house ate 3/4 of the pan himself and paid for it with some indigestion later. Just like if you eat the whole pan of poppers. See? Totally the same.
Share this platter of popper nachos with friends, avoid the heartburn, and enjoy a great smoky, spicy appetizer.
Jalapeno Popper Nachos
This nacho dip platter contains bacon and jalapeno chiles, just like a standard popper recipe, making these Jalapeno Popper Nachos, of course!
Ingredients
1

tsp

bacon drippings

1

jalapeno

thinly sliced

1/4

onion

(for 1/4 cup chopped)

2

slices

bacon

cooked and chopped

15-ounce can

black beans

drained, rinsed and heated

4

oz

cheddar cheese (shredded)

1

9-ounce bag

tortilla chips

for dipping
Instructions
In a medium skillet, heat the bacon drippings. Add the jalapeno and onion and cook until the vegetables are tender. Add the chopped bacon and continue cooking until the bacon is crisp and the vegetables are lightly browned.

Preheat the broiler.

Spread the beans in a pie plate. Top with the cheese. Broil until the cheese is melted.

Top the cheese with the bacon and vegetable mixture. Serve with chips.
Notes
Nutritional values are approximate and are based on 1/4 of the recipe. Refrigerate leftovers promptly and use within 4 days.
Nutrition
Calories:
490
kcal
|
Carbohydrates:
56
g
|
Protein:
19
g
|
Fat:
22
g
|
Saturated Fat:
6
g
|
Cholesterol:
27
mg
|
Sodium:
893
mg
|
Potassium:
501
mg
|
Fiber:
11
g
|
Sugar:
1
g
|
Vitamin A:
227
IU
|
Vitamin C:
8
mg
|
Calcium:
277
mg
|
Iron:
3
mg