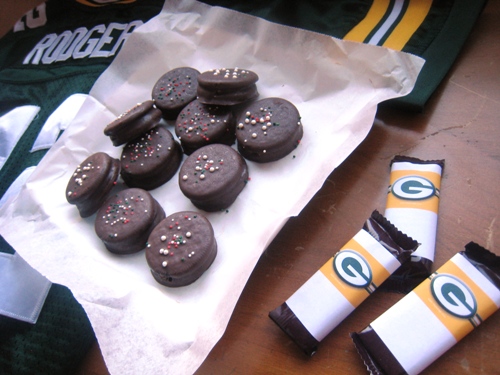 The holidays can be so much fun. And they can be so distracting, too. In our efforts to buy presents and make treats, it's easy to forget those who are less fortunate than ourselves. And as Lynn pointed out recently, there generally always is someone less fortunate.
Last year I went shopping at Walmart on the same evening that the Toys 4 Tots soldiers were standing guard, figuratively speaking, of course, at the doors. It was such a wonderful opportunity to say YES. The kids and I went through the toy aisles and chose as many quality toys that we could in a small budget that I determined on the spot.
The men were stunned when we dropped three bags in their box. Yes, stunned. That surprised me. Weren't more people doing this? Regardless, it felt so good to be making even a small difference in someone else's life.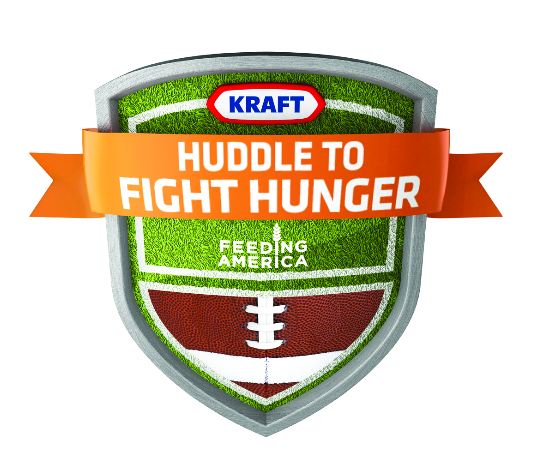 Huddle to Fight Hunger
Recently, Kraft invited me to join their Huddle to Fight Hunger team. Over the next month, I'll be sharing a variety of tailgate recipes (which can definitely double for holiday parties) featuring certain Kraft brands. Kraft will be donating 1000 meals to local food banks (up to 4000) for each recipe I share. So excited to be able to partner with them in this way!
You can hop over to Kraft's facebook page for more details. For each "like" they receive is another meal for someone less fortunate. And you can specify that your free meal go to your local community. You'll also have the opportunity to earn more meals to be given away by playing their facebook trivia game.
So, ready to huddle up?
Yes, my first play of the game is a little sweet. But, c'mon? Double chocolate oreos dipped in chocolate and sprinkled in extra deliciousness? Yes, please. These cookies are super easy to make and such a sweet treat to add to your next tailgating or holiday party. They're so easy, your kids can make these cookies all by themselves! And they package up great to give as gifts.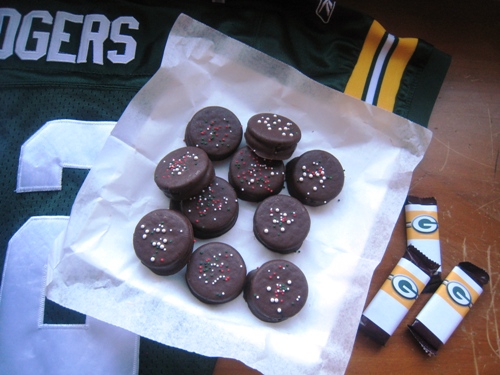 Recipe: Chocolate Dipped Oreos
Ingredients
1 10-ounce package dark chocolate chips
1 tablespoon shortening
1 package Oreo cookies (I used Double Chocolate)
colored sprinkles
Instructions
Line a baking sheet with foil or waxed paper.
In a medium glass mixing bowl, melt the chocolate chips in the microwave for 1 to 2 minutes. Stir in the shortening until both are well combined.
If using cookies, slip a toothpick into the center of the filling of one Oreo cookie. Holding the cookie by the toothpick, dip the cookie into the melted chocolate. Allow any excess to drip off and place the dipped cookie onto the prepared sheet. Sprinkle with the colored sprinkles.
Allow the dipped treats to sit until the chocolate is completely set. Then remove from the sheet and store in an airtight container, layered between waxed paper.
Preparation time: 15 minute(s)
Number of servings (yield): 12
This chocolate dipping can be performed on a number of other treats. My kids took off and dipped pretzel rods as well as marshmallows. Someone suggested potato chips.
What's your favorite thing to dip in chocolate?
Disclosure: Kraft Foods has provided me with a gift card to offset ingredient expenses; however, all opinions expressed here are my own.