Looking for basic tips to reduce your grocery spending? We've got answers in today's reader Q&A.
I am actually out of town today hanging out with one of my favorite grocery geeks. I'm not reporting on my recent purchases today. I'll do some big catch up next week, but for now, I'll say that last month's grocery spending ended at around $800. Not as good as I hoped, but I can't tell you how quickly we're going through food. I think my kids must all be having a growth spurt!

So today, I thought we'd field a question from a reader. Often times folks write me with questions that I know others could benefit from the discussion and even more could add to it.

Today's question deals with how to reduce overall grocery spending.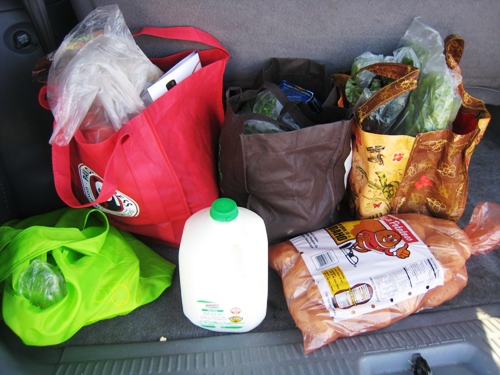 Q. I am struggling with lowering my monthly grocery bill. I just can't seem to get it below $600 a month. I have a family of 4, and we have a cat and a gecko. I have 2 boys, ages 10 & 13, almost 14. I homeschool the boys so I plan 3 meals a day and 2 snacks. Plus Hubby takes his lunch everyday, usually leftovers from the night before, and he has 2 or 3 snacks at work, then snacks some at home in the evenings. (He has a high metabolism.)
I buy very little processed food, make as much from scratch as I can, buy in bulk what I can, and my meals are not very elaborate. For some reason every month I am spending $600 on groceries. I just can't figure out how to lower the bill. Do you have any suggestions?
A. The first thing that comes to mind is a question. Why do you want it lower than $600?
I think sometimes, especially those of us who read deal blogs or clip coupons, we get these notions of the "right" amount to spend. There's no law that says you should spend $X/week or anything like that. You get to set your budget based on your family and its preferences and dietary needs.
Considering the ages of your kids and the size of your family, the USDA estimated food costs for your situation would range from $648.40 to $1323.20 for the month. I would say that you're doing great! I would not say that you are extravagant, by any means, especially since you eat your meals at home. (We eat out a lot and have a separate budget for that.)
In my mind, you don't "need" to go lower, unless you want/need to use those funds somewhere else. And there are plenty of situations when that is the case. Been there, done that.
That being said, there are some basic ways to slash your grocery spending. Here are three: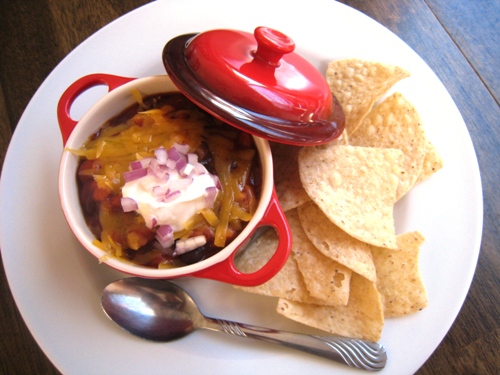 1. Go meatless.
I know in a family of men, that might be harder for some of your people to swallow. But, meatless does not have to be boring or less satisfying. Consider more affordable proteins like beans or eggs to serve in a main dish instead of meat. In our debt-fighting days, we had meatless meals three to five times per week. (I also lost a lot of weight which was an added bonus.)
Chili, beans and rice, pasta, egg salad sandwiches, and omelets can be filling and exciting meals without the meat.
2. Let the sales dictate your meal planning.
For years, I planned meals in advance and thought I was doing all I could do to save money. It wasn't until I changed my menu planning that I realized we could pinch a few more pennies. I made a switch to only buying things that were on sale and planned our meals around the best deals.
A friend asked me one summer, "But, how do you buy cherries and plums?"
I don't. Unless it was a rock-bottom sale price, we didn't buy it. She was aghast. "Don't you eat fruit?" Yes, we do, but we eat the fruit that is on sale or less than $1/pound. We made adjustments in order to spend less.
Stock up on good deals of meat, cheese, dairy, grains, and other grocery items, and build your meals based on the lowest price available.
3. Watch the unit price.
It used to be that buying in bulk was the cheapest game in town. Until the marketers figured out they could charge more because folks didn't do the math. We all assumed that the bigger package was cheaper. I think it might have been a conspiracy.
Buying in bulk can save you money, but you need to do the math to be sure you are saving.
I hope you'll be encouraged that you're doing pretty good where you're at already. There are always more ways to shave a little more off the spending. So, keep on keeping on!
What advice do YOU have for lowering the grocery budget?