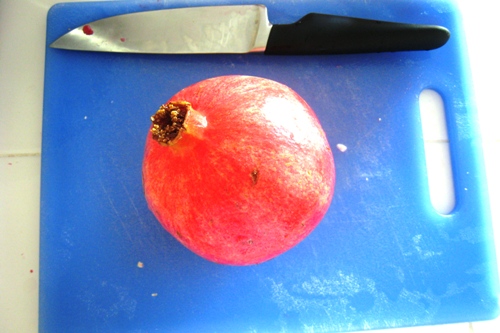 So, my adventure with pomegranates continues. Regulars around here will know that I've had a little pomegranate obsession, mixing up batches of pomegranate jelly, both from bottled juice and from fresh pomegranates.
Little did I know when I bought 10 pounds of "cosmetically challenged" pomegranates, that they would be adding them to our produce box. We are rich in pomegranates! I've seeded multiple pomegranates at a time as well as juiced them on several occasions.
While it certainly isn't as easy as picking up a bottle of juice at Costco, juicing a pomegranate definitely is an earthy experience. As I stand at the counter with crimson stained hands, I wonder at God and why He created a fruit that is so much work. It's not difficult work, but it is time consuming. I can't help but think that He did have a purpose in that, even if it was to give me time to slow down and reflect on life's simple pleasures.
As I say, processing a pomegranate is not difficult. Chop off the ends of the fruit. Then score the skin in fourths. Split the fruit, underwater, along the score lines. Doing this under water will help reduce the splatters. And pomegranate juice stains!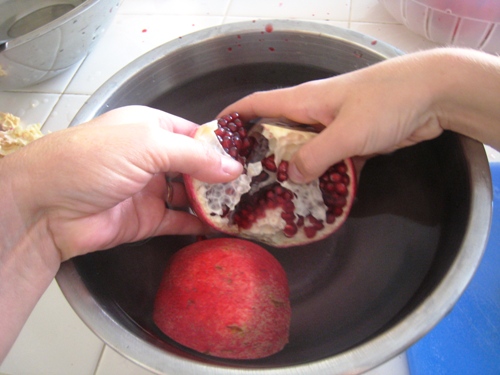 God also made a beautiful fruit in the pomegranate. It's like eating little rubies!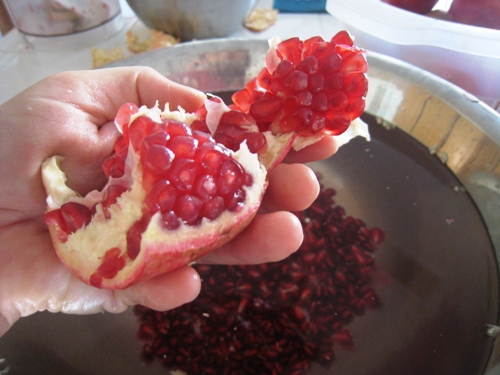 Once you've scored your fruit and separated the sections, you can start plucking the arils (seeds) from the sections. Again, do this underwater. The seeds will drop to the bottom of the bowl and the lighter membrane will float so you can swish it away.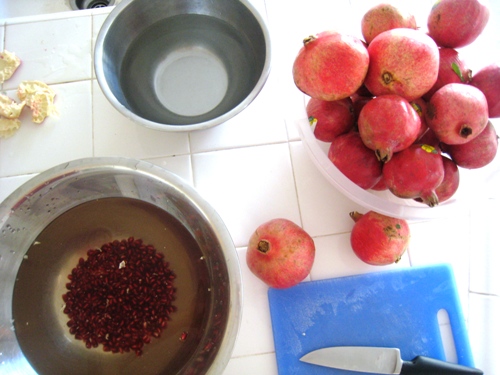 Drain off the water and you'll have a beautiful bowl of arils. These are delicious eaten in salads, atop desserts, and for snacking.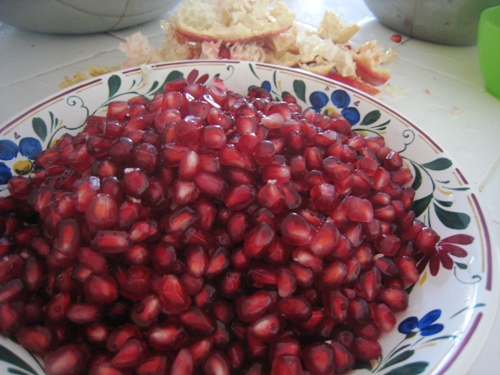 To juice the arils, place them in the bowl of a food processor fitted with a metal blade. Secure the lid and pulse for a few times until the arils are roughly chopped. Line a mesh strainer with cheesecloth. Pour the mixture into the cheesecloth and allow the juice to drain through the cloth. You can wrap the cheesecloth around the fruit and squeeze to extract more juice.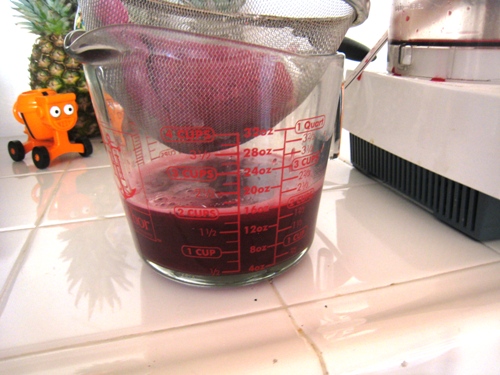 Use the juice for drinking or in jelly or in dessert or smoothie recipes. Yum!
While it certainly is a little work to juice a pomegranate, the process is not difficult. And if you have a tree or access to free fruit, it's most definitely a good cheap eat.
Ever juiced a pomegranate?