Sandwiches are a quick and easy meal, great for any time of the day. Consider serving hot sandwiches for cold weather days.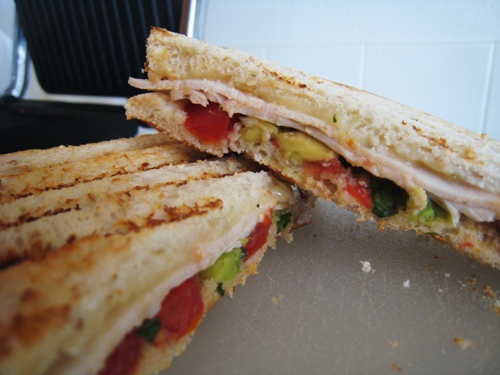 I am a huge sandwich fan. Second only to salads, sandwiches are my go-to meal for quick, easy, and healthy noshing. I've even converted my husband into a sandwich lover, mainly by serving up a sandwich bar of great toppings. Getting all tricked out with the fillings is still less than a $5 footlong in terms of grocery expenses.
When cold weather days strike, however, it's a little more difficult to make sandwiches appealing. We want to warm up both inside and out when there's a chill in the air. That's where hot sandwiches can save the day!
It's unbelievably easy to create tasty hot sandwiches. Here's how:
1. Start off with bread, any kind.
Sandwich bread, baguette, kaiser rolls, tortillas — all these breads are great for hot sandwiches. Hot sandwiches are a great way to salvage day-old bread since you're going to toast the sandwich anyway. You can even use one large loaf of Italian bread to cut into portions later, like in the Chicken Bacon Sub.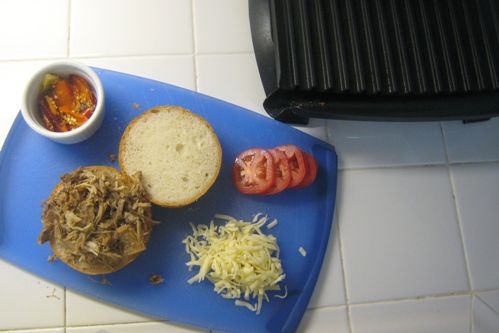 2. Fill it with tasty meats and cheeses.
You have a vast array of choices when it comes to fillings. However, since you're going to serve it hot, you'll want to choose ingredients that taste good heated. Cheese is always a good call because as it melts, it holds things together
Some fillings to consider:
Sliced Turkey
"sloppy joe" or Seasoned Taco Meat
sliced or shredded cheese, like Brie, Monterey Jack, or Cheddar
3. Add a spread and other flavors.
Jazz up your sandwich with a savory (or sweet) sauce. Pesto, salsa, guacamole, flavored mayonnaise, herbed butter, cranberry sauce, or spicy mustards all add a little more pizzazz. Some of my favorites?
We also enjoy adding roasted chiles or peppers, spinach, and sliced tomatoes to our sandwiches.
4. Heat it up!
When I was a kid, I called a toasted cheese sandwich, a bird cheese sandwich. Once at age 5 I requested it at a friend's house; her mother had no idea what I was talking about! Turns out, my mom had laughingly served me burnt cheese sandwiches and I had misunderstood. Clearly, we have a problem with multi-tasking in my family as I have been known to serve "a bird cheese sandwich" in my time as well.
You can heat your sandwiches in a number of ways. For quick bulk baking, simply wrap the sandwiches in foil. Bake at 325 ° for 15 to 25 minutes or you can even toss them on the grill! For stove top cooking, butter the bread on the outsides and toast in a hot skillet. Or for lovers of small kitchen appliances, a panini press does a great job. We've enjoyed using this one. I can make two at a time and rarely do I burn them.
Creating a hot sandwich is not a huge jump from your standard sandwich making, but it's a great way to warm up your mealtimes.
What's YOUR favorite hot sandwich?