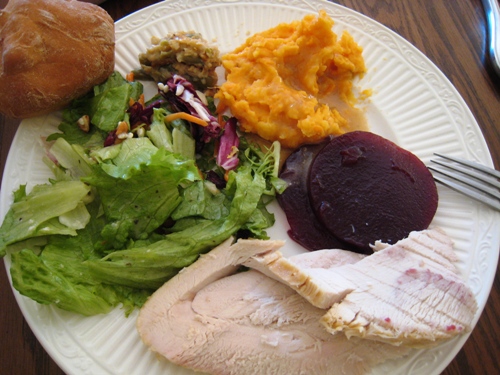 Quick! What's missing from this picture?
That's right. Good gravy! It's the gravy! In my book, gravy is a necessary element of a holiday dinner. Not only does it taste delicious, but it also covers a multitude of culinary sins. Dry turkey and tasteless stuffing are disguised when doused liberally with good, homemade gravy.
Yet, gravy can be one of the most intimidating parts of a holiday meal to prepare. I know that growing up we often relied on gravy mix packets or jarred gravy. Though there might be many families represented at our gatherings, few guests were willing to step up to the plate and risk making lumpy gravy.
Now I have to wonder what kinds of preservatives and additives lurk in those packets and cans we so easily consumed. Ahem. So, I would hold that homemade gravy is much better for you — even if it's made from drippings.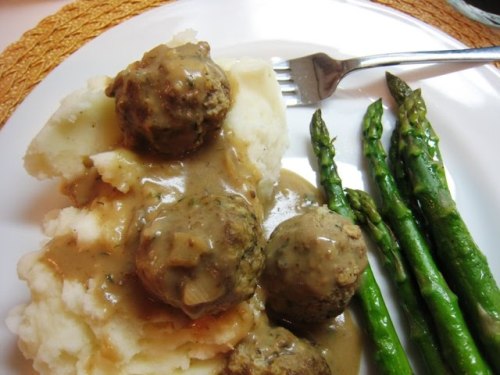 While I am no food scientist, I do think that gravy is pretty simple once you understand about fat and starches and how they combine. Many moons ago — before I rediscovered television — I learned all my food knowledge from cooking magazines. And this guy named Alton Brown explained the science behind gravy. Ahhh! I get it, now!
I don't follow AB's recipe, per se, but the method as he described it in the magazine and here in this video helped me "get" what gravy was supposed to be.
You can make your gravy ahead of time if you use chicken or turkey broth. Or you can make it the day of Thanksgiving with the drippings from the turkey pan. This will add amazing flavor to your gravy.
Here is the recipe we use at our house.

Recipe: Homemade Gravy
Ingredients
1/4 cup butter (or fat from turkey drippings)
1/4 cup flour
2 cups chicken broth (or defatted drippings plus broth to make 2 cups)
1/4 teaspoon salt
1/4 teaspoon pepper
1 teaspoon dried thyme
Instructions
If using turkey drippings, add 2 cups broth to roasting pan. Heat, stirring and scraping up browned bits. Remove to fat separator. Pour off broth and measure remaining fat.
Heat butter or fat in saucepan. Add flour and stir to combine. Heat until mixture starts to bubble. Whisk in broth and bring to a boil, stirring constantly. Reduce heat and simmer until thickened. Add seasonings and serve.
Ready for a healthier holiday? Visit
my fellow Healthy Holiday bloggers
for great inspiration in planning a nutritious and delicious holiday meal. Not only are we providing healthier dishes for every course of your holiday meal, but we'll also be
talking turkey at a Twitter party
on Wednesday night. Be there or be square!
Do you make homemade gravy?