Wondering how you can save money on groceries? Keep track of sale prices and have a target price to shoot for.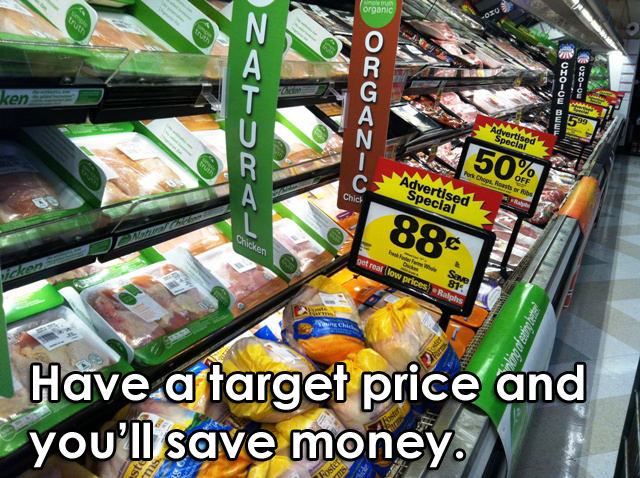 How do you know if the sale you see is worth it? How do you know when to stock up? How do you know when it's worth a trip across town to buy chicken that's on special?
Well, you gotta have a target price. Some folks keep track of these target costs in a price book. Honestly, I've never been good at tracking it on paper. Go figure. Miss Personal Planner. But, it's true. My price book is in my head.
This is rather inconvenient when my husband stops at the store on the way home from work and stocks up on something that was "on sale" according to the store, but not really "on sale" according to the price book in my head.
But, isn't that the way it is with men and women? They are supposed to read our minds. Sheesh.
Target prices for common grocery items
Anyway, so you and my husband will no longer be in the dark, here are the target prices I have for regular grocery items. If I find these prices (or lower) at the store, I typically buy more than one since I know it's a really good deal.
Bone-in chicken breast – $0.99/pound
Boneless, skinless chicken breast – $1.99/pound
Lean ground beef – $3.99/pound
Cuts of beef and pork – $2.99/pound
Tri-tip – $3.99/pound, trimmed
Fish or shrimp – $4.99/pound
Cheese – $3.50/pound, unless it's a gourmet variety, like Brie, then $5.99
Milk – $3.00/gallon
Yogurt – $6.00/half gallon
Fresh fruit – $0.99/pound
Lettuce or greens – $0.99/head
Rice – $0.50/pound
Flour – $3.00/5 pound bag
Demerara sugar – $1.00/pound
Brown sugar – $1.00/pound
I think those are the main things that we buy. These are "targets"; I shoot for these prices whenever possible. When I can't find it for this price, I try to go without it if I can. When I see these prices, I buy a lot and build our menus and our shopping around them.
Want more tips on building your pantry on a budget?