Grocery shopping is one of my very favorite pastimes. I love strolling through the aisles, imagining yummy meals and finding great deals. Want a peek into our grocery cart? Here's how I'm grocery shopping and feeding eight people on the cheap: the Grocery Geek report for March.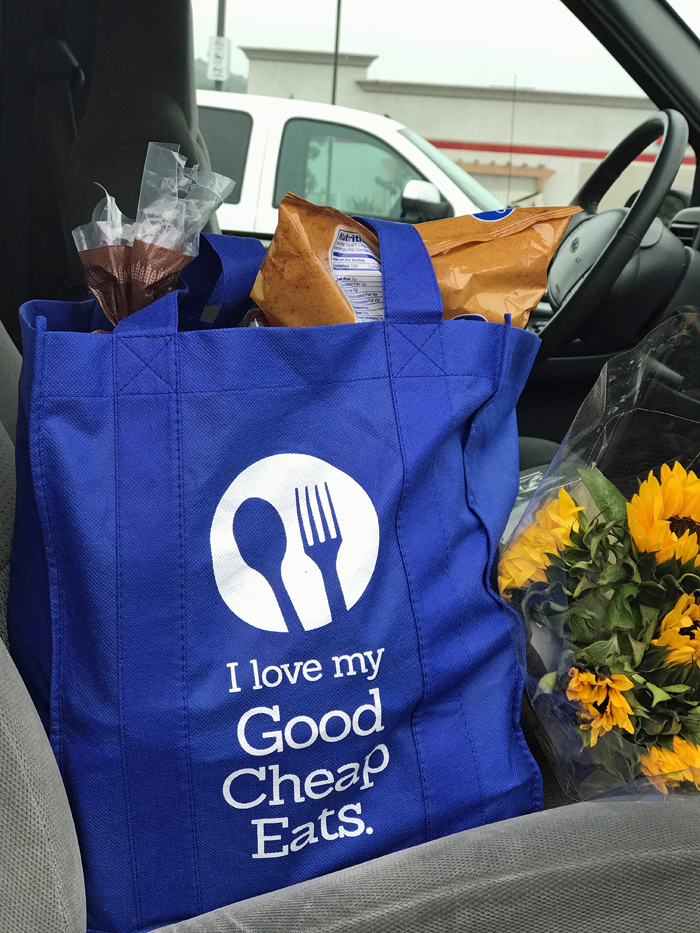 Whew, March roared in like a lion and left a lot of mess in its wake! It seems that I'm not the only one who had a chaotic month. With much busyness on the home front, I am more than happy to kiss March goodbye and get a fresh start in April.
We did have a very tasty month as I've worked to master the art of natural yeast and sourdough bread. My husband doesn't think I'm so terribly crazy for babying this sourdough starter for the last few weeks.
On the other hand, some of my recipe testing did not turn out so well. The roast chicken on a bed of spring vegetables turned into more of a stew. Back to the drawing board!
As for grocery shopping….
my monthly budget continues to be under $1000/month to feed the 8 of us most of our meals cooked at home. While this month's spending went a wee bit over my budgeted $1100, the fact that I've been under the last few months more than made up for that.
Need help trimming the budget? Grab A Week of Good Cheap Eats: Breakfast, Lunch, and Dinner Plans to Help You Trim the Budget.
The Grocery Geek report
For those of you new here, Grocery Geek is my regular report of how I shopped for groceries, what deals I found, and my running total of how we're sticking to a budget for groceries.
Here's the rundown on my shopping this week. As you read, keep in mind who and how I'm shopping:
My grocery shopping profile
To update you on my grocery geekiness: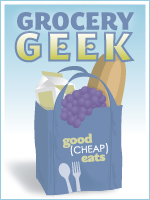 I'm feeding

 

eight people, ages 55, 45, 20, 17, 15, 13, 11, and 9. Five of those people are males. They eat A LOT!
I'm shooting for a budget of

 

$1100 this year, trying to beat what the feds think it will cost. Per the

 

USDA food cost reports it should cost our family $1336.20 to eat all meals at home under the "thrifty plan" for people of our demographics.
We live in Southern California where produce is cheap, but meat and dairy are not.
I'm trying to feed us

 

mostly unprocessed foods, with a few "healthier" convenience items thrown in and

 

a junk food splurge* here and there.
I

 

work at home and teach five of our kids, so I don't have as much time for fiddling in the kitchen as I would like.
I

 

no longer use coupons on a regular basis, though I do love

 

the coupons that Ralphs offers.
I have at least

 

ten grocery stores within 5.5 miles of my house. It is easy (for better or for worse) to stop at several stores to get the best deals.
We

 

mostly eat at home. My husband and college age son often pack lunch and breakfast to work, but sometime have lunch out. My husband and I enjoy a date once a week. FishPapa takes one child out to "dinner with dad" once a week. We eat out as a family on average once a week.
BEFORE YOU JUDGE ME FOR EXTRAVAGANCE,

 

please read this post.
What we spent on groceries in March:
VitaCost
puffed millet $1.75
bread flour $4.69
sunbutter $5.62
1# chili powder $8.07
1 #oregano $12.16
quinoa flakes $7.59
minus 20% coupon
Total spent: $43
Ralphs
bread $3.49
cheese $2.99
turkey deli meat $2.99 on clearance
eggs $2.49
Total spent $12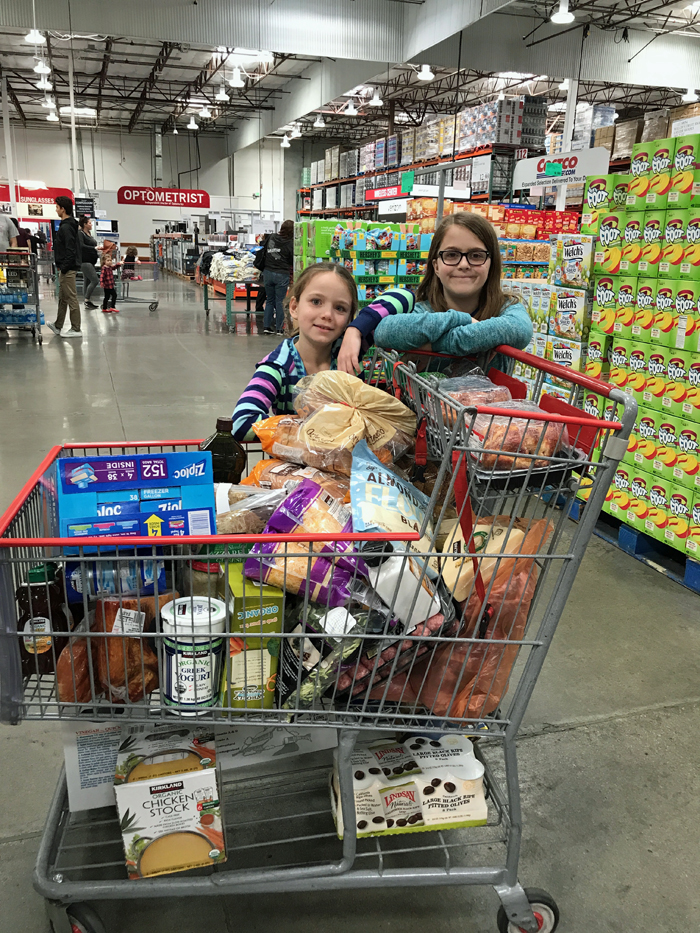 Costco
organic chicken broth $9.99
olives $9.99
milk $4.29
graham crackers $7.69
bulk bag of tri-tips $4.69/lb
rotisserie chicken $4.99
almond flour $10.99
olive oil $15.49
pineapple juice $5.29
fancy pants blood orange jam $5.99
peppercorns $4.99
kirkland tuna $12.99
sea salt $2.79
organic maple syrup $10.99
eggs $2.69
avocado oil $9.69
raw organic honey $14.99
hummus singles $6.49
guacamole singles $13.89
ham $2.69/lb
shredded cheese $11.79
sourdough bread $3.69
Tillamook $8.99
shredded mozzarella $10.99
greek yogurt $5.49
frozen potstickers $10.89
pretzel rolls $5.99
bratwurst $8.99
bagels $5.99
romano cheese $10.51
bread $3.99
kale salad $4.99
pork tenderloins $2.99/lb
ground beef $3.99/lb
avocados $6.99
Dubliner $10.72
chicken sausage $13.89
Total spent $462
Ralphs
red wine vinegar $2.29
neufchatel cheese $1.59
jalapeno peppers $0.99/lb
green onions $0.99
cilantro $0.69
mushrooms $3.99
bananas $0.59/lb
5# clementines $3.77
roma tomatoes $0.81
Dijon mustard $1.79
horseradish $3.49
clearance bread $0.99
Total spent: $22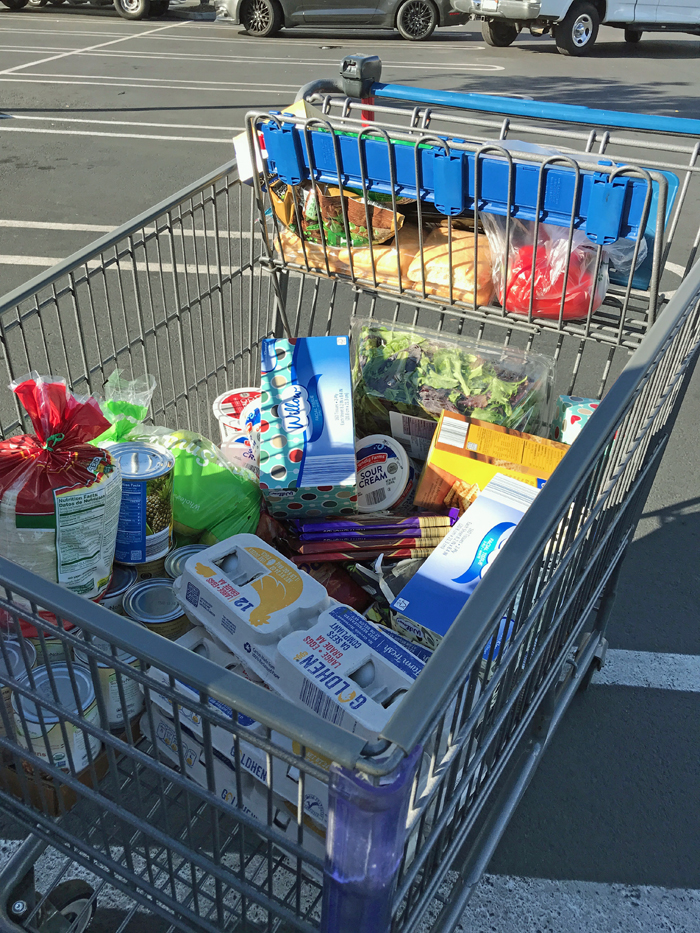 ALDI
cottage cheese $1.99
sour cream $1.29
frozen tots $1.89
frozen corn $0.95
frozen green beans $1.39
frozen oj $1.19
ciabatta rolls $2.69
frozen peas $0.95
deli turkey $2.99
sugar $1.89
deli sliced cheese $2.29
red bell peppers $0.79 each
crackers $1.69
pepperoni $2.19
blue cheese $1.99
crushed tomatoes $0.99
organic spring mix $3.79
organic canned beans $0.89
corn tortillas $2.19
pineapple chunks $0.95
granny smith apples $2.49
chocolate bars $1.49
eggs $0.94
whipping cream $1.99
Total spent $78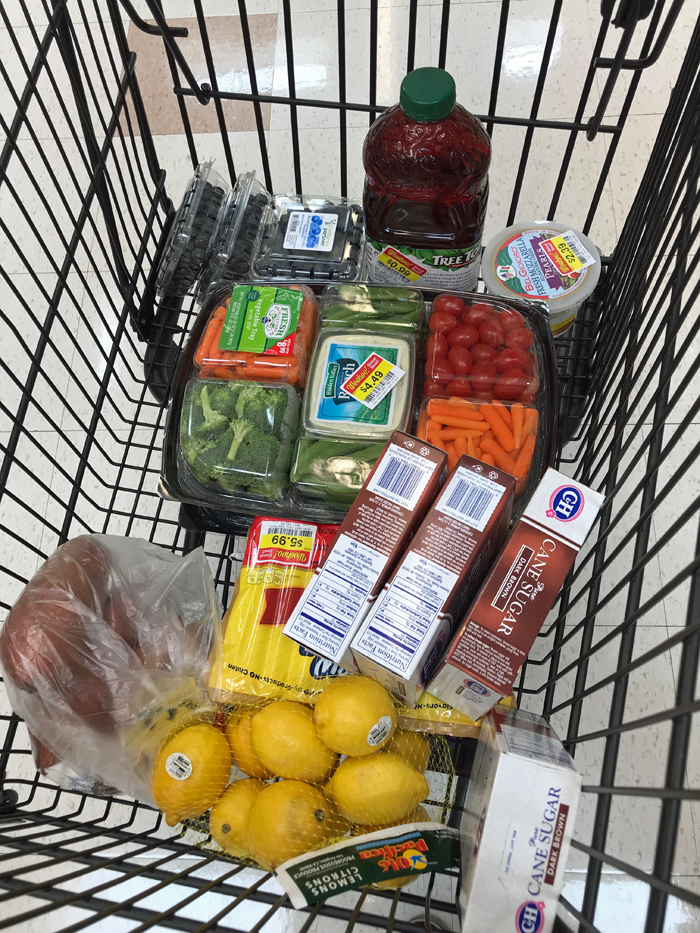 Ralphs
brown sugar $0.99
juice $0.99
lemons $2.99/bag
ginger root $2.99/lb
sweet potatoes $1.39/lb
veggie tray $4.49 on clearance
blueberries $0.88
family size Hebrew National $5.99 on clearance
fresh mozzarella $2.39 on clearance
chocolate for Easter $0.89 on clearance
lindt chocolate egg FREE after digital coupon
Total spent $42
ALDI
bottled water $3.69 after CRV
ciabatta rolls $2.69
green onions $0.99
string cheese $2.19
sparkling water $0.69 after crv
applesauce $1.69
flour tortillas $1.59
fruit snacks $3.49
organic celery hearts $1.69
milk $2.30
sugar $1.89
frozen corn $0.79
frozen Asian vegetables $1.49
shredded hashbrowns $1.65
frozen green beans $1.39
Easter candy $1.39 to $2.99
frozen orange juice $1.19
deli cheese $1.99 to 2.29
deli turkey $2.99
onions $1.38
butter $2.99
organic acv $1.99
family size lucky charms for St. Pat's $3.49
kerrygold butter $2.85
cara cara oranges $3.98
granola bars $2.49
diced green chiles $0.59
carne asada meat $3.99/lb
chicken breasts $1.89
Total spent $127
Sprouts
mushrooms $3.49
cilantro $0.50
organic granny smith apples $0.98/lb
organic cucumbers $0.99
red bell peppers $0.88
roma tomatoes $0.98/lb
Total spent $20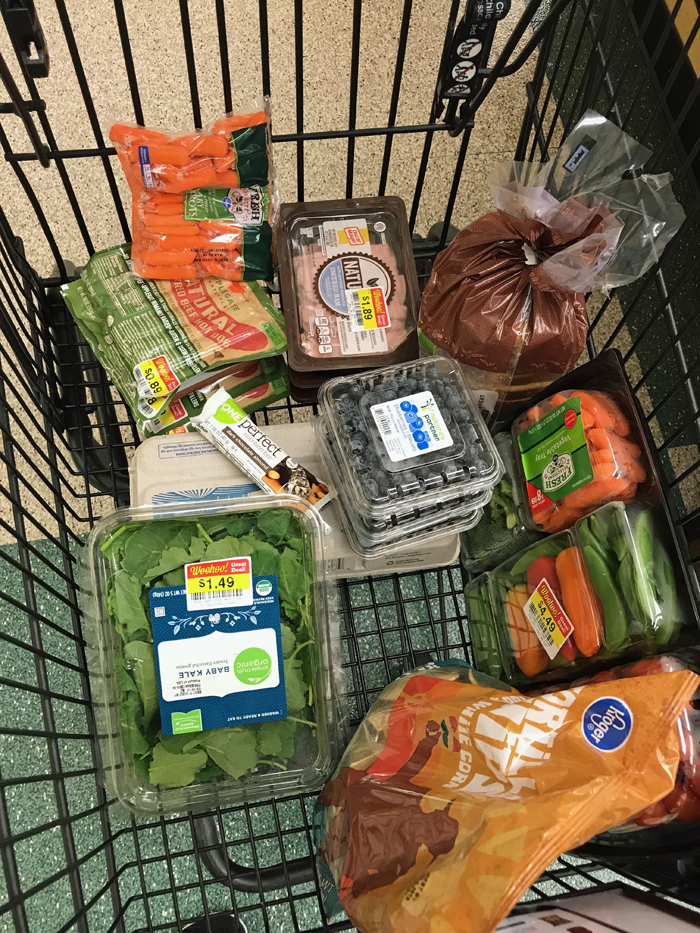 Ralphs
18-ct eggs FREE after digital coupon
tortilla chips FREE after digital coupon
blueberries $0.88
veggie tray on clearance $4.49
baby carrots FREE after digital coupon
organic baby kale $0.74 on clearance + digital coupon
jalapenos $0.99/lb
bell peppers $0.88 each
cucumbers $0.88 each
organic wheat bread $2.99
zone perfect bar FREE after digital coupon
uncured applewood ham $1.89 on clearance
uncured organic hot dogs $0.89 on clearance
Total spent $26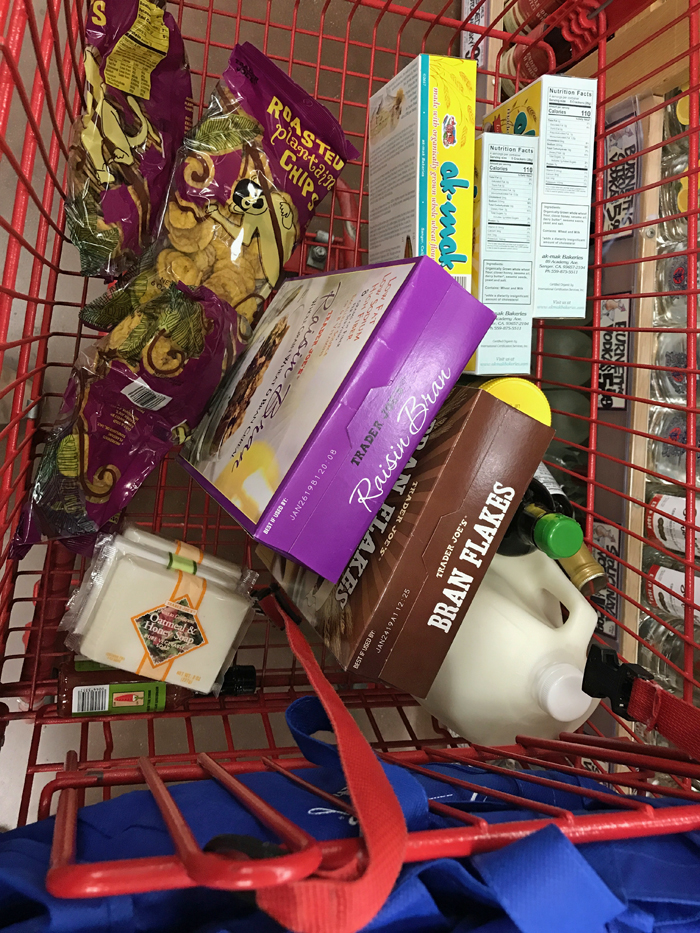 Trader Joe's
raisin bran $2.49
bran flakes $1.99
tea $2.49
Ak-mak $1.99
sunbutter $4.99
soy sauce $2.99
sesame oil $2.69
milk $2.79
plantain chips $1.69
Total spent $37
Ralphs
buttermilk $2.99
hominy $0.99
organic baby spring mix $4.49 after digital coupon
cilantro $0.69
green bell pepper $0.99
red bell pepper $1.49
green onions $0.99
organic strawberries $2.40
bananas $0.59/lb
10# potatoes $3.99
cabbage $0.33/lb
cucumber $0.99
Pirate's Booty $1.49
kettle chips $0.79 to $1.79 after sales and digital coupons
organic chocolate whole milk $3.99
weird garbanzo bean puffs for my hippie child $2.50
chuck roast $3.99/lb
boursin BOGO $5.99/2
artisan flatbread $0.99 on clearance
clearance bread $1.49
Easter candy $1.99
minus $5 off $50 purchase
Total spent $60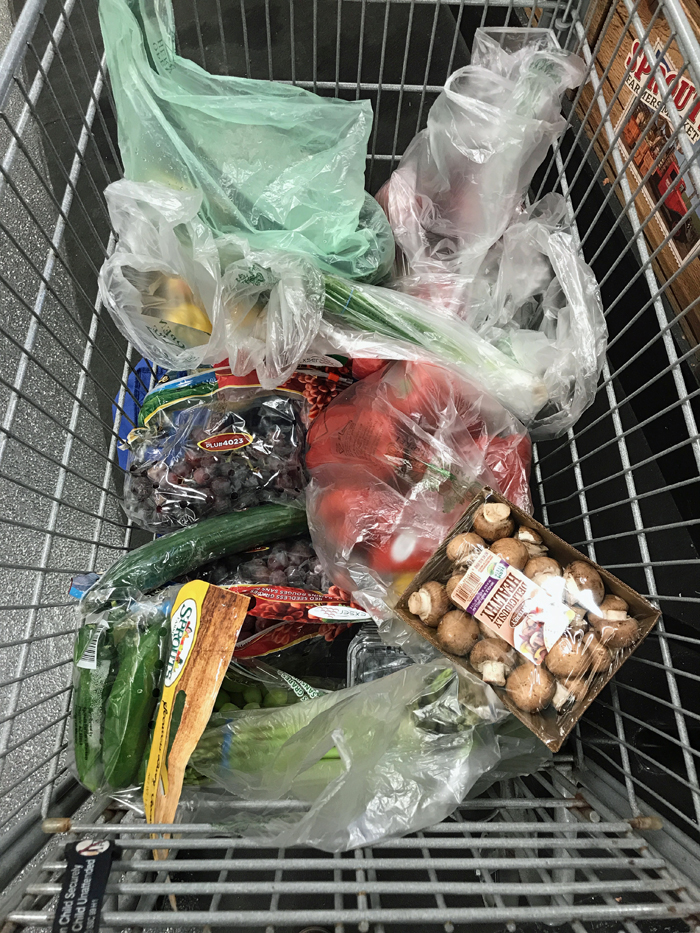 Sprouts
asparagus $0.98
mushrooms $3.49
bag of baby cucumbers $2.99
green onions $0.50
grapes $0.88/lb
blueberries $1.25
hot house cucumber $1.50
jumbo avocado $2.50
apples $0.98/lb
organic kale $0.88
red bell peppers $0.50 each
onions $0.50/lb
greek yogurt $2.99
Total spent $43
Sprouts
Meyer lemons $2.99
peeled garlic $2.99
grapes $0.88/lb
shallots $2.99/lb
Total spent $11
Trader Joe's
milk $1.69
organic baby lettuce $1.99
coconut oil spray $2.99
shaved brussels sprouts $2.49
canned yellow fin $2.29
whipping cream $1.79
milk $2.79
whole wheat couscous $1.99
red wine vinegar $1.99
whole wheat pasta $1.49
jumbo eggs $2.49/dozen
Total spent $37

Costco
milk $4.29
organic spinach $3.99
organic spring mix $3.79
steel cut oats $7.99
organic brown rice $11.99
Greek yogurt $5.49
garlic $8.99
strawberries $4.79
Total spent $50
ALDI
tortillas $2.19 to $2.99
half and half $1.99
chicken breast $9.17
frozen tots $1.89
eggs $0.94
Total spent $24
Ralphs
flour $2.49
sauerkraut $2.79
tea $2.99 to $4.59
brussels sprouts $3.19
potatoes $2.50
mushrooms $1.49
thyme $0.79
bell peppers $0.99 to $1.25
baby carrots $1.09 after digital coupon
lara bars $2.49 on clearance
organic chicken $1.49/lb on clearance
pork spare ribs $1.49/lb
Total spent $70
Total spent in March $1224
Spent in 2018:
January: $490
February: $1084
March: $1224
Total spent YTD: $2798
That's an average of $932/month!
So there you have it. We did okay in March, despite the crazy. I've got a load of clearance hot dogs on hand and a lot of sourdough starter. So, we're good. 😉
How did YOUR grocery geeking go last month?