Want a peek into our grocery cart? Here's how I'm grocery shopping and feeding eight people a healthy, mostly whole foods diet on the cheap.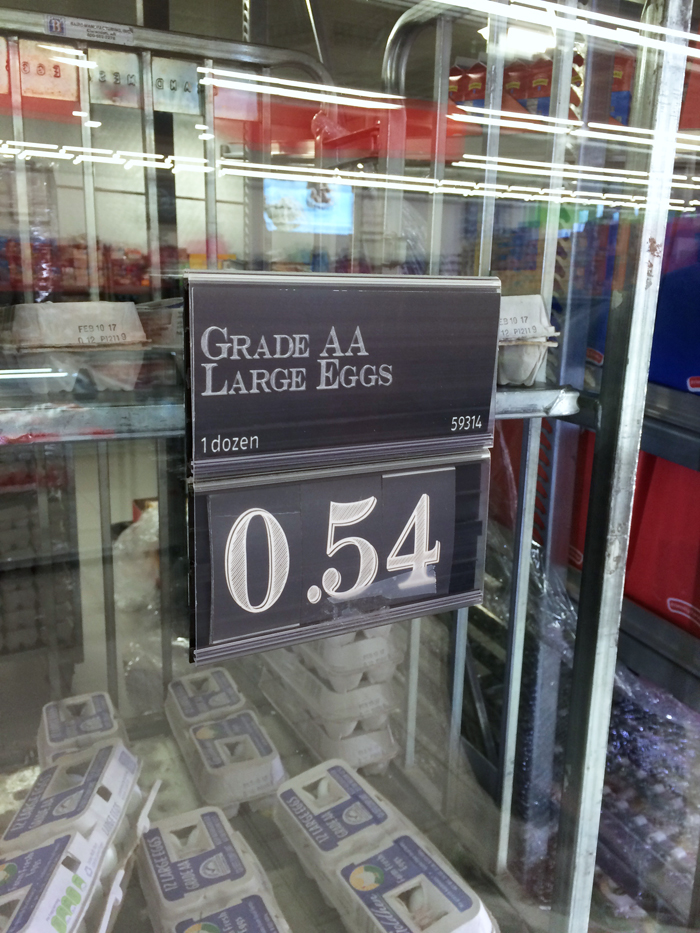 The Pantry Challenge is always a time of introspection for me, when it comes to grocery shopping, meal planning, and budgeting. I rethink purchases I made in the past that were hard to use up. I critique my meal planning process. I analyze our budget, knowing that the pantry challenge helps me offset my occasional overspending during crazy months.
One of the interesting take-aways is how optimistic I can be in my shopping. You know when you see something and you're sure you can work magic with it once you cart it home?
Consider that ginormous can of garbanzo beans I bought a few years ago. A few years ago. Let that sink in. Also ginormous. I mean, seriously, it was like 6 pounds. I finally opened it this past week and then had to divide it and freeze most of it because who really uses 6 pounds of garbanzo beans in one week? I kept putting off dealing with those beans for years when it really would have been better to open that can as soon as I brought it home. 
The month of eating down the pantry went by quickly, aided by the plague of 2017. We didn't completely empty our stores, so we will continue the process until I can thaw the freezer. My daily posts are at an end, but you can continue chatting about the PC here.
Here's how the grocery shopping went down this first month of 2017:
Grocery Geek
Grocer Geek is my regular report of how I shopped for groceries, what deals I found, and my running total of how we're sticking to a budget for groceries.
Here's the rundown on my shopping this week. As you read, keep in mind who and how I'm shopping:
My grocery shopping profile
To update you on my grocery geekiness: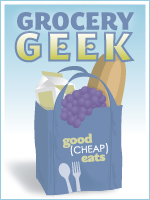 I'm feeding eight people, ages 53, 44, 19, 16, 14, 12, 10, and 8. Five of those people are males. They eat A LOT!
I'm shooting for a budget of $1200, per the USDA food cost reports the last time I added up for people of our demographics. I live in Southern California where produce is cheap, but meat and dairy are not.
I'm trying to feed us mostly unprocessed foods, with a few "healthier" convenience items thrown in and a junk food splurge* here and there.
I work at home and teach five of our kids, so I don't have as much time for fiddling in the kitchen as I would like.
I no longer use coupons on a regular basis, though I do love the coupons that Ralphs offers.
I have at least ten grocery stores within 5.5 miles of my house. It is easy (for better or for worse) to stop at several stores to get the best deals.
We mostly eat at home. My husband and college age son often pack lunch and breakfast to work, but sometime have lunch out. My husband and I enjoy a date once a week. FishPapa takes one child out to "dinner with dad" once a week. We eat out as a family on average once a week.
BEFORE YOU JUDGE ME FOR EXTRAVAGANCE, please read this post.
What we spent in January: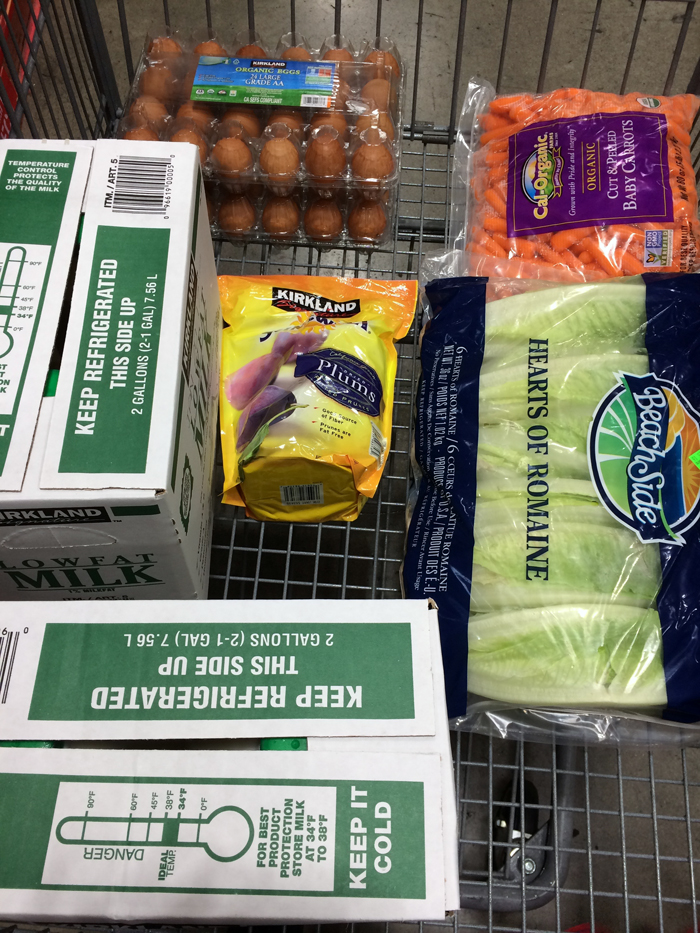 Costco
milk $4.89
dried plums $8.69
romaine (6 heads) $2.99
big bag of baby carrots $4.79
organic eggs $6.49
minus returning the bad mochi from last month
Total spent $30
Sprouts
mushrooms $3.49
pears $0.98/lb
cilantro $0.50
eggplant 3/$1
green AND red bell peppers 2/$1
hot house cucumbers $1.50
organic broccoli $0.98/lb
organic apples 

$0.98/lb

pink grapefruit 2/$1
roma tomatoes 

$0.88/lb

serrano peppers $1.49/lb
XL avocados $1.99
bananas $0.69/lb
sparkling water $1.10
Total spent $42
Ralphs
tomato sauce $0.79
tomato paste $0.89
Total spent $5
Sprouts
mushrooms $3.49
cucumbers 2/$1
ginger root $2.99/lb
kiwi fruit $2.50/lb
limes 4/$1
organic baby spinach $5.00
organic broccoli $0.98/lb
organic granny smith 3# bags  $4.99
organic fuji apples $0.98/lb
pink grapefruit 2/$1
red bell peppers 2/$1
Total spent $43
Ralphs
orange juice $1.99
milk $2.99
sour cream $2.99
potatoes $3.99
lemons $3.99
eggs on clearance $2.49
clearance bread $2.29
minus $5 off order
Total spent $30
Costco
milk $4.89
eggs $6.49
olive oil $11.99
avocado oil $9.49
bread $4.59
sourdough bread $3.69
Tillamook cheddar $8.99
ham $8.35
Greek yogurt $6.39
cream $9.89
salt $2.79
butter $9.99
minus $99 rebate check
Total spent $8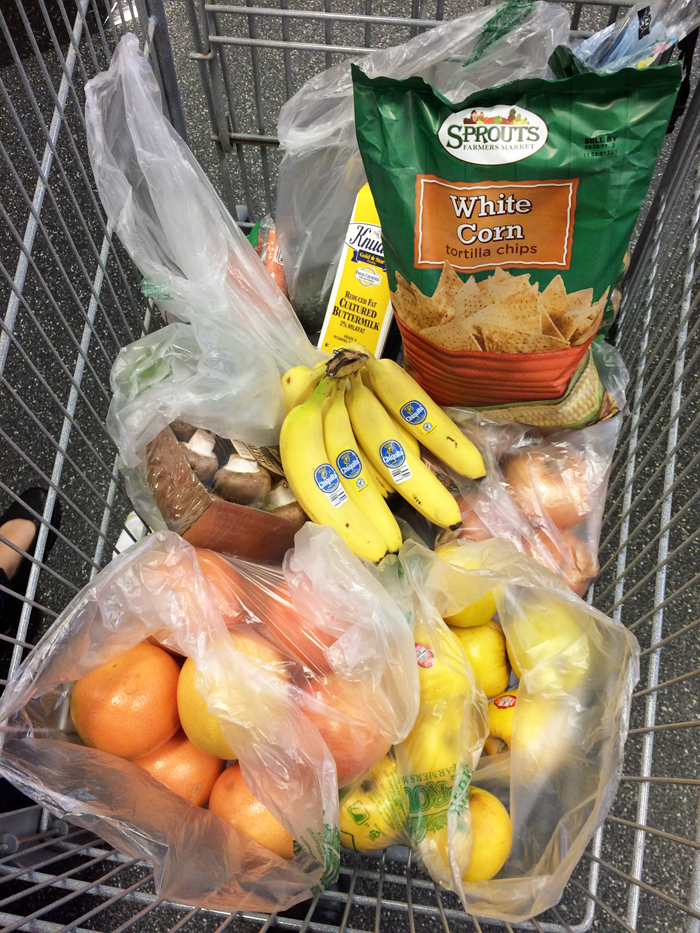 Sprouts
carrots $0.77/lb
potatoes $2.49/5#
mushrooms $3.49/lb
cilantro $0.50/bunch
green bell peppers $1.00/3
green onions 

$0.50/bunch

opal apples $0.88/lb
pink grapefruit 

$1.00/3

XL avocados $1.66
bananas $0.69/lb
onions $1.00/2 lb
chips $1.99
buttermilk $2.69
salami $5.34/8 oz.
Total spent $32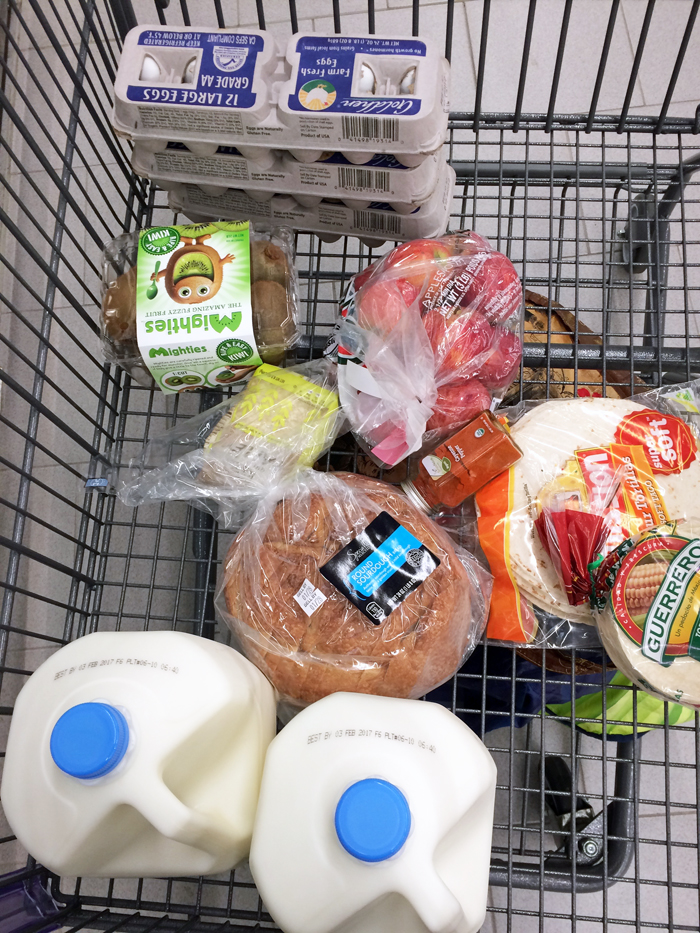 ALDI
eggs $0.54
milk $2.40/gallon
organic cayenne pepper $1.99
quick cooking barley $1.69
sliced sourdough $2.29
30 ct corn tortillas $1.39
soft taco size tortillas $2.15
organic gala apples $3.99/3lb
kiwi $3.89/2 lb
Total spent $24
Ralphs
organic celery $1.99
romaine lettuce $0.99
sourdough on clearance $0.99 to $2.49
orange juice $2.50
strip steaks $3.99/lb
bag of lemons $3.99
minus $5 coupon on meat purchase
Total spent $27
Walmart
hot dog buns $2.78
hamburger buns $2.78
Total spent $6
Ralphs
This shop was not typical of the previous Pantry Challenge shops. The items with an asterisk* were items that were a stock-up price, so I went ahead and got several of each.
sparkling water $3.29
whipping cream $4.99
frozen vegetables $0.88 to $1.00*
Starbucks coffee $4.99 (limit 2)*
refried beans FREE with coupon
frozen shredded potatoes $2.49 (when you buy 6)*
fruit snacks for snack day $1.49 on clearance
Daisy cottage cheese $2.49 (wyb6)*
Daisy sour cream $1.79 (wyb6)*
canned beans $0.99

(wyb6)*

canned petite tomatoes $0.99 

(wyb6)

2# baby carrots $1.99
mushrooms $0.79 on clearance
poblano chiles $1.69/lb
English cucumber $1.99
cilantro $0.69
romaine $0.99
blueberries $0.99
broccoli and carrots $1.49 on clearance
broccoli crowns $1.69/lb
scallions $0.99
grape tomatoes $0.99
jalapeno peppers $0.99/lb
bananas $0.69/lb
10# bag potatoes $2.99
avocado 2/$1
power bar FREE with coupon
whole wheat bread $3.59
kettlecorn for snack day FREE with coupon
pork shoulder $1.49/lb*
pepperoni $$1.49 to $2.49 after coupons and 

wyb6 discount*

horseradish $2.69
conversation hearts 3/$1
Total spent $109
Total grocery spending for January $356
I am thrilled with this great start to our year. Although the most recent USDA Food Cost report (November 2016) states that a "thrifty" family of our makeup can expect to spend $1310.10 each month to eat all meals at home, I'm going to try to keep that number to $1200 or below. I'm doing some strategizing and will be sharing my thoughts on this in the next day or two.
With this budget in mind, I'm thrilled that our January spending was so low. We ended up "saving" over $800 by using up what we had instead of hitting our budget limit.
How was YOUR grocery shopping this month?