Want a peek into our grocery cart? Here's how I'm grocery shopping and feeding eight people on the cheap.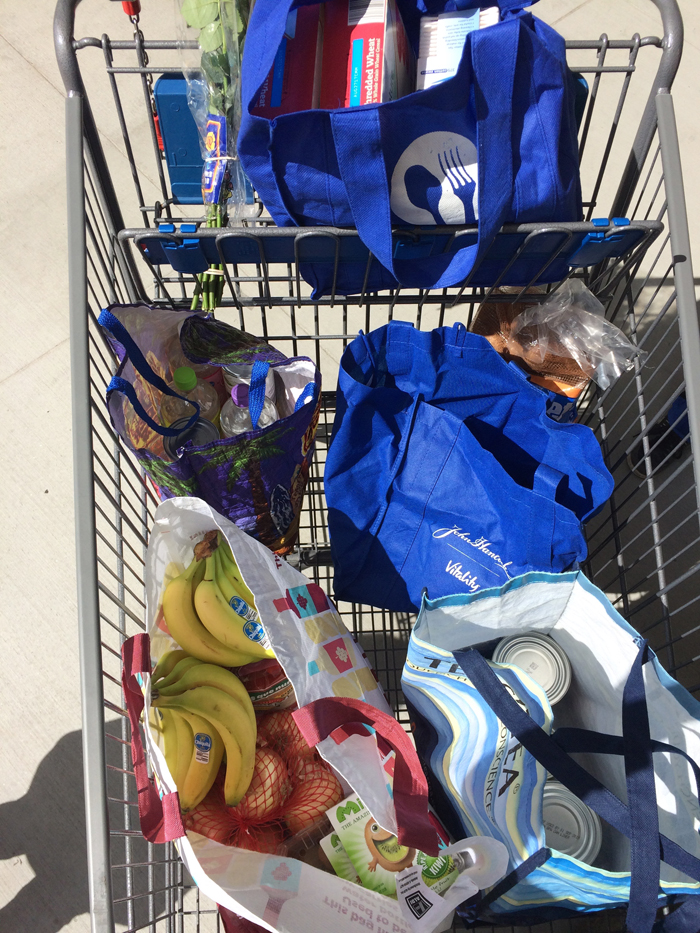 Six weeks ago I had high hopes. HIGH HOPES. I was going to be a grocery shopping ninja and just rock it.
But then the kids got sick.
And then I got the idea of reshooting a ton of old recipes, regardless of whether or not I had those ingredients on hand.
And then we found out that we need to boost at least one child's calorie intake.
And well…. 
Our March spending was a little out of control. And quite possible April.
Of course, I'm reporting on March about three weeks into April and should have my April report here shortly. Maybe.
Did I mention the kids are sick again?
Thank goodness for a lean January and February because I needed that margin to make March (and possibly April) come out right. And thank goodness for leaving town on a big adventure, necessitating a pantry challenge in May. Ahem.
Sorry for the dearth of pictures. It's been a month.
Or two.
The Grocery Geek report
For those of you new here, Grocery Geek is my regular report of how I shopped for groceries, what deals I found, and my running total of how we're sticking to a budget for groceries.
Here's the rundown on my shopping this week. As you read, keep in mind who and how I'm shopping:
My grocery shopping profile
To update you on my grocery geekiness: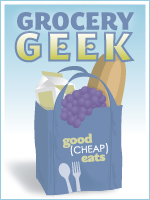 I'm feeding eight people, ages 53, 44, 19, 16, 14, 12, 10, and 8. Five of those people are males. They eat A LOT!
I'm shooting for a budget of $1200, per the USDA food cost reports the last time I added up for people of our demographics. I live in Southern California where produce is cheap, but meat and dairy are not.
I'm trying to feed us mostly unprocessed foods, with a few "healthier" convenience items thrown in and a junk food splurge* here and there.
I work at home and teach five of our kids, so I don't have as much time for fiddling in the kitchen as I would like.
I no longer use coupons on a regular basis, though I do love the coupons that Ralphs offers.
I have at least ten grocery stores within 5.5 miles of my house. It is easy (for better or for worse) to stop at several stores to get the best deals.
We mostly eat at home. My husband and college age son often pack lunch and breakfast to work, but sometime have lunch out. My husband and I enjoy a date once a week. FishPapa takes one child out to "dinner with dad" once a week. We eat out as a family on average once a week.
BEFORE YOU JUDGE ME FOR EXTRAVAGANCE, please read this post.
What we spent in March: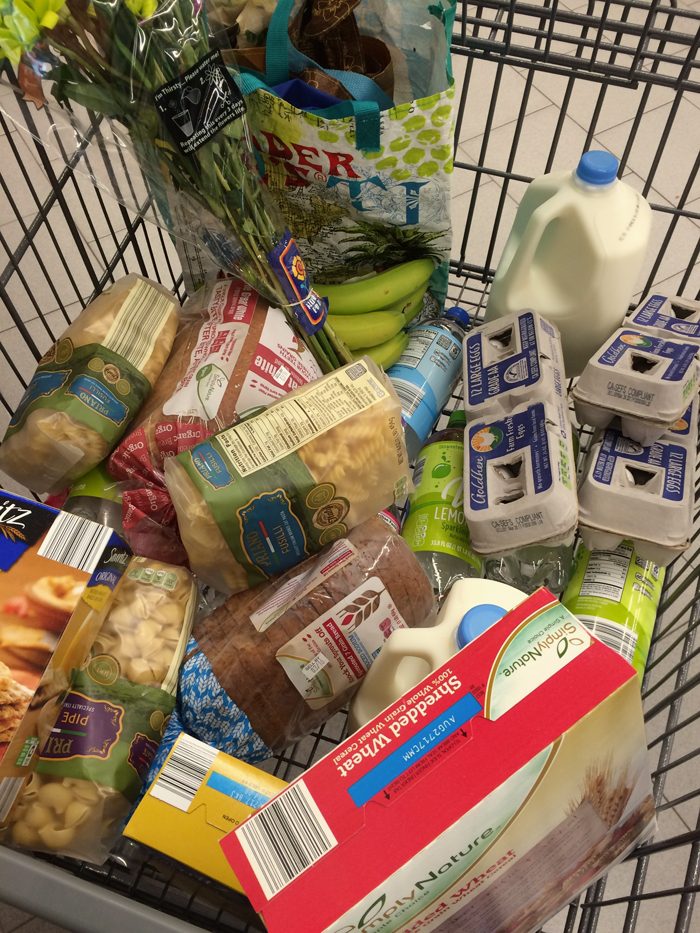 Sprouts
asparagus $0.98/lb
mushrooms $3.49/lb
zucchini $0.98/lb
red bell peppers $0.50 ea.
roma tomatoes $0.88/lb
XL avocados $1.25 ea.
mineral water BOGO $0.65 ea
org whipping cream $3.69
whole grain bread BOGO $2.50
Total spent $35
Trader Joe's
kefir $2.99
yogurt $2.99/6-pack
cereal $2.79
chicken salad $4.29
Total spent $22
Costco
avocado oil $9.49
milk $4.79/2 gal
chicken tenders $15.99/6 pound bag
organic brown rice $11.99/10 pound bag
artichokes $5.79
broccoli florets $4.49
English cucumbers 3-pack $3.99
sliced deli roast beef $8.67
sliced deli ham $8.93
pre-cooked bacon $11.99
Fage Greek yogurt $6.39
sourdough 2# loaf $3.69
granulated garlic $5.69
snap peas $5.79
shredded mozzarella $10.99
whole grain bread $7.99/2 loaves
organic brown mushrooms $5.99
salami $13.89
chicken sausage $13.99
baking cocoa $3.97
organic strawberries $7.49
canned tuna $12.99/8 cans
sausage $7.79
hummus singles $6.49
heavy cream $9.89
Tillamook cheddar $8.99
cheesecake $12.99
bagels $5.49
butter $10.49
tortillas $3.69
gruyere cheese $9.69
asiago cheese $8.46
Dubliner cheese $10.48
organic eggs $6.49/2 dozen
Total spent $315
ALDI
yellow onions $1.44
cream cheese $1.29
crackers $1.69
bananas $0.37/lb
chuck roast $3.99
kiwi $3.99/2#
taco shells $0.99
sparkling water $0.55
shredded wheat $1.89
10# potatoes $1.95
black beans $0.89
pineapple chunks $0.99
crushed tomatoes 

$0.99

corn tortillas $2.29
Total spent $54
Ralphs
shell pasta $1.29
milk $2.79
Wasa crisp bread $3.59
artichoke hearts $3.69
green chiles $1.29
LaCroix $2.77
organic apples $2.47
cilantro $1.00
carrots $1.59
strawberries $2.50
canned beans $1.00
sage $2.99
pepperoni $2.99
bread $0.99
clearance bread $0.39
minus digital coupon $3
Total spent $47
Ralphs
orange juice $3.99
milk $2.79
strawberries $1.88
Total spent $12
Ralphs
orange juice $3.99
chocolate milk $1.69
yogurt $1.00
Total spent $8
Sprouts
mushrooms $3.49
bananas $0.69/lb
chocolate sauce $3.49
wasa crispbread $2.79
nut bars $1.00
wheat crackers $2.00
milk $2.79
yogurt $0.80
kefir $2.99
whole milk $3.29
whole grain bread $3.49
Total spent $41
Sprouts
chocolate milk $2.79
yogurt $0.80
whole milk $2.99
Total spent $7
Ralphs
sour cream $2.69
buttermilk $2.99
cottage cheese $1.99
King Arthur flour $3.99
coffee $5.49
almonds $7.99
parsley $1.49
strawberries $1.88
zucchini $1.49/lb
jalapenos $3.99/lb
carrots $1.49
green onions $1.29
crackers $1.29 on clearance
Total spent $60
Ralphs
shredded cheese $3.49
tortellini $7.79
baking powder $2.69
mayonnaise $3.99
baking soda $1.49
chives $1.29
romaine $0.99
strawberries $1.88
spinach $2.39
grape tomatoes $1.99
pork chops $3.24
Total spent $39

Ralphs
ice cream $2.99 to 3.49
cheese $2.49
milk $2.79
organic celery $1.99
basil $3.59
green onions $0.99
avocados $2.99
roma tomatoes $1.49/lb
yellow squash $1.49/lb
eggplant $0.99
yellow onions $2.49
radishes $0.99
garlic $0.50
red peppers $2.49
cole slaw $1.99
romaine $0.99
poblano peppers $1.69/lb
chicken $4.43
sourdough rolls $2.49
minus $5 off produce coupon
Total spent $40
Trader Joe's
eggs $1.59
whole wheat organic spaghetti $1.49
garbanzo beans $0.99
cashews $7.99
buttermilk $1.99
tortillas $1.99
hot sauces $1.99 to $2.99
Total spent $30
Ralphs
vinegar $3.99
roasts $3.99/lb
French bread $1.59
Total spent $35
Ralphs
canned tomatoes $0.89
applesauce $2.69
brown sugar $2.69
white sugar $1.99
tortilla chips $2.99
cheese $2.99
milk $2.79
romaine $0.99
green onions $0.99
rosemary $1.29
cilantro $.50
cucumbers $1.99
bell peppers $1.49
jalapeno peppers $0.18
bananas $1.81
onions $0.50
avocados $2.99
organic tomatoes $2.19
chicken thighs $4.23
chicken legs $2.96
hot sausage $3.99
shrimp $12.98
Total spent $66
Sprouts
carrots $0.77
asparagus $0.92
eggplant $0.98
organic apples $0.98/lb
5# organic potaotes $1.98
organic leeks $2.49/lb
roma tomatoes $0.88/lb
chicken breast $1.42
chicken breast $1.72
tortillas $3.79
Total spent $19
Costco
organic chicken sausage $11.49
diced tomatoes $6.49
chicken tenders $15.99
milk $4.79/2 gallons
4# butter $10.49
Greek yogurt $6.39
romaine $2.99
babybel cheese $10.99
carrots $4.99
pack cucumbers $3.99
snap peas $5.79
sharp cheddar $8.99
grape tomatoes $5.99
4# organic ground beef $19.99
2 dozen organic eggs $6.49
olive oil $13.99
salame $13.89
tortillas $3.69
broccoli $4.49
frozen berries $7.99
2 loaves whole grain bread $4.59
deli ham $8.48
deli roast beef $8.74
organic brown mushrooms $5.99
dozen bagels $5.49
Total spent $230
Trader Joe's
almonds $5.99
cereal $2.79
cauliflower $1.99
hashbrowns $1.99
cilantro $1.79
crackers $2.79
shrimp $9.99
pasta $0.99
pecans $4.49
vinegar $1.99
bananas $1.52
sesame oil $2.69
ginger $1.99
sunflower seed butter $4.99
Dijon mustard $1.69
Total spent $60
ALDI
sparkling water $0.55
water chestnuts $0.39
beans $0.65 to $0.89
carrots $0.98
salt $0.39
green chiles $0.55
green onions $0.94
organic mixed greens $2.29
red bell peppers $0.59 each
sourdough bread $2.29
corn tortillas $1.99
pears $1.99
roma tomatoes $0.75/lb
cabbage $0.10/lb
avocados $0.29 each
Total spent $31
Ralphs
baking powder $2.69
buttermilk $2.99
frozen vegetables $1.00
blue cheese $2.99
spaghetti $1.00
brown sugar $2.39
baking soda $2.49
juice $1.49
pasilla chile powder $0.79
enchilada sauce $1.99
cinnamon $5.99
black eyed peas $1.69
sparkling water $1.10
orange juice $2.50
green peppers $0.99
cilantro $0.50
jalapeno pepper $0.79/lb
hass avocado $1.50
red onion $1.49/lb
bananas $0.69/lb
mushrooms $2.49
roma tomatoes $0.99/lb
limes $0.39 each
garlic $0.50 each
personal watermelon $1.77
5# bag grapefruits $2.77
broccoli $1.79/lb
potatoes $1.69/lb
eggs $2.50
chicken breast $8.26
chicken breast $5.83
minus $5 meat coupon
minus $5 produce coupon
Total spent $70
Costco
baking potatoes $6.49
organic brown rice $11.99
basmati rice $13.99
half ham $11.71
spiral ham $20.78
tortilla chips $4.39
2 doz organic eggs $6.49
doz bagels $5.49
cooked bacon $14.69
tortillas $3.69
cheddar $8.99
Total spent $115
Total spent in March: $1336
Here's looking at 2017 as a whole:
January $356
February $1015
March $1336
Average for 2017 so far: $902/month