Want a peek into our grocery cart? Here's how I'm grocery shopping and feeding eight people on the cheap.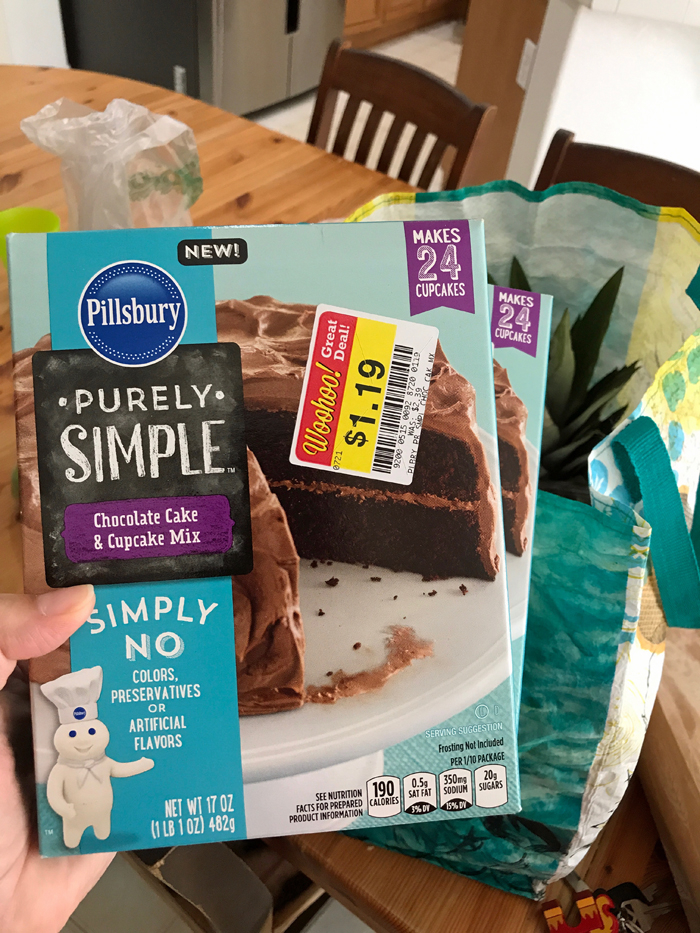 July has been a month of finding my bearings in the kitchen again. In May we ate down the pantry in anticipation of June's trip to Great Britain. This month was restocking and figuring out what's what. As a result of starting fresh and not paying super close attention, I went over our budget by a little bit.
When I see those manager's specials, it's hard to resist!
You'll see how the numbers crunched at the end. Spoiler: our monthly average for 2017 is still far below my target spending, proving that it's good to scrimp some months so that you can feast in others.
The Grocery Geek report
For those of you new here, Grocery Geek is my regular report of how I shopped for groceries, what deals I found, and my running total of how we're sticking to a budget for groceries.
Here's the rundown on my shopping this week. As you read, keep in mind who and how I'm shopping:
My grocery shopping profile
To update you on my grocery geekiness: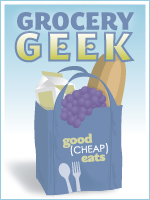 I'm feeding

eight people, ages 53, 44, 20, 16, 15, 13, 10, and 8. Five of those people are males. They eat A LOT!
I'm shooting for a budget of

$1200, per the

USDA food cost reports the last time I added up for people of our demographics. I live in Southern California where produce is cheap, but meat and dairy are not.
I'm trying to feed us

mostly unprocessed foods, with a few "healthier" convenience items thrown in and

a junk food splurge* here and there.
I

work at home and teach five of our kids, so I don't have as much time for fiddling in the kitchen as I would like.
I

no longer use coupons on a regular basis, though I do love

the coupons that Ralphs offers.
I have at least

ten grocery stores within 5.5 miles of my house. It is easy (for better or for worse) to stop at several stores to get the best deals.
We

mostly eat at home. My husband and college age son often pack lunch and breakfast to work, but sometime have lunch out. My husband and I enjoy a date once a week. FishPapa takes one child out to "dinner with dad" once a week. We eat out as a family on average once a week.
BEFORE YOU JUDGE ME FOR EXTRAVAGANCE,

please read this post.
What we spent in July: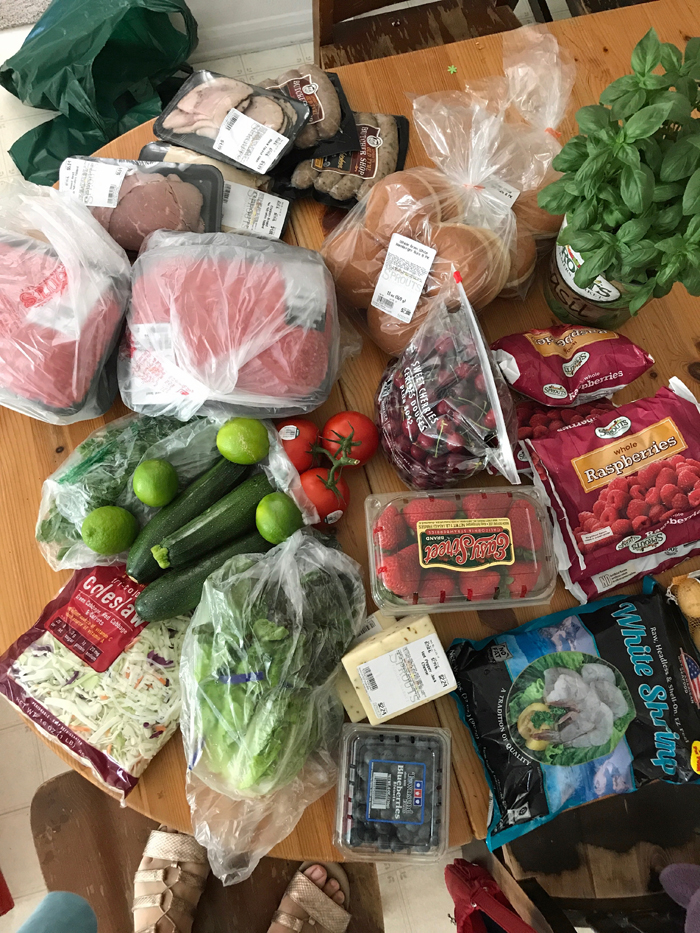 Sprouts
strawberries $0.97/lb
baby potatoes $2.99/bag
cilantro $0.50/bunch
tomatoes $1.99/lb
half-pint blueberries $0.98
zucchini $0.98/lb
limes 4/$1.00
raspberries $2.99
sweet cherries $1.48/lb
lettuce $0.99/head
coleslaw $0.98
onions

$0.98/lb

black forest ham $4.39
chicken breast $4.81
pepper jack cheese $2.99/lb
sliced roast beef $6.14
pumpkin seeds (in bulk ) $0.60
chicken apple sausage $5.49
xtra lean ground beef $3.99/lb
raw shrimp $6.99/lb
hamburger buns $2.00
frozen berries $1.50/bag
Total spent $117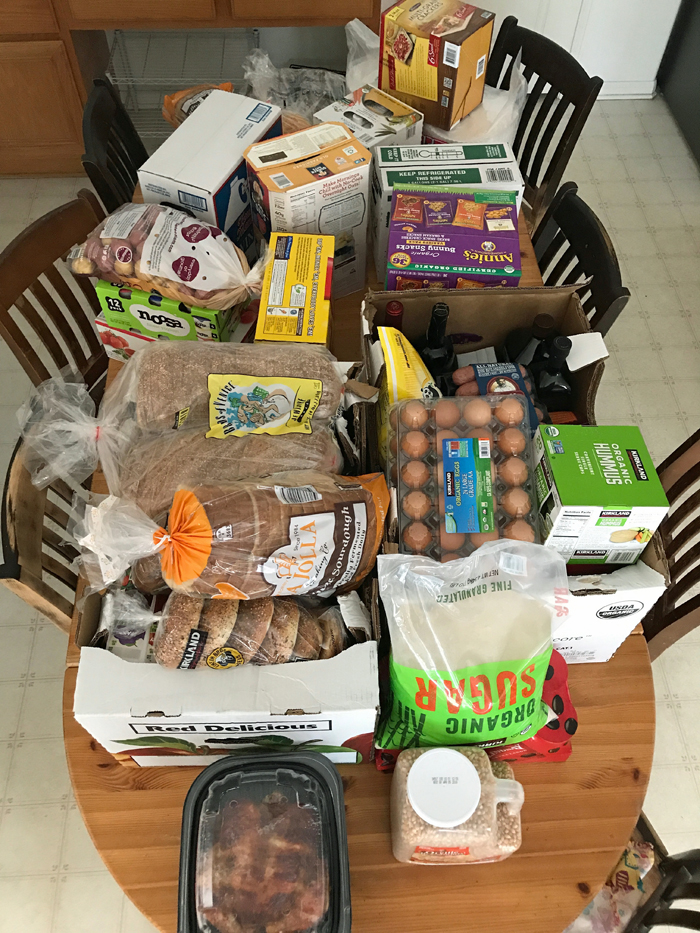 Costco
olive oil $14.99
organic maple syrup $10.99
avocado oil $7.99
yeast $4.39
salt $2.79
brown rice ramne $7.99
black olives $9.59
organic sugar $7.99
organic pasta $8.49
white vinegar $3.59
tomato sauce $7.99
heavy cream $9.59
4-lbs butter $12.69
shredded mozzarella $10.99
organic chicken stock $10.99
corn dogs $9.89
potatoes $6.99
Tillamook cheddar $8.99
Tillamook xtra sharp $9.59
Fage Greek yogurt $6.39
Aidells chicken sausage $13.99
hummus singles $6.49
Noosa single yogurts $8.79
rolled oats $8.39
organic eggs $6.49
6-pack bell peppers $5.99
tortillas $3.69
half turkey breast $14.60
half ham $9.52
uncured bacon $12.79
pork tenderloins $18.34
rotisserie chicken $4.99
kale salad $4.79
cucumbers $3.29
ginger lemon cookies $4.59
rye bread $4.79
popcorn $11.99
multigrain crackers $9.89
bread $4.59
organic fruit strips $8.49
sourdough $3.69
milk $4.38/2-gallons
organic bunny snacks $8.39
torta sandwich rolls $8.79
comte cheese $8.79
bagels $5.49
Total spent $430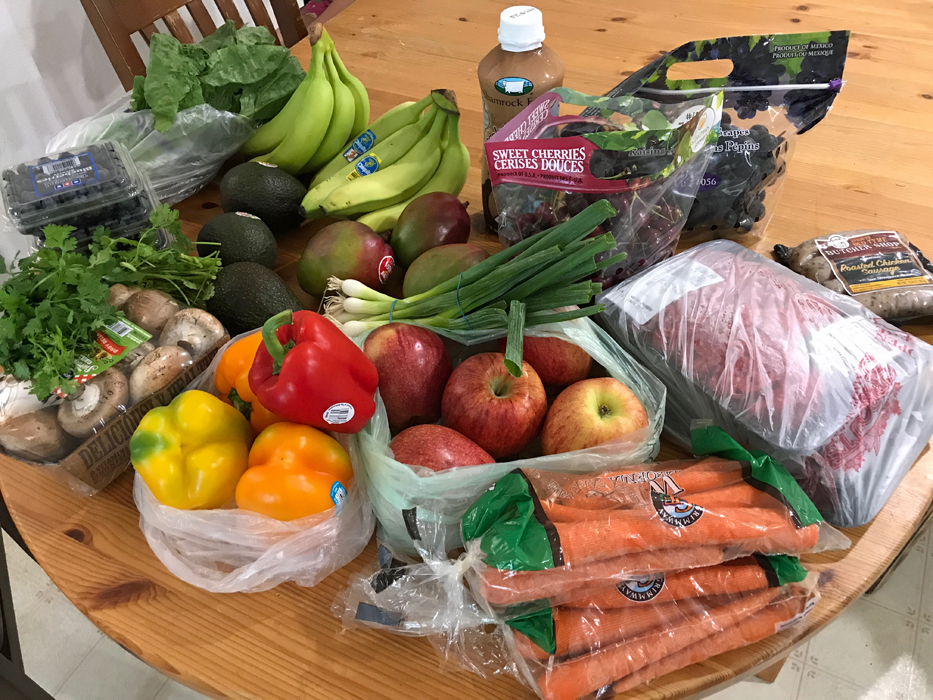 Sprouts
whole carrots $0.77/lb
mushrooms $3.49/lb
grapes $0.88/lb
cilantro $0.50/bunch
yellow and orange peppers $0.98/each
green onions

$0.50/bunch

half-pint blueberries

$0.88

organic apples

$0.98/lb

red mangoes 3/$1
romaine lettuce $0.99
sweet cherries $1.98/lb
XL avocados 3/$5
bananas $0.69/lb
chocolate milk $2.79
ground sirloin $3.99/lb
chicken sausage $5.49
Total spent $61
Costco
organic eggs $6.49

6-pack bell peppers $5.99
milk $4.38/2-gallons
sugar snap peas $4.29
Total spent $28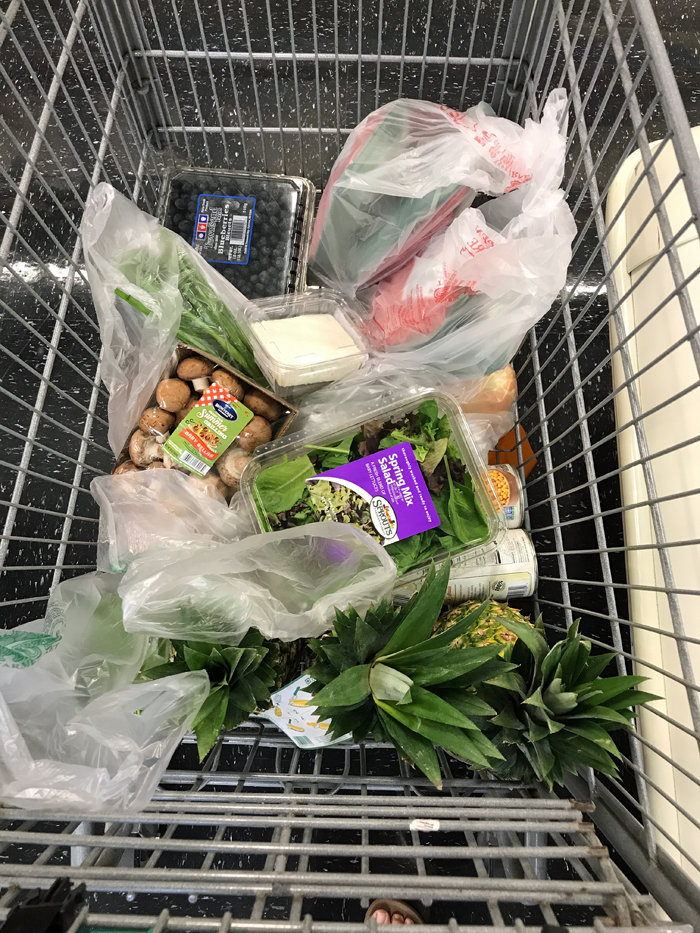 Sprouts
mushrooms $3.49/lb
18-ounce blueberries $1.98
cilantro 3/$1
tomatoes

$0.98/lb

pineapple 3/$1.98
green onions 2/$1
red onions

$0.99/lb

spring mix $2.99
sweet onions

$0.98/lb

canned beans $0.89
feta cheese $3.21
sliced roast beef $6.56
grass fed ground beef $3.99/lb
Total spent $69
Costco
maple syrup $10.99
heavy cream $9.59
Tillamook cheddar $8.99
pesto $7.89
romaine 6-pack $3.29
Total spent $41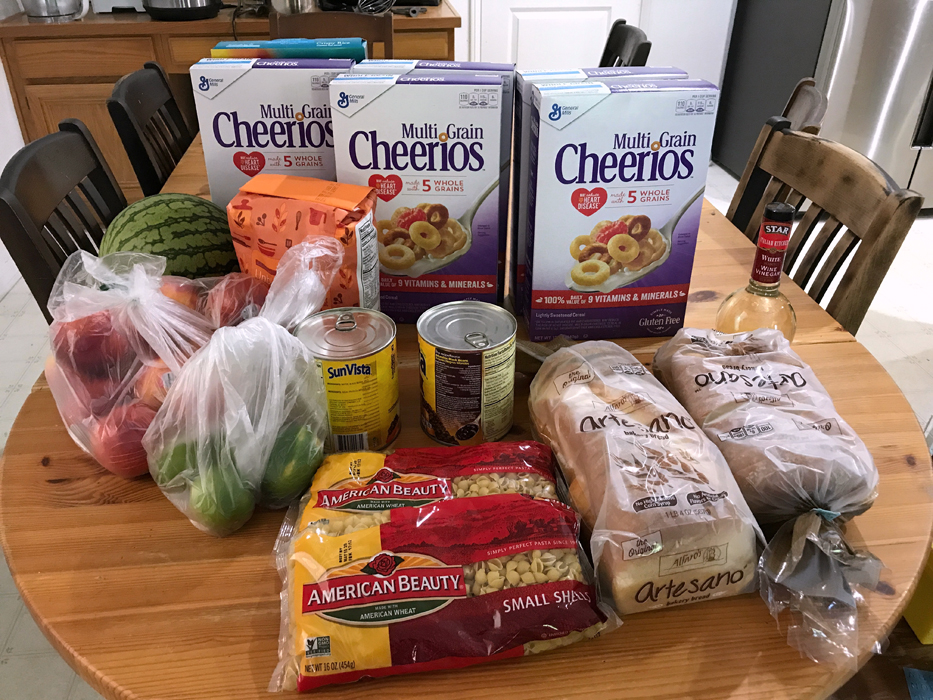 Albertsons
Cheerios – $1.99/box when you buy 5
Artesano bread to make

bostock – $1.99/loaf
pasta – $0.99/bag
large cans beans – $1.99
personal watermelon – $1.88
nectarines $0.99/lb
limes 4/$1
large bottle vinegar $1.99
flour $3.99
Total spent $31
Walmart
black beans $1.34
jalapenos $0.38
cilantro $0.48
flour $5.98
Total spent $17
Albertsons
graham cracker crust $2.69
ice cream cones $1.99
taco shells $1.49
pasta FREE after app coupon
olives $1.99
canned beans $0.69
biscuits

FREE after app coupon

coconut cake $3
yogurt $1.50
ice cream $2.88
milk $2.69
French loaf $1.79
whole wheat pita $3.99
ground beef $3.38/lb on clearance
strawberries $1.50/lb
grapes $1.50/lb
cucumbers $0.50
zucchini $0.57
green onions $0.99
celery $1.99
red onions $1.49/lb
tomatoes $1.79/lb
apples $1.99/lb
nectarines $1.99/lb
potatoes $2.99
broccoli $2.00
shredded carrots $1.49
Total spent $84
Ralphs
milk $2.69
croissant $5.99
Total spent $9
Sprouts
strawberries $0.98
potatoes $2.99
cilantro 2/$1
limes 4/$1
apples $0.98/lb
XL avocados $1.88
French bread $1.29
almond butter $0.99
Total spent $18
Ralphs
bagels $1.50
Cheerios free to $0.99 after coupons and sales
frozen corn $1
tuna $4.49
cake mix $1.19 on clearance
sour cream $2.49
cream cheese $1.49
almonds $3.00
chicken breast $1.99/lb on markdown
Total spent $49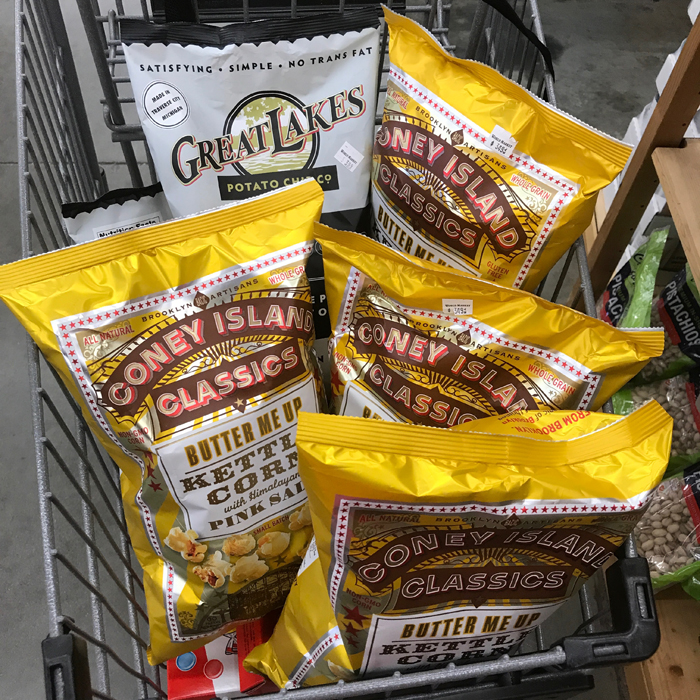 World Market
kettle corn $0.35/bag after 90% off sale
potato chips $0.18/bag

after 90% off sale
Total spent $2
Albertsons
This was an impromptu birthday shopping trip.
baked beans $2.19
cinnamon rolls $3.49
English muffins $1.99
tri-tip roasts $5.99/lb
breakfast sausage $3.99
potatoes $2.99
mushrooms $5.00
Total spent $50
Plus shopping trips my husband did for me, but the receipts are now missing. Oops.
Aldi – $42
Costco – $152
Costco – $88
Costco – $66
Total spent in July: $1354
January $356
February $1015
March $1336
April $1347
May $390
June $1200
July $1354
Total spent in 2017 – $6998
Monthly average in 2017 – $999.71
Not too shabby, considering some months have been over. Lesson: cut back when you can so you've got wiggle room later. I'm hoping August will be a time to use things up; I'd really like to get some freezer meals ready for school.
How's YOUR grocery budget doing?