Want a peek into our grocery cart? Here's how I'm grocery shopping and feeding eight people on the cheap: the Grocery Geek report for January.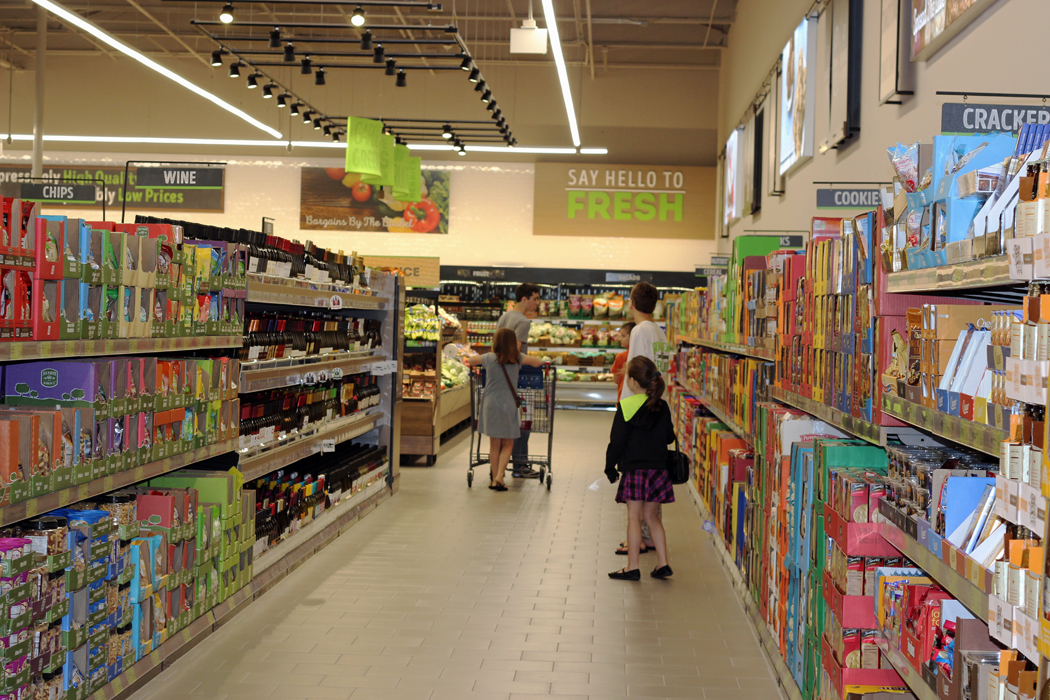 If you've been reading around here for more than a day, you know that this month was a little unusual. I haven't posted new recipes or standard money-savings tips, but instead shared with you our family's January Pantry Challenge.
We do a Pantry Challenge every January and in the month prior to a long vacation. It helps us save money, use up what we have, and avoid waste. This month I purposed to spend half our regular grocery budget and instead focus on what we already had in the freezer, fridge, and cupboard.
That doesn't mean I didn't grocery shop. As you'll see, I most certainly did. But, I didn't stock up on many sale items, I didn't buy meat, and I didn't buy whatever suited my whim at the moment.
Doing this "grocery shopping reset" each January sets the tone for the rest of the year. I go forth into budgeting, knowing that we have a little cushion. It's okay if I go over here and there because we've got some wiggle room.
Last year my target monthly budget was $1200, but we averaged $1,077/month over the course of the year. I'm playing with the idea of making $1100 our new target. Not sure if I can swing it, but we did this month!
The Grocery Geek report
For those of you new here, Grocery Geek is my regular report of how I shopped for groceries, what deals I found, and my running total of how we're sticking to a budget for groceries.
Here's the rundown on my shopping this week. As you read, keep in mind who and how I'm shopping:
My grocery shopping profile
To update you on my grocery geekiness: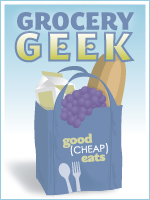 I'm feeding

 

eight people, ages 55, 45, 20, 17, 15, 13, 11, and 9. Five of those people are males. They eat A LOT!
I'm shooting for a budget of

 

$1100 this year, trying to beat what the feds think it will cost. Per the

 

USDA food cost reports it should cost our family $1336.20 to eat all meals at home under the "thrifty plan" for people of our demographics.
We live in Southern California where produce is cheap, but meat and dairy are not.
I'm trying to feed us

 

mostly unprocessed foods, with a few "healthier" convenience items thrown in and

 

a junk food splurge* here and there.
I

 

work at home and teach five of our kids, so I don't have as much time for fiddling in the kitchen as I would like.
I

 

no longer use coupons on a regular basis, though I do love

 

the coupons that Ralphs offers.
I have at least

 

ten grocery stores within 5.5 miles of my house. It is easy (for better or for worse) to stop at several stores to get the best deals.
We

 

mostly eat at home. My husband and college age son often pack lunch and breakfast to work, but sometime have lunch out. My husband and I enjoy a date once a week. FishPapa takes one child out to "dinner with dad" once a week. We eat out as a family on average once a week.
BEFORE YOU JUDGE ME FOR EXTRAVAGANCE,

 

please read this post.
What we spent in January
Sprouts
strawberries 3/$5
blackberries 4/$5
ginger root $2.99/#
4# bag grapefruit
blueberries 3/$5
1# bag Meyers lemons $2.99
organic baby spinach $4.99
1# whole mushrooms $3.49
cornstarch $1.79
Total spent: $26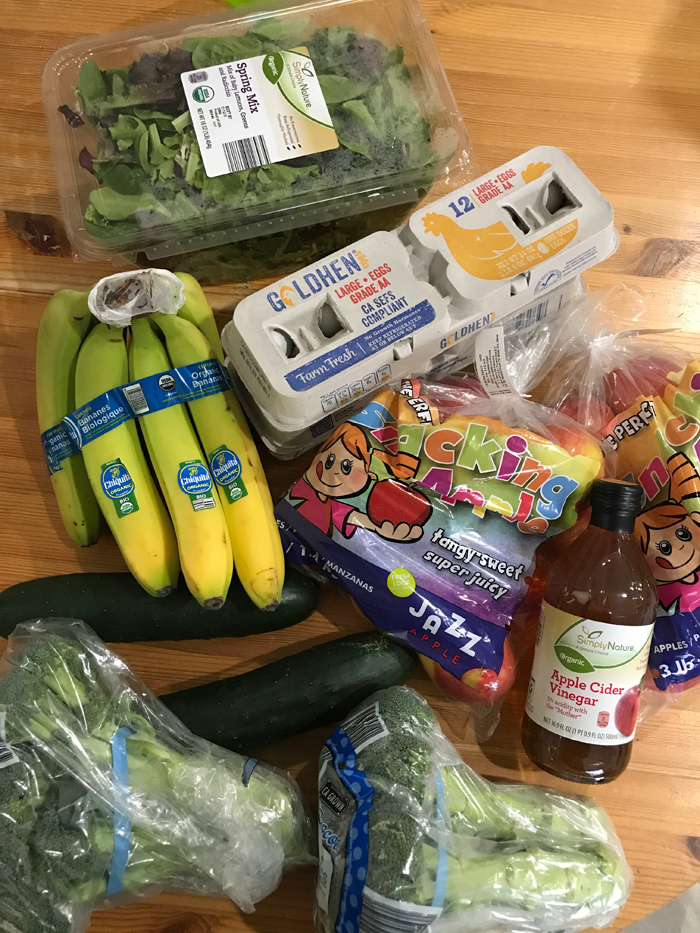 ALDI
bagged apples $3.99
sparkling water $0.69 after CRV
organic apple cider vinegar $1.79
organic broccoli $2.29
organic bananas $0.68/lb
cucumbers $0.48 each
eggs $2.49
Total spent: $40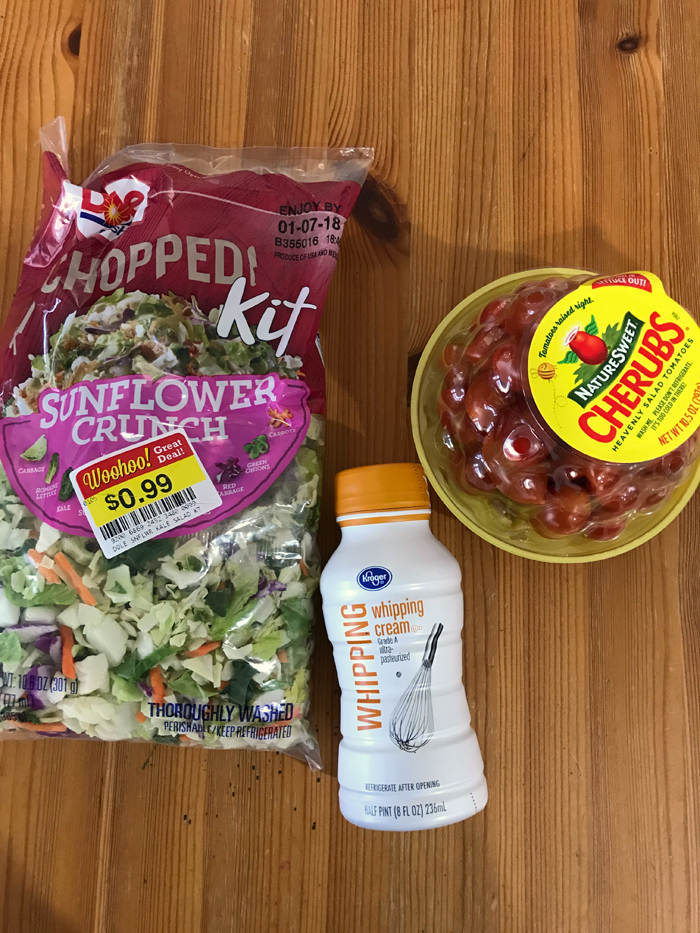 Ralphs
whipping cream $1.79
salad kit $0.99
cherry tomatoes $2.50
Total spent: $5
Sprouts
strawberries 3/$5
red bell peppers 2/$1
feta cheese $4.15
Total spent: $9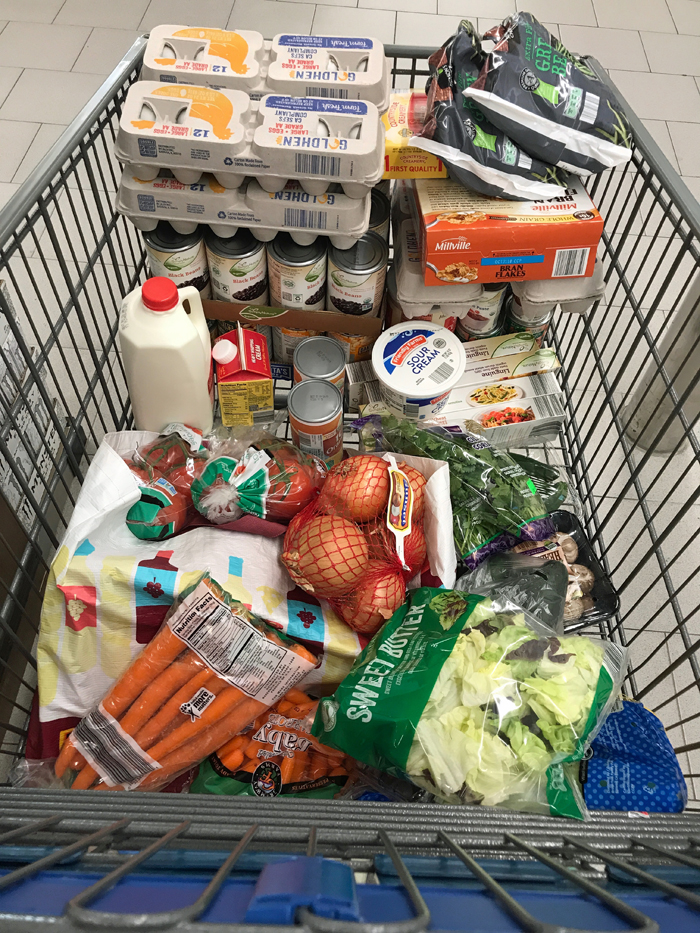 ALDI
eggs $0.99
applesauce $1.49
butter $2.49
cereal $1.99
steel cut oats $2.29
frozen green beans $1.39
sour cream $1.29
crushed tomatoes $0.99
tomato sauce $0.29
organic black beans $0.89
organic tomato paste $0.69
whole milk $1.75
organic spaghetti $1.09
milk $2.29
whipping cream $1.99
organic celery hearts $1.39
baby carrots $0.89
frozen orange juice $1.19
whole carrots $0.94
canned white beans $0.65
cilantro $0.38
lemons $3.49
onions $1.38
jalapeños $1.49
tomatoes $0.74
butter salad $1.89
mushrooms $1.97
blueberries $2.98
cucumbers $0.48
Total spent: $78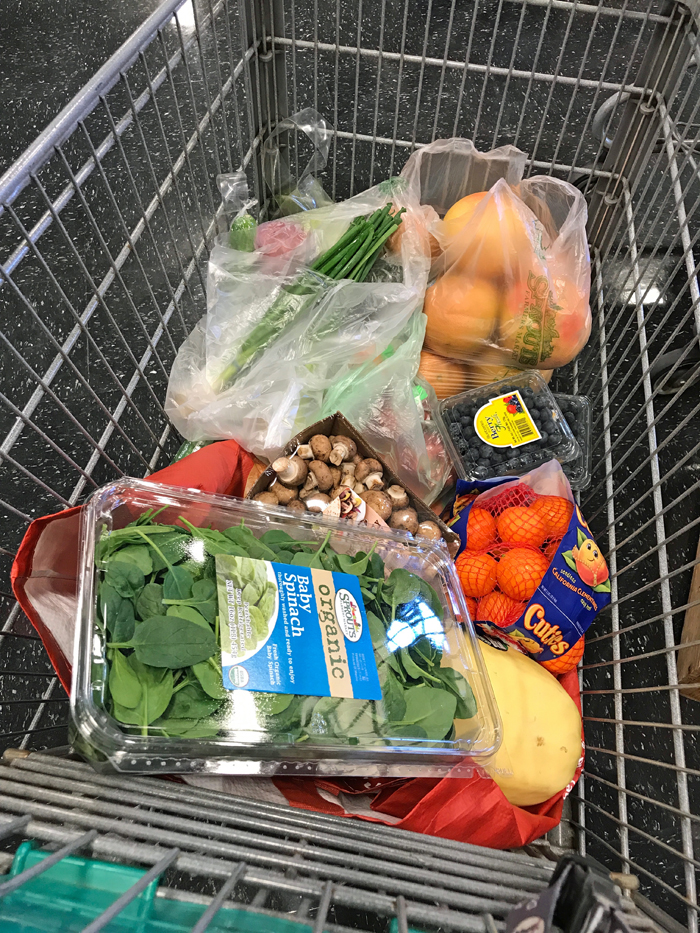 Sprouts
mushrooms $3.49
2# clementines $3.96
green onions 2/$1
blueberries 2/$3
English cucumbers $0.77
jumbo avocado $2.50
organic baby spinach $4.99
organic apples $0.98/lb
grapefruit 3/$1
red onions $0.77/lb
spaghetti squash $0.77/lb
Total spent: $37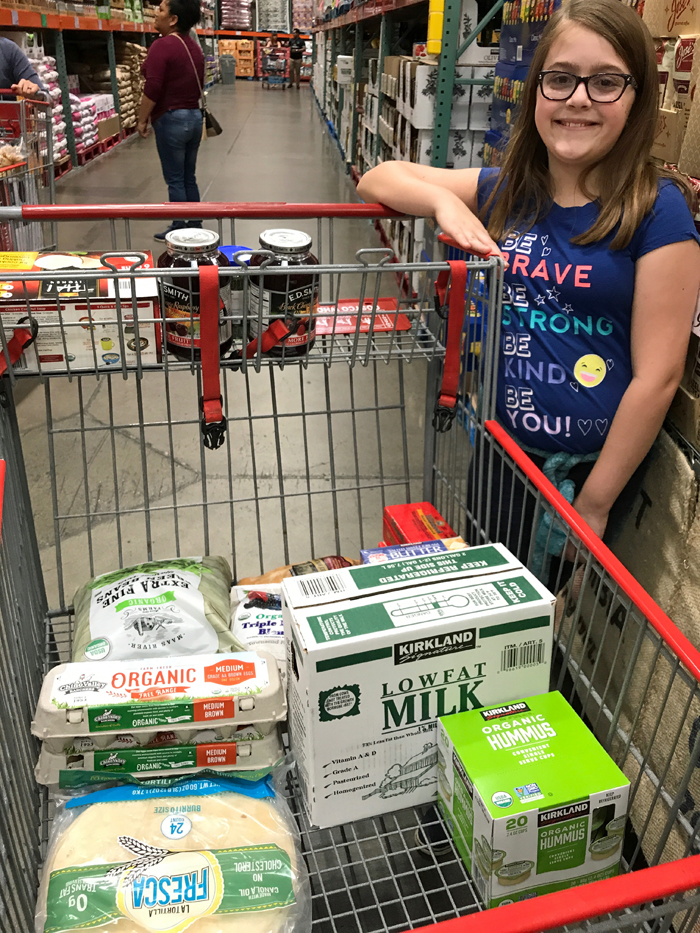 Costco
milk $4.39
coconut milk $8.99
greek yogurt $5.49
big jars of amazing jam $5.99
dried dill $4.99
turkey breast $15.24
frozen berries $7.99
Tillamook $8.99
butter $10.89
single hummus $6.49
frozen green beans $6.99
organic eggs $2.69
tortillas $3.69
Total spent: $116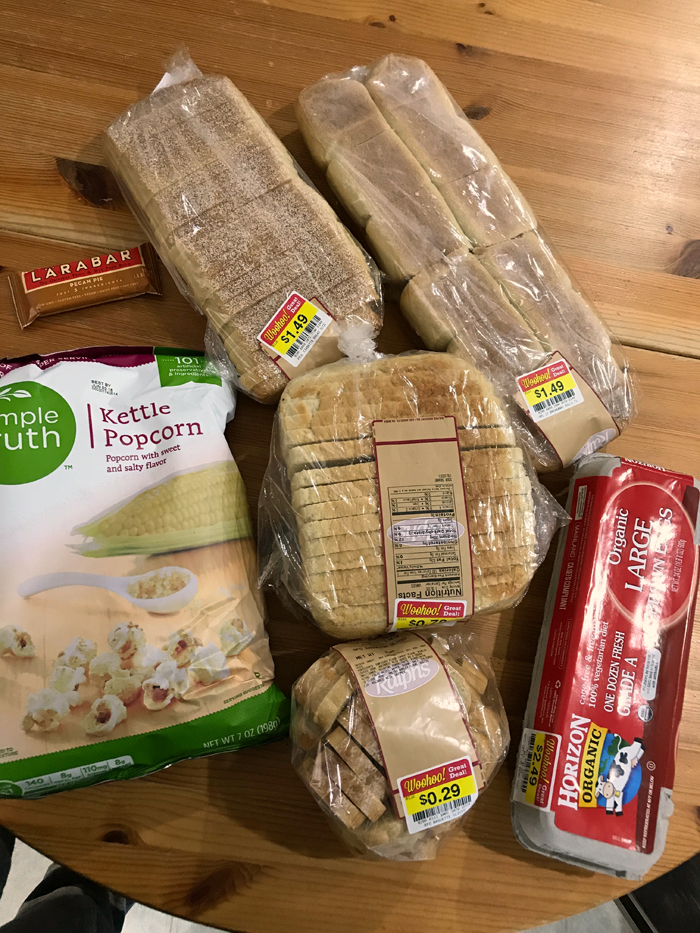 Ralphs
organic eggs $2.49 (mgr's special)
bread $0.29 to $1.49 (mgr's special)
kettle corn FREE (store coupon)
Larabar FREE (store coupon)
Total spent: $7
ALDI
sparkling water $0.69 after CRV
sardines $0.99
eggs $0.98
Total spent: $15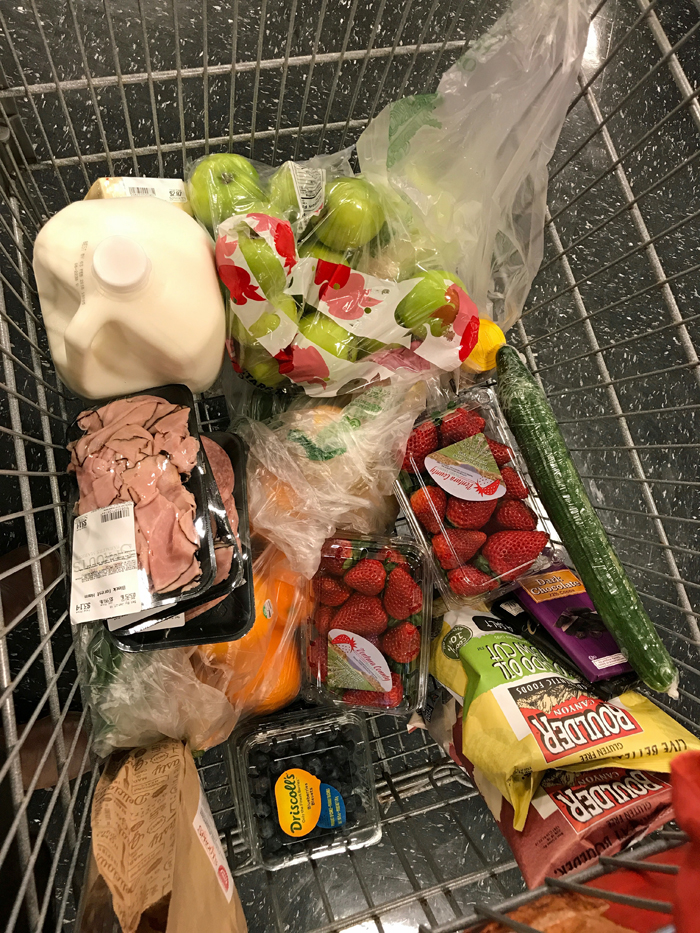 Sprouts
strawberries 3/$5
green bell peppers 3/$1
green onions 3/$1
blueberries 3/$5
English cucumber $0.98
oranges 2#/$1
3# organic apples $4.99
organic green cabbage $0.99
sweet onions $0.88
chips $1.50
milk $2.79
deli meats $2 to $3
pepper jack cheese $3
bread $1.69
chocolate $6
Total spent: $50
ALDI
taco shells $0.99
eggs $1.04
onions $1.38
lettuce $0.95
whipping cream $1.99
green tea $0.99
organic baby spinach $2.49
milk $2.29 to $2.65
Total spent: $25
Ralphs
bread $0.99 (mgr's special)
veggie tray $5.99
yogurt FREE after coupon
cucumbers $1.99 each (but twice the size of regular ones which were $1)
carrots $1.99
tomatoes $0.99/lb
organic granola $1.49
parsley $0.69
organic apples $2.99
minus $5 off $15 produce purchase
Total spent: $20
Trader Joe's
hot sauce $2.29
red wine vinegar $1.99
almond butter $5.99
ice cream $3.79
sunflower seed butter $4.99
chocolate bars $2
Total spent: $21
Ralphs
lettuce $1.29
mushrooms $3.49
Total spent: $5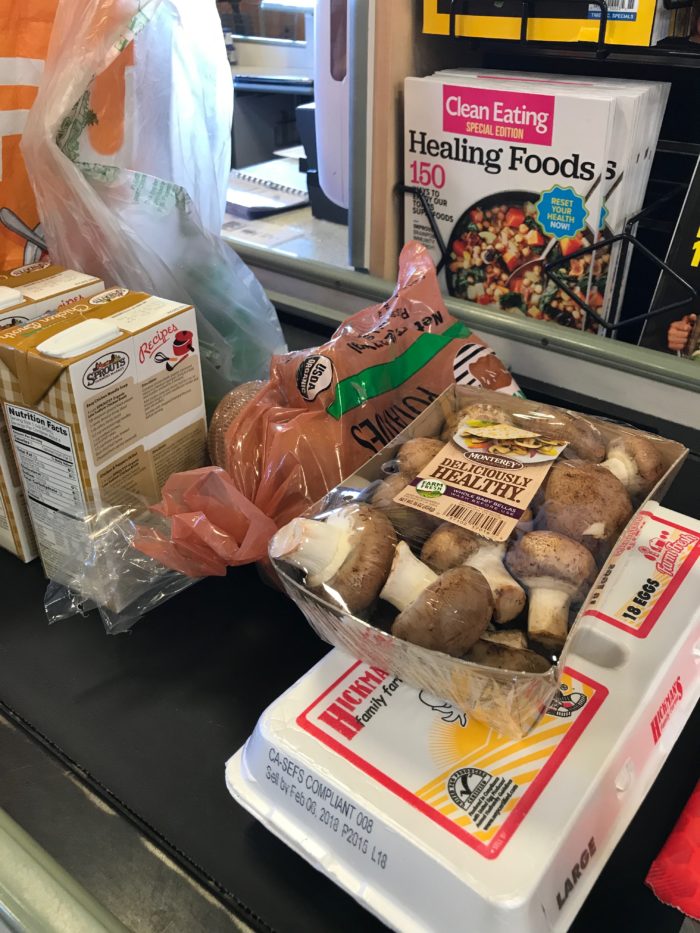 Sprouts
mushrooms $3.49
cilantro $0.50
organic potatoes 5# $2.99 (same price as conventional)
organic chicken broth $1.99
18 ct eggs $3.49
blueberries $1.25
bacon $3.99/lb
sausage $3.99/lb
Total spent: $28
Ralphs
quart cream $5.29
pasta $1.09
French bread $1.59
Total spent $8
Total spent in January: $490
Total spent YTD: $490
My goal for the month was to spend less than half our regular budget. $1100 divided by two equals $550. Boom. We did it. Here's hoping we can stick to $1100 through the course of 2018.