Want a peek into our grocery cart? Here's how I'm grocery shopping and feeding eight people on the cheap.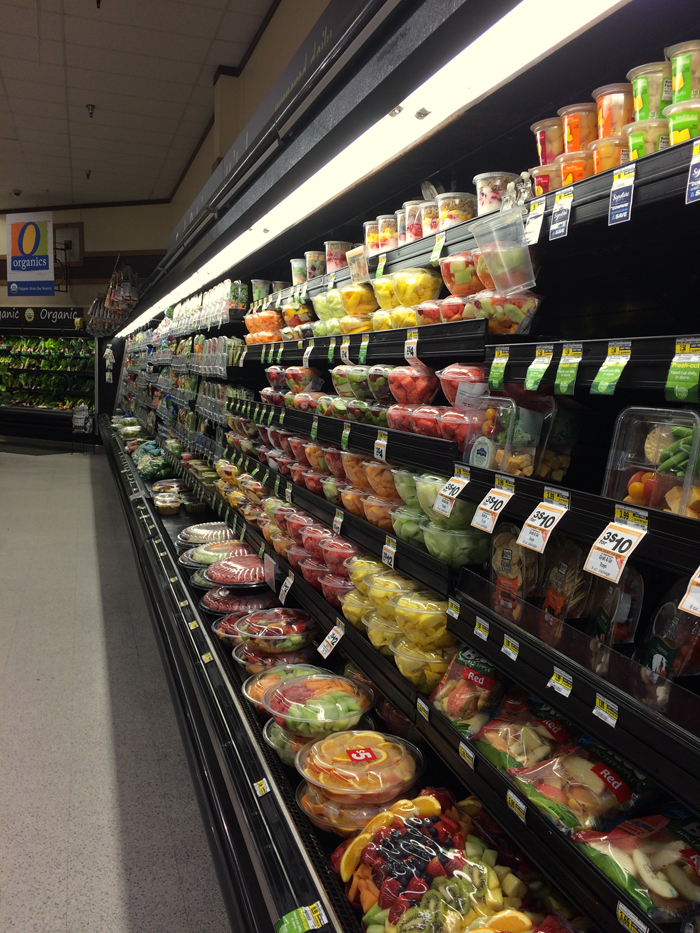 Amazing how time flies when you're having fun — or feeling well. I'm on Day 4 of my third illness this winter. I'm ready for spring to come and for time to slow down enough for me to catch up!
Lucky for me I had all my grocery receipts in one place so pulling together this post wasn't as difficult as it could have been. And that picture above contains nothing that I've purchased. I just thought the colors were pretty.
Now that I think of it, though, people must be really pressed for time if there's SUCH a market for pre-packed fruits and veg!
Anywho, I pleased to report that this month we were almost $200 under budget! Coming after a pantry challenge that is indeed, an amazing feat. But, it was a shorter month, and I noticed we spent a similar amount last February as well. So, maybe it wasn't as amazing as one would think.
I am tackling grocery shopping in a much different way this month. Or at least I'm trying to. As I mentioned before, I'm keeping better track of unit prices so that I can more accurately identify the best places to buy the items we regularly use.
You may notice a few more Costco and ALDI stops this month. These two stores are showing that their regular prices are the most competitive. While I still love Ralphs and Trader Joe's for certain products, Sprouts for its produce prices, and Albertsons for its convenience, I'm trying to focus on the bottom line this year.
My priorities are quality and price. I want us to eat more plant foods and fewer processed. You'll notice less meat and more organics in the mix as well this month. I'm not sure how it will pan out over the course of the year, but that's my target at the moment. We'll see how it goes.
The Grocery Geek report
For those of you new here, Grocery Geek is my regular report of how I shopped for groceries, what deals I found, and my running total of how we're sticking to a budget for groceries.
Here's the rundown on my shopping this week. As you read, keep in mind who and how I'm shopping:
My grocery shopping profile
To update you on my grocery geekiness: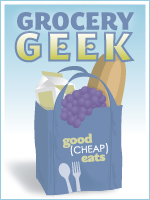 I'm feeding eight people, ages 53, 44, 19, 16, 14, 12, 10, and 8. Five of those people are males. They eat A LOT!
I'm shooting for a budget of $1200, per the USDA food cost reports the last time I added up for people of our demographics. I live in Southern California where produce is cheap, but meat and dairy are not.
I'm trying to feed us mostly unprocessed foods, with a few "healthier" convenience items thrown in and a junk food splurge* here and there.
I work at home and teach five of our kids, so I don't have as much time for fiddling in the kitchen as I would like.
I no longer use coupons on a regular basis, though I do love the coupons that Ralphs offers.
I have at least ten grocery stores within 5.5 miles of my house. It is easy (for better or for worse) to stop at several stores to get the best deals.
We mostly eat at home. My husband and college age son often pack lunch and breakfast to work, but sometime have lunch out. My husband and I enjoy a date once a week. FishPapa takes one child out to "dinner with dad" once a week. We eat out as a family on average once a week.
BEFORE YOU JUDGE ME FOR EXTRAVAGANCE, please read this post.
What we spent in February:
Bob's Red Mill
I had a $25 gift card to use for Bob's Red Mill, but since shipping is free for orders over $50, I ordered enough to get the free shipping.
1 case – 4 (22-ounce) bags organic dark rye flour $12.19
1 case – 4 (5-lb) bags whole wheat flour $15.39
3 (5 lb) bags whole wheat pastry flour $12.87
1 case – 4 (29-ounce) bags green split peas $11.79
minus $25 gift card
Total spent $27
Sprouts
garlic 3/$1
organic apples $0.98/lb
1# mushrooms $3.49
red bell peppers 2/$1
bananas $0.69/lb
Total spent $14
Costco
2# sourdough bread $3.69
2 loaves whole grain bread $4.59
dozen bagels $5.49
hot dog buns $2.49
XL avocados $5.99/5
2 gallons of milk $4.59
chicken tenders $15.99/7 pounds
dry pinto beans $5.99/5#
organic triscuits $8.99/4 boxes
organic chicken stock $11.49/6 boxes
tomato sauce $7.99/case
diced tomatoes $6.49/case
black olives $9.59/case
organic tomato paste $6.79/case
organic frozen berries $9.99
Tillamook cheddar $8.99
Aidells Chicken sausage $13.99
organic frozen blueberries $19.69
kale salad $4.79
organic ground beef $19.99/4 pounds
English cucumbers $3.99/3
24-pack organic eggs $6.49
almond butter $7.99
organic no-salt blend $7.99
Fage yogurt $6.39
honey $10.99
avocado oil $9.49
organic maple syrup $10.99
organic fruit leathers $11.99
rotisserie chicken $4.99
hummus singles $6.49
albacore tuna $12.99
organic strawberries $8.99
diced tomatoes $2.79/#10 can
shredded mozzarella $11.69
cream $9.89
mayonnaise $6.99
Total spent $336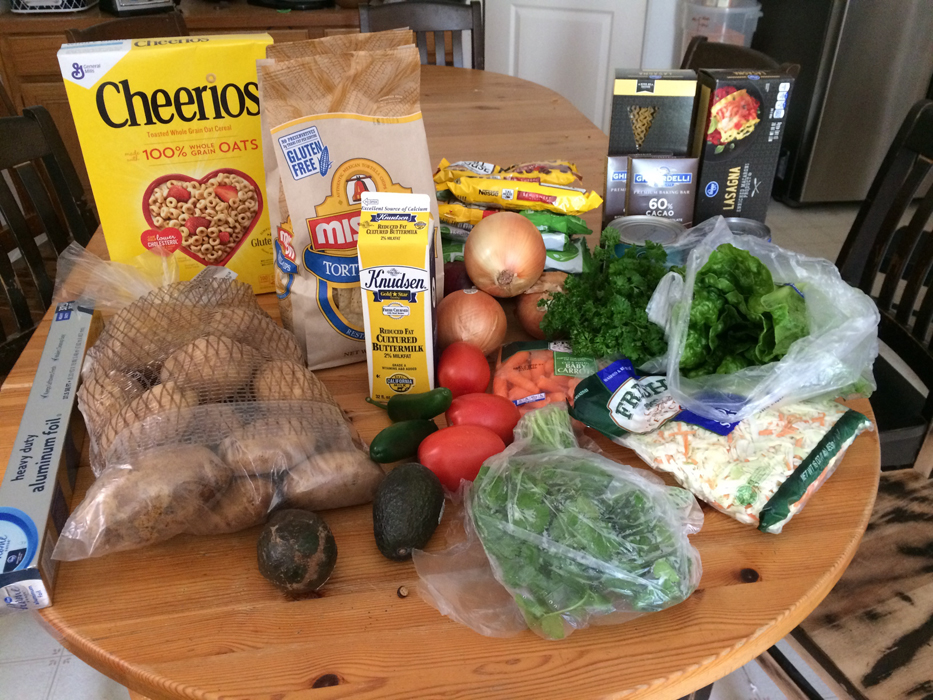 Ralphs
tortilla chips $0.99
buttermilk $2.99
lasagna noodles $1.59
chocolate chips $1.49 to $1.99 (organic) clearance
chocolate baking bar $1.99 clearance
large Cheerios FREE after coupon
crushed tomatoes $1.49
cilantro $0.50
parsley $0.50
coleslaw mix $1.59
avocado $1.00
roma tomatoes $0.99/lb
red onion $1.49/lb
romaine $0.99
onions 

$0.99/lb

10# bag potatoes $3.99
jalapenos $0.79/lb
baby carrots 

FREE after coupon

canned soup 

FREE after coupon

minus $5 off order
minus $5 off produce
Total spent $35
Costco
hummus singles $6.49
whole turkey breast $15.96
pesto $7.89
sourdough bread $3.69
kale salad $4.79
organic strawberries $7.99
Total spent $50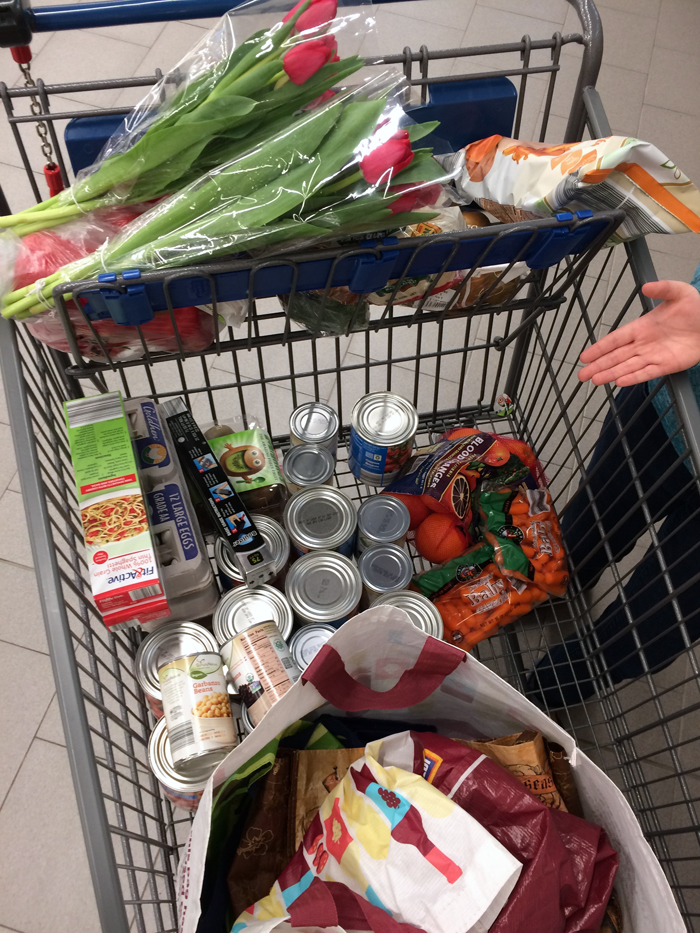 ALDI
red peppers $0.49
broccoli crowns $0.95
pears $1.99
sweet potato chips $1.99
organic celery hearts $1.49
blood oranges $3.99
baby carrots $0.89
eggs $0.54
10# russet potatoes $1.95
kiwi $3.98/2#
whole wheat tortillas $2.39
corn tortillas $1.39
crushed tomatoes $0.99
spices $1.99
whole wheat spaghetti $0.99
organic black beans $0.89
organic garbanzo beans $0.89
Total spent $46
Costco
sunchips multipack $8.49
organic triscuits $8.99/4 boxes
Cheerios mega pack $5.99
organic pretzel crisps $6.89
grape tomatoes $5.99
whole grain bread $4.59
sourdough 2# $3.69
dozen bagels $5.49
organic gala apples $8.79
Hebrew National hot dogs $10.99
red bell pepper 6-pack $5.99
sliced roast beef $8.60
turkey breast $15.60
graham crackers $9.89
Tillamook cheddar $8.99
organic fruit strips $8.99
Fage yogurt $6.39
Total spent $158
Trader Joe's
string cheese $2.99
kefir $2.99
milk $2.99
Total spent $18
Albertsons
frozen vegetables $0.99
corn tortillas $1.50
broccoli crowns $1.49/lb
red bell peppers $0.99 each
rainbow baby carrots $1.69
Total spent $14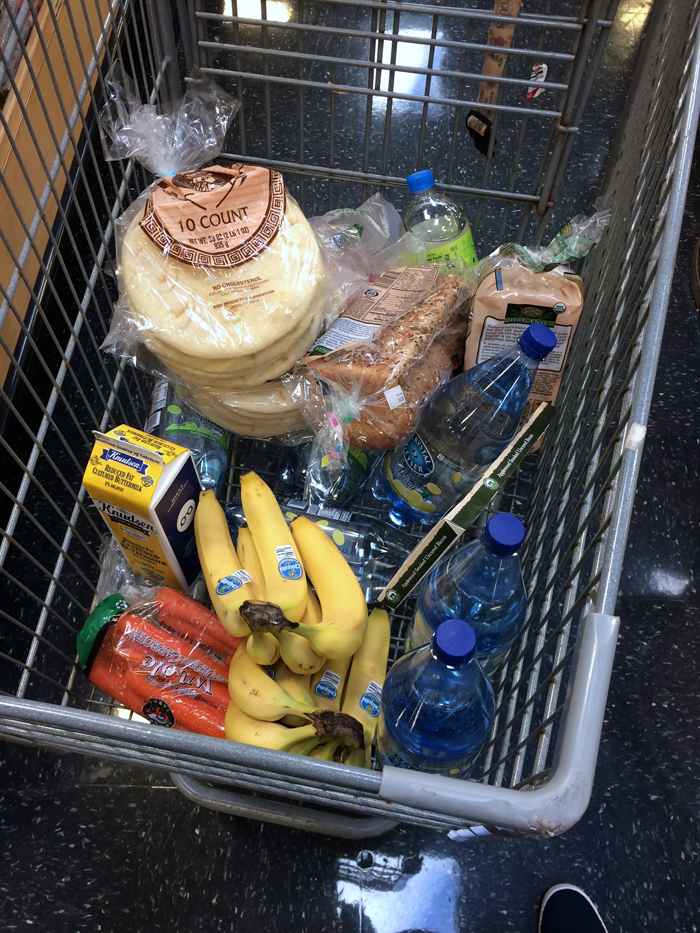 Sprouts
whole carrots $0.77
red bell peppers $0.50 each
yellow bananas $0.69/lb
buttermilk $2.69
organic bacon $7.49
pita bread $4.99
multigrain bread $2.50
bottled water $0.75
Total spent $38
ALDI
eggs $0.54
whipping cream $1.99
sourdough bread $2.29
hot dog buns $0.85
strawberries $1.49
whole wheat tortillas $2.39
onions $1.69/2#
blueberries $1.99
feta cheese $1.99
kiwi $3.98/2#
Total spent $23
Ralphs
orange juice $2.49 WYB6
whole grain taco shells $1.69
canned beans $1.99
hominy $0.99
cilantro $0.50
roma tomatoes $1.49/lb
jalapenos $0.79/lb
prepacked salad $1.50 clearance
hot sauce $1.99
Simple Truth Natural ground turkey $1.27 (coupon) to $2.77 (I bought 10#)
uncured bacon $3.99 WYB6
organic turkey breast $2.99 clearance
minus $5 off order
minus $5 off meat
Total spent $56
Ralphs
rice $1.99
linguine $1.00
beans $1.99
butter $3.99
carrots $1.59
romaine $0.99
organic celery $1.99
Total spent $17
Trader Joe's
white pasta $0.99
whole wheat pasta $1.49
milk $1.99
cereal $1.99
tea $2.49
string cheese $2.99
kefit $2.99
pickles $2.99
sunflower seed butter $4.99
thyme $1.99
kale salad $2.49
caesar salad $3.99
Total spent $60
Albertsons
blueberries $2.77
kiwi $3.99
red bell peppers $0.79
Total spent $9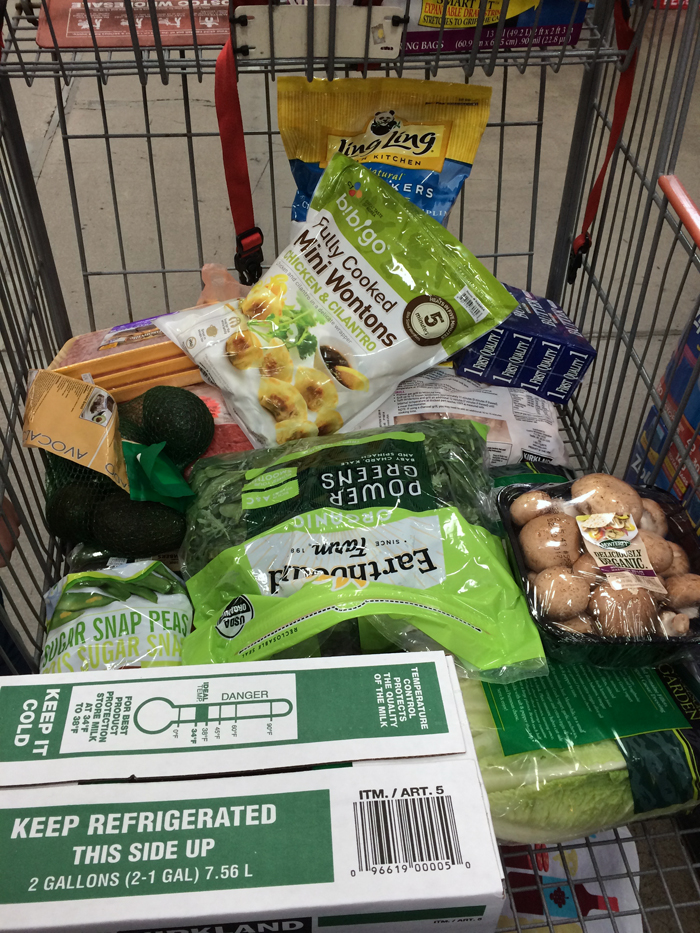 Costco
chicken tenders $15.99
tortillas $3.69
ground beef $19.89
breakfast sausage $7.79
milk 2 gallons $4.59
English cucumbers 3-pack $3.99
mushrooms $5.99
power greens $4.99
XL avocados $6.49/5
wontons $9.69
romaine 6-pack $2.99
potstickers $10.69
butter $10.99
snap peas $5.79
Total spent $114
Total spent in February $1015
Here's looking at 2017 as a whole:
January $356
February $1015
So far our monthly average for the year is $685.50 which of course is amazing…. and misleading, since we are only two months down and one of those months was a pantry challenge month. But, still. I'd say we're trending well.
How was YOUR grocery shopping this month?