Want a peek into our grocery cart? Here's how I'm grocery shopping and feeding eight people on the cheap.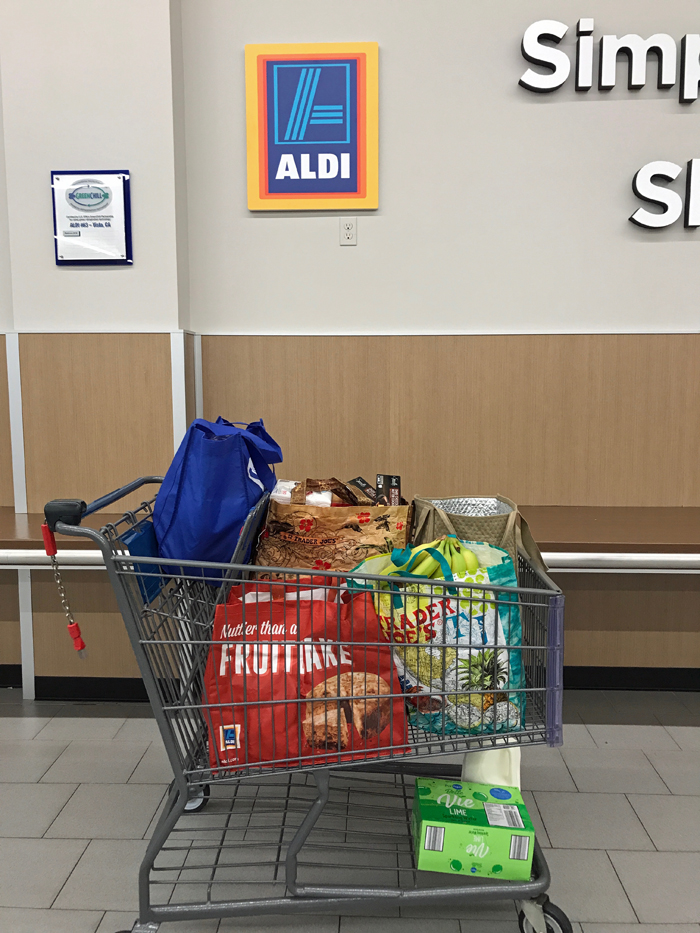 Whew. August flew by for me. How about you? While we're saying good bye to summer vacation, it appears that summer weather has only just begun! Today it's 93 degrees in the house. [wipes the sweat from her brow as she types.]
School starts on Tuesday, and it promises to be a full school year. My grocery shopping this month was done in anticipation of such. I did a fair amount of freezer cooking as well as stocking of the cupboards for school lunches.
I did go a wee bit over budget, but the freezer is jam packed full. Nothing more will fit in it, so we can start eating it up, and maybe have a lower month.
Again, I'm impressed with ALDI. Last weekend I went to stock up on some things that I knew were the best deal there. I found chicken on sale for $1.40/lb., the lowest I've seen in years. I bought two bulk packs, not sure if we'd like it. When I sent my husband back two days later for more, the sale was over. That'll teach me. Go back right away when you find a great deal. I'll be hounding their ads from now on. I think I found a new favorite source of chicken!
The Grocery Geek report
For those of you new here, Grocery Geek is my regular report of how I shopped for groceries, what deals I found, and my running total of how we're sticking to a budget for groceries.
Here's the rundown on my shopping this week. As you read, keep in mind who and how I'm shopping:
My grocery shopping profile
To update you on my grocery geekiness: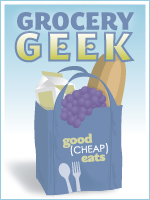 I'm feeding

 

eight people, ages 53, 44, 20, 16, 15, 13, 10, and 8. Five of those people are males. They eat A LOT!
I'm shooting for a budget of

 

$1200, per the

 

USDA food cost reports the last time I added up for people of our demographics. I live in Southern California where produce is cheap, but meat and dairy are not.
I'm trying to feed us

 

mostly unprocessed foods, with a few "healthier" convenience items thrown in and

 

a junk food splurge* here and there.
I

 

work at home and teach five of our kids, so I don't have as much time for fiddling in the kitchen as I would like.
I

 

no longer use coupons on a regular basis, though I do love

 

the coupons that Ralphs offers.
I have at least

 

ten grocery stores within 5.5 miles of my house. It is easy (for better or for worse) to stop at several stores to get the best deals.
We

 

mostly eat at home. My husband and college age son often pack lunch and breakfast to work, but sometime have lunch out. My husband and I enjoy a date once a week. FishPapa takes one child out to "dinner with dad" once a week. We eat out as a family on average once a week.
BEFORE YOU JUDGE ME FOR EXTRAVAGANCE,

 

please read this post.
What we spent in August:
Costco
romaine 6-pack $3.29
2 gallons milk $4.39
3-pack pineapple juice $5.29
2 dozen pack organic eggs $6.49
5# shredded mozzarella $10.99
6-pack red peppers $5.99
ginormous bag tortilla chips $3.49
ginormous Kirkland Greek yogurt $5.79
equally ginormous Fage Greek yogurt $6.39
sugar snap peas $4.49
Total spent $63
Sprouts
cauliflower $1.49/lb
eggplant $1.29 each
green bell peppers 50 cents each
Italian squash $0.98/lb
grapes $1.98/lb
roma tomatoes $0.99/lb
yellow onions (3-lb) $1.99
buttermilk $2.69
chicken breast $3.97
pita bread $4.99
Total spent $27
Costco
organic pasta $6.49
single hummus $6.49
romano cheese $9.43
sugar snap peas $4.49
cucumbers $3.29
Tillamook cheddar $8.99
2 dozen pack organic eggs $6.49
Total spent $45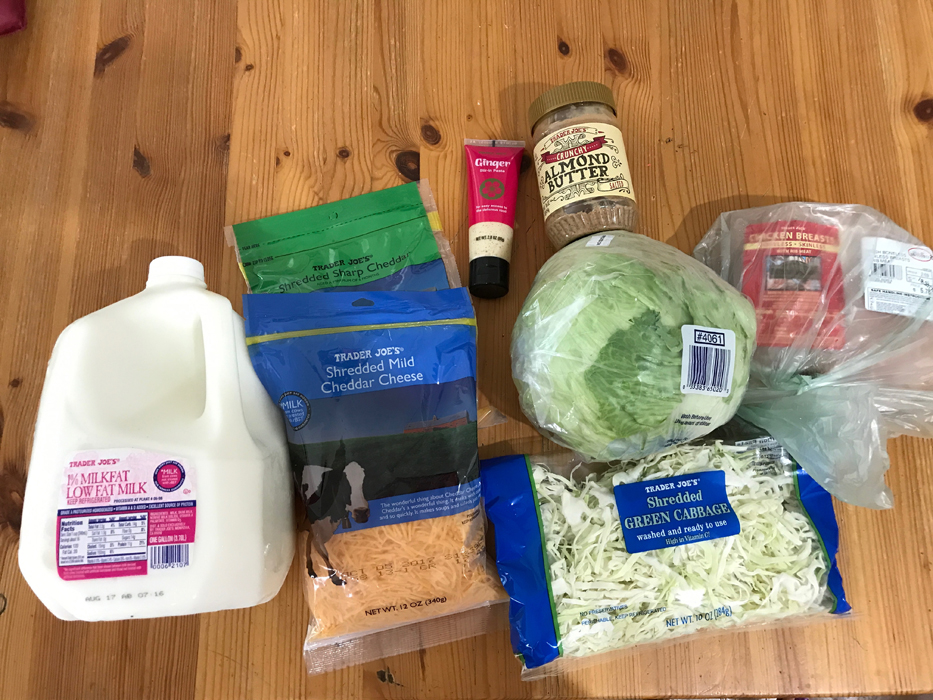 Trader Joe's
milk $2.99
b/s chicken breasts $5.79
ginger paste $1.99
almond butter $6.99
shredded cheese $3.49
iceberg lettuce $0.99
shredded cabbage $1.29
Total spent $27
Sprouts
broccoli $1.99
cilantro $0.50
grapes $1.98/lb
red onions $0.99/lb
roma tomatoes $0.99/lb
baby greens $2.99
potatoes $1.99/lb
organic sweetened condensed milk $0.99 clearance
pearl couscous $3.79
mustard $1.99
chocolate milk $2.79
frozen raspberries $2.99
Total spent $33
Ralphs
juice $1.99 to $3.25 with sales and coupons
rye bread $4.49
LaCroix $3.33
frozen vegetables $1.69
butter $3.79
Cheerios $2.49
cheese $1.99
corn on the cob $2.40
watermelon $3.00
avocados $1.76
apples $1.29/lb
mangoes $0.99 each
red onions $0.99/lb
tomatoes $0.99/lb
cucumber $0.99/each
jalapenos $0.99/lb
honey ham $4.99
bratwurst $2.19 to $2.49 with sales and coupons
sourdough bread $2.29
Total spent $84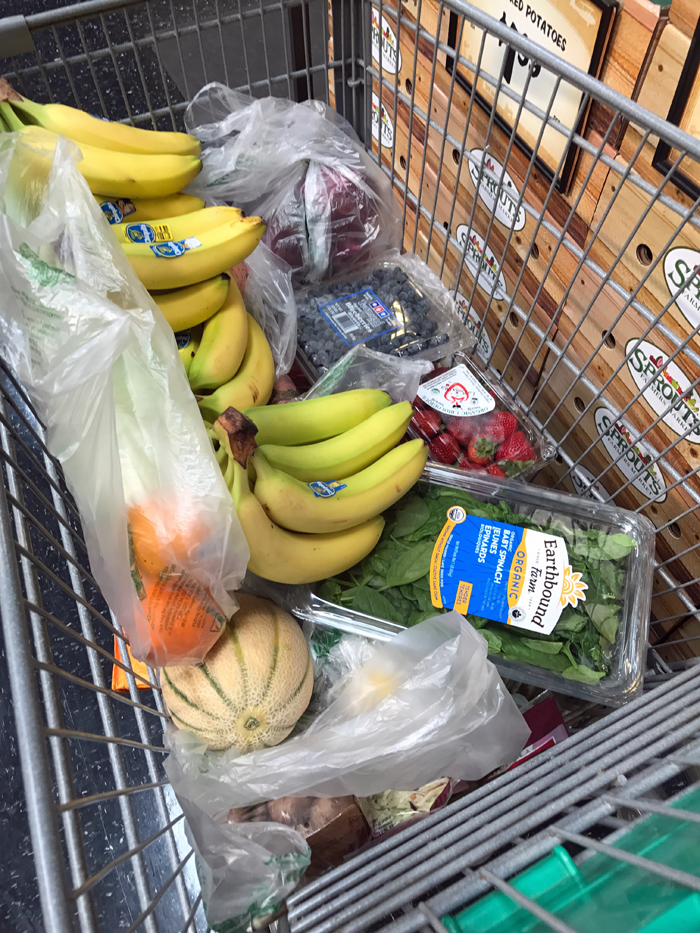 Sprouts
strawberries 3/$5.00
5# potatoes $2.99
artisan lettuce $0.99
garlic 3/$0.99
half pt blueberries 3/$5.00
nectarines $0.98/lb
organic pink lady apples $1.48/lb
red bell peppers 2 for $1
roma tomatoes $1.49/lb
cherries $1.48/lb
sweet onions 2#/$1
yellow bananas $0.59/lb
milk $2.99
safe eggs $5.99
grass fed beef $3.99/lb
french bread $1.29 each
hamburger buns $2.99
Deli meats $3 to $4
Total spent $85
Trader Joe's
Birthday girl shopping trip
shredded hashbrowns $1.69
rice vinegar $1.99
soy sauce $2.99
pepperoni $8.97
cereal $1.99
powdered sugar $2.99
bacon $4.99
GF brownie mix $3.99
corn tortillas $0.99
smoothies $3.69
gf pizza crusts $3.69
coconut milk $1.69
coconut cream $2.29
frozen mango $2.49
frozen pineapple $1.99
sunbutter $4.99
pickles $2.99
eggs $0.50
string cheese $2.99
Total spent $67
Sprouts
carrots $0.77
mushrooms $3.49
blueberries $3.98
cilantro 2/$1
garlic 3/$1
green onions 2/$1
squash $0.98/lb
oranges $1.49/lb
lemons $0.69
nectarines $0.98/lb
organic baby spinach $3.89
organic kale $0.88
organic strawberries 2/$6.00
organic celery $1.99
organic apples $1.48/lb
red onions $0.77/lb
red yams $0.98/lb
coleslaw mix $1.49
melon $2.o0
yellow bananas $0.59/lb
onions 3#/$1.99
black beans $1.49
rice noodles $2.50
Total spent $62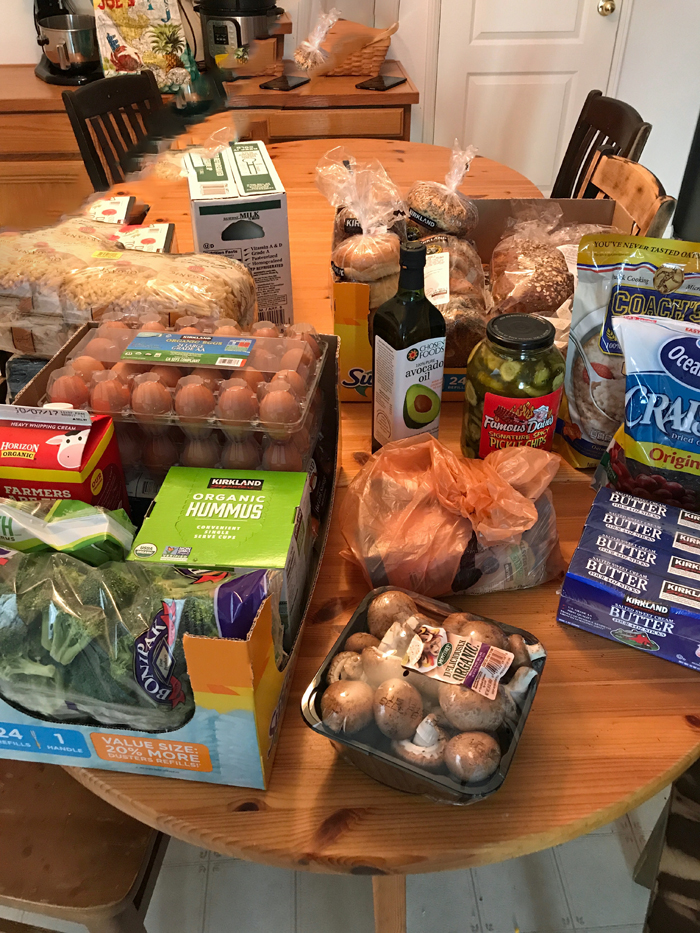 Costco
juices $15.00
baking potatoes $9.99
bread $5.79
burger buns $2.19
eggs $2.69
crackers $9.89
fruit leathers $11.99
tortilla chips $3.49
jerky $11.79
olive oil $14.99
avocado oil $7.99
butter $11.40
mayonnaise $4.99
cucumbers $3.29
5# shredded mozzarella $10.99
6-pack red peppers $5.99
tortillas $3.69
sugar snap peas $4.49
Tillamook cheddar $8.99
rotisserie chicken meat $11.99
torta rolls $6.49
breakfast sausage $13.99
ground beef $3.99
english muffins $6.79
sourdough $3.69
pita bread $2.99
Total spent $270
Trader Joe's
flour tortillas $1.99
string cheese $2.99
hashbrowns $1.69
shredded cheddar $3.49
frozen chicken tenders $7.49
milk $2.99
Total spent $30
Costco
juice $5.99
turkey breast $11.37
tuna $12.99
rotisserie chicken $4.99
ham $7.85
Total spent $48
Sprouts
carrots $1.49
5# potatoes $2.99
mushrooms $3.49
cilantro 2/$1
green onions 2/$1
half pint blueberries 3/$5
nectarines $0.98/lb
red bell peppers 2/$1
beans $0.89
tortilla chips $1.99
grass fed beef $3.99/lb
flour tortillas $3.89
hashbrowns $2.39
Total spent $31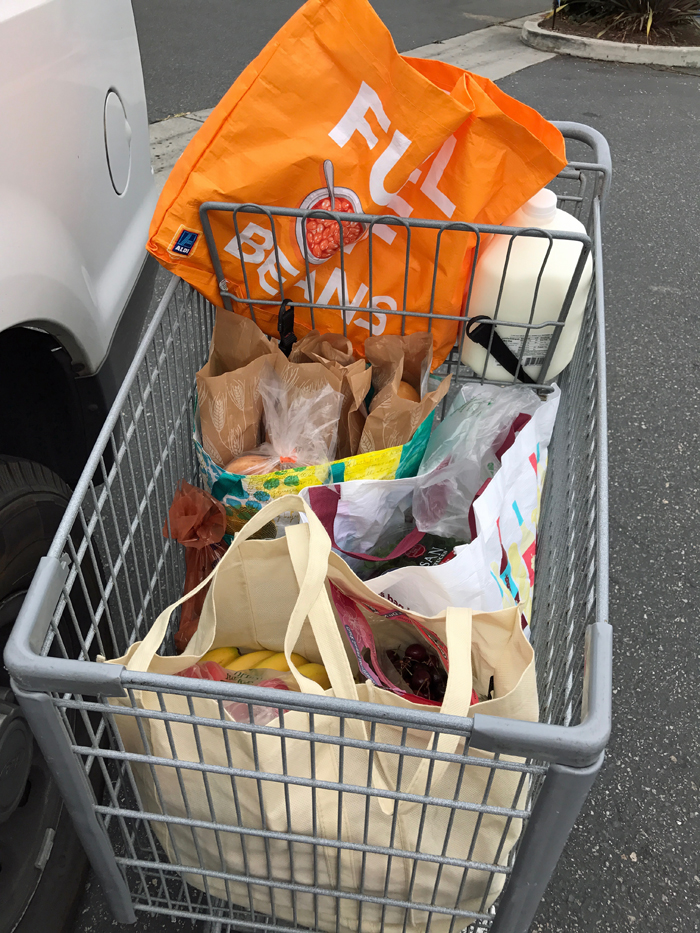 Costco
craisins $8.89
oats $5.89
chicken breast $26.80
organic pasta $6.49
butter $11.95
milk $4.39
avocado oil $7.99
mushrooms $5.99
eggs $6.49
broccoli $4.49
snap peas $4.49
chicken sausage $13.89
heavy cream $13.89
bagels $5.49
sourdough $3.69
bread $6.99
Total $169
Trader Joe's
milk $1.99
cereal $1.99
sunbutter $1.99
chai $2.49
cashews $7.99
Total spent $22
Ralphs
chili powder $0.79
oregano $0.79
cilantro 2/$1
jalapeno $0.13
habanero $0.25
Total spent $3
Costco
milk $4.39
potatoes $8.99
shredded cheese $12.49
hot dog buns $2.19
cheddar $8.99
sour cream $3.99
mushrooms $5.99
hot dogs $8.99
sourdough $3.69
turkey breast $14.96
ground beef $2.99/lb
country ribs $2.49/lb
rotisserie chicken $4.99
Total spent $152
ALDI
sparkling water $0.59
crushed tomatoes $0.99
spready cheese $2.79
hot dogs $3.89 (Costco was cheaper)
brats from Germany $3.99
sugar $1.89
ham $7.15
brown sugar $1.29
black beans $0.89
pinto beans $0.89
cilantro $0.48
red peppers $0.75/each
frozen quinoa entree $2.49
frozen strawberries $1.89
frozen blueberries $1.89
eggs $0.54/dozen
cucumbers $0.98
taco shells $0.99
cabbage $0.48/lb
shredded cheese $2.59
80 tortillas $2.29
kiwi $2.99
organic tomato sauce $0.69
green onions $0.99
jalapeno peppers $0.68/lb
tostada shells $0.99
applesauce $1.89
green chiles $0.55
raspberry jam $2.49
pineapple slices $0.95
cream cheese $1.29
sour cream $1.29
cookies $1.89
onions $0.50/lb
lemons $2.99
bananas $0.39/lb
chicken breast $1.40 (wish I had bought more, but I wasn't sure we'd love it like we did)
canned salmon $2.49
sugar cones $1.49
crackers $1.69
sparkling water case $2.49
ground beef $2.99/lb
milk $2.29
macaroni $1.69
Total spent $187
Total spent in August: $1405
January $356
February $1015
March $1336
April $1347
May $390
June $1200
July $1354
August $1405
Total spent YTD: $8403
Monthly average $1,050.38