Grocery budgets are tight. How can you trim the bill?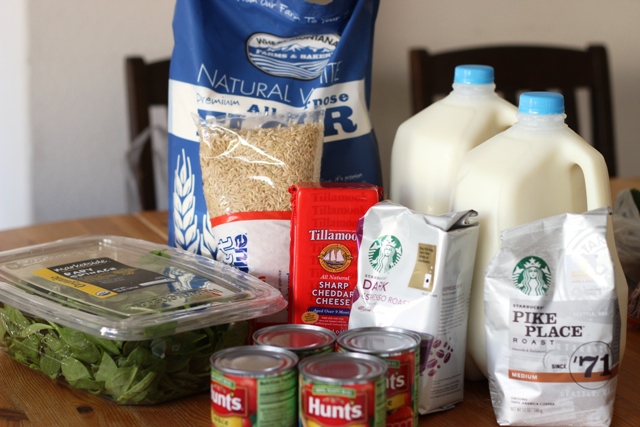 Sarah wrote in with the following dilemma:
I currently live in a four person household (five if you count my dog). I am the only female, I live with three males, my husband and two sons (age 8 and 11).

I have currently whittled my budget down to 200 dollars every two weeks but that DOES NOT count additional stops for bananas (every two days we go through three bunches), milk or bread. I often double or sometimes triple meals and I am lucky if I have enough to put together one lunch for my husband the next day. I stretch with vegetables or pasta wherever I can (or you know the odds and ends that can stretch a meal out if you get real creative).

I find that the bigger meals (and the fact that they seem to be ALWAYS EATING) really busts my budget. I also bake often (five out of seven days a week) and make double or triple batches of pancakes, french toast, baked eggs that I can rewarm and fill in with smoothies or salads. I can't crock soup anymore because it's just too hot and really not soup weather.

Both my husband and I work full time and my paycheck alone is what pays for us to eat. How can I whittle it down even more and still have healthy meals that fill them? Or am I expecting too much? Please can you help me?
What a great question! This is a challenge that I think many of us have faced or are currently facing. In a nutshell: your family consumes more food than you are prepared to purchase.
So, let's look at this methodically:
1. Is this a realistic budget?
We've all heard about the people who live on $30 a week to feed a family of ten. It can be done, I believe, with some very savvy planning, shopping, and cooking. But, I don't think we're all cut out for that.
Are your numbers realistic? Obviously this is going to depend on where you live and what you have at your disposal. The USDA Food Cost Reports compute the cost of food to eat at home for your family on a THRIFTY plan to be $150.10 per week. So, already, you're beating the national averages
This should make you feel better. You're doing an awesome job with what you have!
That said, if you don't have more, you don't have more. And so you need to make do with what budget is available. However, if you just think it should be lower, but have some cash in reserve that you could spend toward food, then I'd feel okay about doing so, particularly as we are going to see even higher costs in the coming months due to the California drought.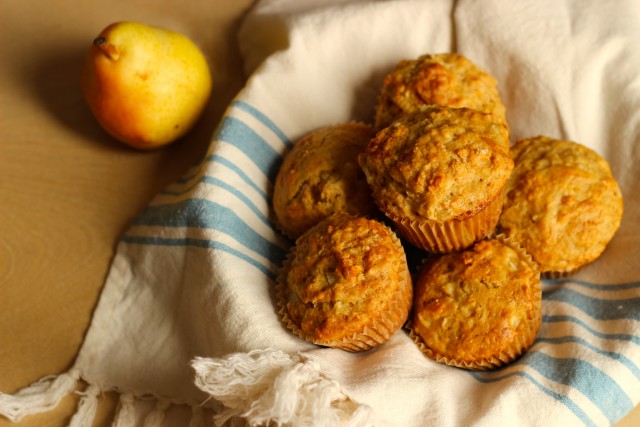 2. Have you done a grocery spending audit?
Last week I have y'all the lowdown on how to audit your grocery spending. This can be a great way to see where there are leaks in the ship. If you haven't done so already, analyze how you're spending. You may find something surprising.
3. Can you grow your own?
While the summer's peak growing season is coming to a close, you'd be surprised how easily it is to grow fall crops, particularly things like lettuce, cabbage, and chard. These are full of nutrition and fiber, so you might be able to get a big bang for your buck.
4. Focus on cheap and filling ingredients.
Beans and rice do the job, and they are so versatile! Serve them hot as a rice bowl or burrito filling and cold as a salad. Risottos, creamy rice, chili, and bean soup are other good items to use those budget ingredients. Soup weather is approaching once again!
I often lean on eggs for a super cheap protein. They, too, offer you lots of options.
Be sure to check out my new cookbook which is jam-packed with family-friendly recipes based on regularly cheap ingredients.
5. Check out other sourcing.
Check the other grocery stores in your area. I have a few favorite stores that I always go to, but it's good to reevaluate your sources. Competing stores may have changed their marketing tactics since you last visited. Check to see what good deals they are offering to see if you can buy a few things there and lower your costs.
Believe it or not, Freecycle and Craigslist may have listings for cheap or even free produce. See what's available in your area, particularly if it's more agricultural.
6. Are they really hungry?
We live in a nation of plenty. While hunger is a real problem in many places, it's typically not an issue in most of our homes. Sometimes kids eat because they are bored or thirsty. Consider whether or not your kids are really hungry and of course feed them! But, if it's possible that they are snacking as a form of entertainment, feel free to curb that or at least limit it to low-cost bulk snacks like popcorn or carrot sticks.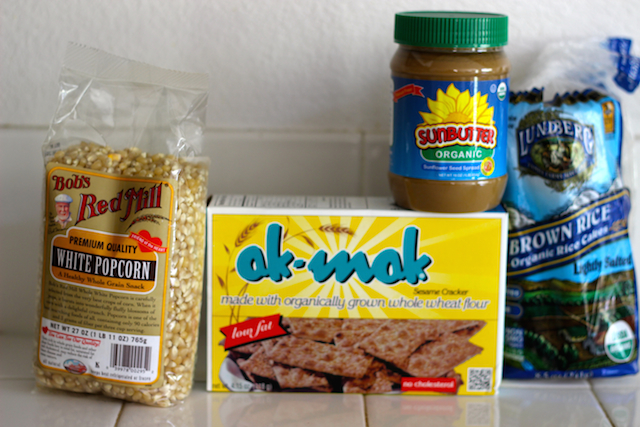 These tips are certainly not exhaustive. There are lots of other ways that you can offset costs: baking and cooking more from scratch, using coupons, buying in bulk, and freezer cooking are other techniques that I've used over the years to help us trim the budget.
Sometimes, you just need to cut yourself some slack. Perhaps you can cut the cable or cancel the gym membership in order to buy yourself some more margin in the food budget.
So, those are my "short answers". Obviously, I could write a whole book on how to save money on food costs.
What advice do YOU have for Sarah?