Enjoy fresh spinach and veggies, tender chicken, and great flavor in this Greek Salad with Chicken.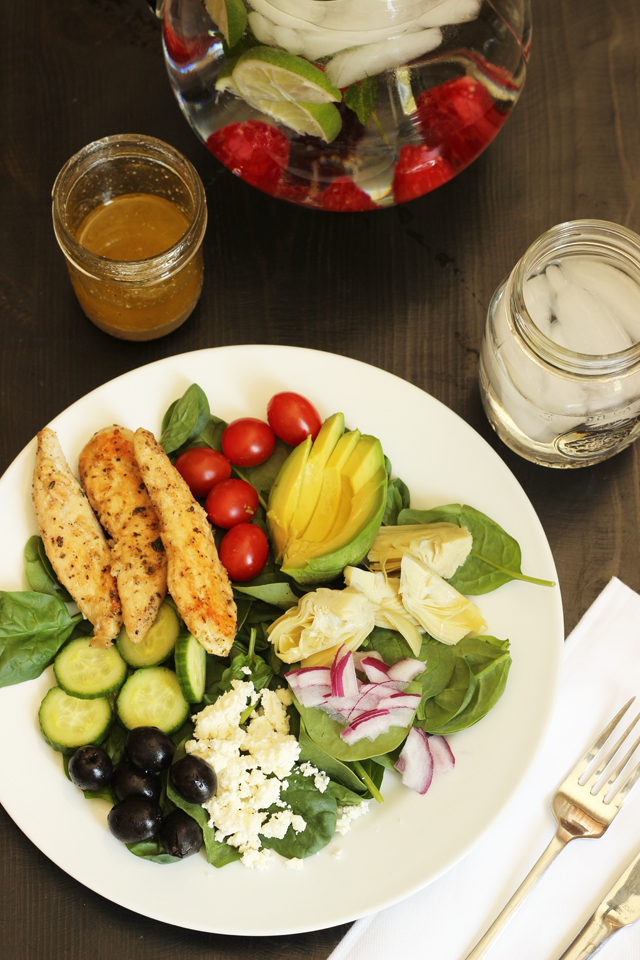 I've said it before: I'm a salad girl. I love having salads as my main meal at lunch and as a regular side at dinner. They provide a great way to get all your veggies in a delicious, fresh way. If you haven't already made a round of salads for your lunches this week, now is a great time to do it!
This Greek Salad with Chicken is so easy and so make-ahead, you'll want to add it to your regular rotation of Awesomeness on a Plate. For years I've enjoyed my homemade Greek seasoning in a number of dishes. It adds a great punch to grilled meats, rice dishes, and salad dressings, particularly here in spicing up the chicken as well as the dressing.
I choose to top this salad with veggies that I traditionally associate with Greek fare: red onion, black or Kalamata olives, cucumbers, tomatoes, artichokes, and spinach. I'm not sure how long avocados have been available in Greece, but they work here, so let's go with it.
I also toss on a bit of feta, because I like it, and it goes with the theme. I can't remember when I first tasted feta cheese, but we became fast friends. It's no wonder that a Greek salad is one of my favorites. It's generally packed with great flavors, including but not limited to feta cheese. It's tangy, saltiness is so so delicious; you don't need a lot, just a little goes a long way. (If you're going dairy-free for whatever reason, you can leave it off. Or try goat's milk feta cheese if some dairy is okay.)
If you're a salad lover, you'll love this salad.
Greek Salad with Chicken
Enjoy fresh spinach and veggies, tender chicken, and great flavor in this Greek Salad with Chicken.
Ingredients
For the chicken
1

tbsp

olive oil

1

lb

chicken tenders

or boneless chicken cut into strips

1

tbsp

Greek Spice Blend

plus 1/2 teaspoon
For the salad
1

6-ounce bag

baby spinach

1

cucumber

sliced (or 2 small Persian cucumbers)

1

avocado

peeled, pitted, and sliced

1

cup

grape tomatoes

1

cup

artichoke hearts (chopped)

1

cup

whole black olives

or Kalamata olives

2

oz

feta cheese crumbles

optional (1/2 cup)

1/2

red onion

(about 1/3 cup coarsely chopped)
For the dressing
3

tbsp

white wine vinegar

black pepper

1/4

cup

olive oil
Instructions
Heat the oil in a large nonstick pan until shimmering. Add the chicken and 1 tablespoon Greek Spice Blend. Cook, turning frequently, until the chicken is done, about ten minutes.

Meanwhile, divide the spinach among four plates, or plastic boxes with lids if packing for work or school. Divide the cucumber slices, avocados, tomatoes, artichoke hearts, olives, cheese, and onion among the four dishes.

When the chicken is done, remove it from the heat to a cutting board and chop it into bite sized pieces. Divide the chicken among the salads. If you're making the salads in advance, allow the chicken to cool before adding it to the dish.

In a small jar place the white wine vinegar, remaining 1/2 teaspoon Greek spice blend, additional black pepper to taste, and extra virgin olive oil. Mix to blend well. Serve the dressing on the side. Salads can be prepped and stored in the fridge for up to four days.
Notes
Nutritional values are approximate and are based on 1/4 of the recipe. Refrigerate leftovers promptly and use within 4 days.
Nutrition
Calories:
510
kcal
|
Carbohydrates:
18
g
|
Protein:
30
g
|
Fat:
36
g
|
Saturated Fat:
7
g
|
Cholesterol:
85
mg
|
Sodium:
1313
mg
|
Potassium:
934
mg
|
Fiber:
9
g
|
Sugar:
5
g
|
Vitamin A:
750
IU
|
Vitamin C:
15
mg
|
Calcium:
176
mg
|
Iron:
3
mg