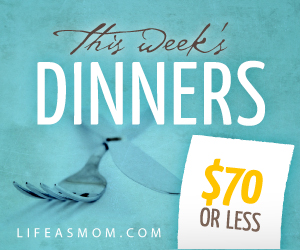 For the last year over on Life as MOM, I've posts FREE printable meal plans. There are currently 40+ weekly menu plans to choose from.
This week we added new wrinkle: Plans that cost $70 or less with meals that build on one another and can be made in advance. How's that for wowza?! Definitely good cheap eats, n'est-ce pas?
We have the first week's plan for you right here. To hedge my bets, I'll say it's "in beta." I'd love to hear your feedback.