Start the month right with a complete month of FREE 30-minute meal plans. Dinner will be planned, shopped for, and prepped in no time flat.
The start of the new month is a perfect time to plan your meals — for the next four weeks. I know, sounds crazy, but it works!
Years ago when I had a crew of little people running around at my feet, I found that planning 4 weeks of meals and shopping for the pantry staples at the start of the month saved me a ton of time and money. It also helped me make sure that prioritized our grocery spending for the month.
Monthly meal planning is still one of my favorite strategies for making the most of what we have.
If you purchased my new cookbook, Good Cheap Eats Dinner in 30 Minutes or Less, thank you! I can't tell you how much I appreciate your support. Each cookbook I write takes a full year of my life. Seriously. Every thing in our home revolves around the Cookbook. Our whole family works to make it good, so I hope you enjoy it as much as we do.
Savings alert! Through November 30, 2015, Amazon is offering 30% off one book purchase when you use the coupon code HOLIDAY30. If you have your eye on a book, or think that this one might be a good fit on your cookbook shelf, now is the time to buy it!
FREE 30-Minute Meal Plans
In order to help you make the most of your cookbook purchase, I put together a month of meal plans using recipes in the book. You can download the meal plans, grocery lists, and prep tips for free and stretch your cookbook purchase by really using it to save you time and money.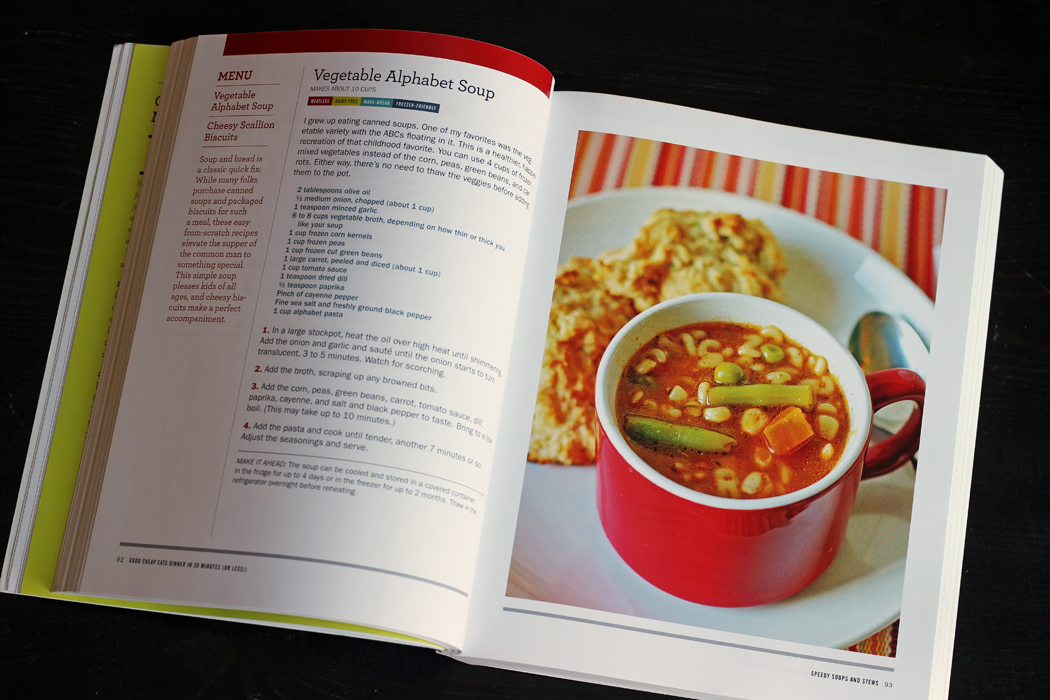 These meal plans include some of our favorite recipes that you can't find online. Here's a sample week:
Chicken Fajita Bake and Baby Greens with Chipotle-Lime Dressing, pp. 42-44
Denver Oven Omelet and Butter Lettuce Salad with Apples and Gruyere, pp. 22-24
Veronica's Fillet of Fish and Not Creamy Coleslaw, pp. 63-64
Chicken, Avocado, and Orange Salad and Mangolada Smoothie, pp. 112-113
Seasoned Tri-Tip Steak, page 272 and Rebel with a Cause Smashed Potatoes, page 239, steamed vegetables
Roast Chicken and Vegetables and Quinoa with Chickpeas, pp. 45-46
Loaded Potato Soup, page 107, favorite bread, biscuits, or crackers
As a special bonus, I created these meal plans to be easily made gluten-free! This makes it super easy when you've got guests coming or if someone in your household is avoiding gluten.
While you'll need to grab a copy of the cookbook*, these four weeks of FREE meal plans should make your holidays a little cozy and bright!
* You may be able to find the book at your local library. Check the World Cat listing here to see which libraries near you have a copy available.
What helps YOU make dinner quickly and easily?