Having the right baking ingredients on hand makes home baking easier and helps you save money.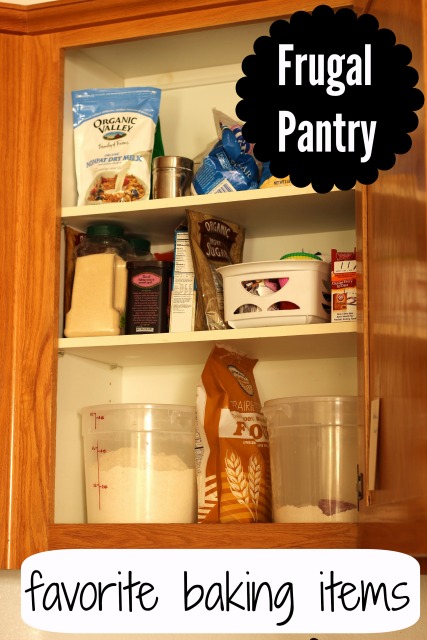 We are down to one jar of homemade baking mix today. Time to mix up some more. I'm heading into the kitchen in just a few to bake up some Bulk Zucchini Bread. It's been on my to-do Post-it for the last three days. Time to get 'er done. I'm hoping to be inspired to do some other baking stuff while I'm in there: Maple Vanilla Almond Granola, Muffin Mix, Snickerdoodles, and maybe some brownies. Oh yeah, and my new bread pan came so I may get one of the kids to make the dough so we can try out some new sandwich bread.
It's gonna be a long day, isn't it?
I'm ambitious when it comes to baking. But, the work always pays off. The commercial equivalents of home-baked goods are usually two or three times the price of doing it myself. Having the right tools for baking bread or cookies totally makes it easier, too.
Stocking a frugal baking pantry
I keep all my baking supplies in a separate corner cupboard right above my stand mixer and my measuring cup drawer. I read that in a book long ago. Store things near where you use them. When I have the space many of the grains I use in baking are stored in the refrigerator.
My basic rule of thumb is to stock up on baking supplies when I see them on sale, which is typically at Christmas time. I store the flours and grains in the freezer for longest shelf life.
Since I've been trying to increase the nutrition of our home-baked goods, I've been spending a little more on ingredients to get better quality. I can close the gap during off-peek times by ordering via Amazon's Subscribe & Save. I find a good deal on something and then stock up that way.
Here are the items that I keep on hand all the time:
wheat flours: unbleached, whole wheat pastry, white whole wheat, and whole wheat
corn products: corn flour, corn meal, corn starch
sweeteners: organic evaporated sugar cane juice and demerara sugar (cheapest at Walmart),  honey and maple (cheapest at Costco), powdered sugar, brown sugar
leavening and baking agents: aluminum-free baking powder, baking soda, salt, SAF yeast (refrigerated), cream of tartar, vital wheat gluten
powdered dairy: milk, malted milk
extracts: vanilla, maple, almond, and lemon
chocolate: cocoa powder, chocolate chips, baking chocolate
oils: sunflower, olive, coconut
dried fruit: raisins, cranberries, apricots, dates and prunes (in the fridge)
nuts and seeds: almonds and cashews, sunflower seeds, pepitas
spices: stored in a separate cupboard, separate post to come 🙂
other: oats, flax seed meal, wheat bran, wheat germ (in the fridge)
Build a Frugal Pantry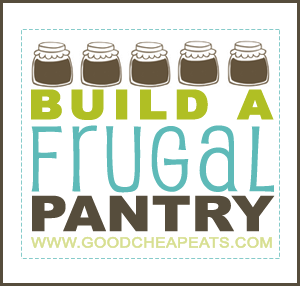 This is part of a larger series where I share tips for buying the foods that pack the biggest punch nutritionally as well as dollar for dollar. Posts in the Frugal Pantry series include:
Favorite Baked Items and Baking Ingredients
Favorite Freezer Ingredients (coming soon)
Favorite Spices (coming soon)
What are YOUR favorite pantry staples?