How did you save money on food this week? The Frugal Foodie is my report on how we worked to save money on food and still eat well.

From the sounds of it, everyone enjoyed last week's inaugural Frugal Foodie Efforts. It's like a mash-up of Grocery Geek and Pantry Challenge, without the need for a lot of picture-taking and receipt-finding on my part. 😉
This week found my whole family ill. It started with FishBoy18 last Friday, thanks to all those germy college students, and it passed to the rest of us, with my being the last to fall. While I don't have a fever or obvious cold symptoms, it feels like a sinus infection. Yay! Not.
If the grunge wasn't bad enough, we've had a heat wave from the Devil this week. We live in a coastal area where it usually cools off at night and the need for AC is minimal anyway. Not so this summer! It's been hotter than normal. Case in point: it was 93 in our upstairs at bedtime Thursday. Yikes!All this to say, I wasn't "at my best" this week. But we tried.
Our Frugal Foodie Efforts This Week
–> My daughter made a big batch of granola for everyone to eat during the week.
–> I made a big batch of Zucchini and Sweet Potato Hash to eat for breakfasts. On the last day, I tucked it into a quesadilla with black beans and cheddar. It was amazing. Can't wait to do that again.
–> FishBoy18 packed his lunches every day. I'm so glad the kid can cook!
–> It was AMAZINGLY HOT here this week, like 93 degrees in my house. We don't have AC so it was a week of sweating. While I really wanted to do take-out every night, I resisted, and either cooked or made a no-cook dinner.
–> We ate a lot of ice cream that I bought on sale last week.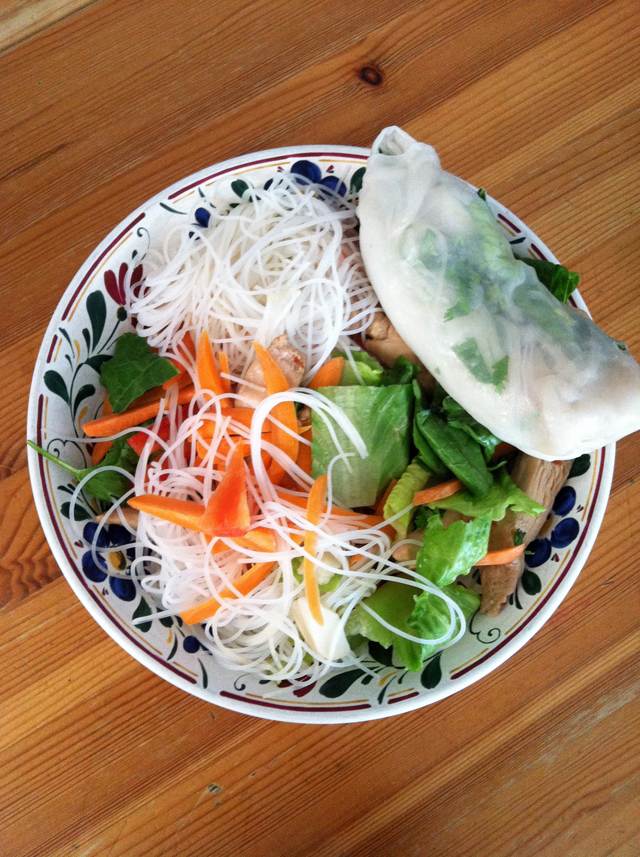 –> I found chicken on clearance at my local market when that was the only thing I went in to get.
–> The whole family was sick at some point this week, so there was no date night or Dinner with Dad. While disappointing, at least we saved some money.
–> I used up most of a package of rice paper rounds for Summer Rolls. Unfortunately in this heat wave, they got very wimpy, falling apart. The leftovers firmed up in the fridge, but then they stuck to the damp paper toweling, so they couldn't be eaten that way unless you wanted a bite of Bounty. I ripped off the wrappers and had a yummy salad for lunch.
–> I did a big freezer cooking session earlier today. While it's harder to freezer cook for a family of 8 — they eat too darn much so the supply goes so quickly — I do have a head start on next week. I even made smaller packages for FishPapa's lunches.
My 4th cookbook launched this week and that was kind of fun. (If you bought it, THANK YOU! If you have a minute to leave an honest review on Amazon, that would be so helpful!)
How were YOU a frugal foodie this week?