Want to make school mornings a little easier? Want to enjoy weekend breakfasts and brunches without the work? Grab this freezer cooking plan to fill the freezer with yummy breakfasts.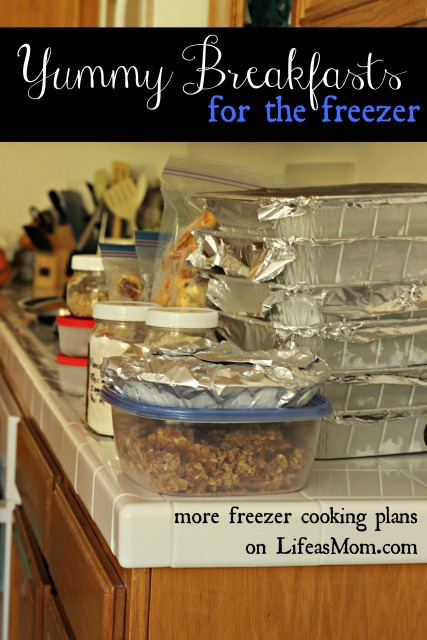 Freezer Cooking Days are back! As I mentioned a week or two ago, I've really loved getting back to the convenience that comes with having a full freezer of homemade items. While it takes a little work to get ahead of my ravenous crew, I'm so glad each time I spend some effort to fill the freezer.
As evidenced by the conversation at Monday night's freezer cooking chat on Facebook, you love it, too. I'm so glad! And I'm honestly hoping I can help you make freezer cooking a bigger part of your kitchen repertoire.
Last weekend I sent out a new freezer cooking plan in the newsletter. Did you get a chance to cook it? Folks had told me that they wanted to cook the same as I, so that's why I sent the plan before I cooked it. I shared my freezer cooking afternoon over on instagram on Wednesday. Today you get the whole run down.
I'll be doing this the first week of the month going forward.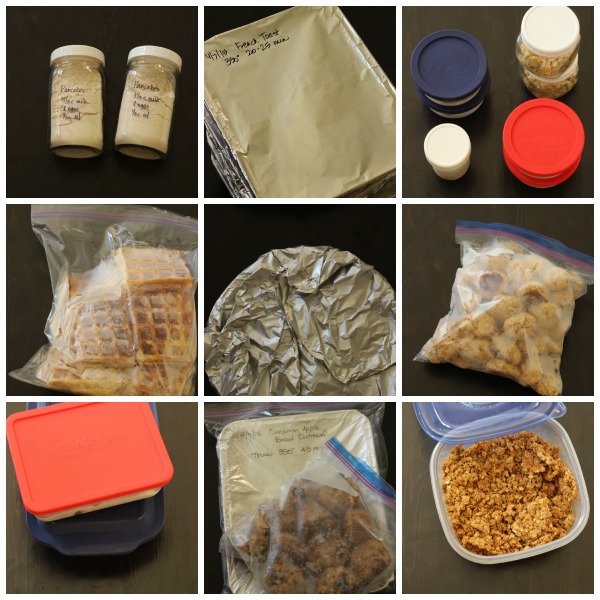 It went pretty well and now the freezer is full of all kinds of yummy goodness. Here's what's included in the plan:
The yield is going to vary from family to family and how you package things, but I guesstimate that it should be about 20 breakfasts for a family of 4, provided you're complimenting with fruit, etc.
Costco didn't have ciabatta loaves when I went shopping, so I bought these two HUGE French loaves. They were bigger than I thought! They made six pans of French Toast. Good thing. We love that French toast casserole.
I didn't have two muffin pans so I ended up making one batch of the oat cakes as an unbaked, baked oatmeal. Another tweak was that I chose to bake the scones instead of freezing them unbaked.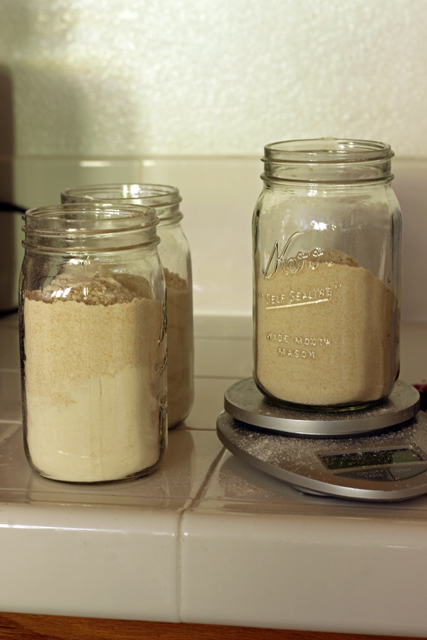 I also ended up making extra pancake mixes since I had lots of jars and ingredients on hand. One quick tip, I've taken to weighing my flour with a scale instead of measuring out the cups. It saves so much time! I love it. Since the flour was the main ingredient to measure in the pancakes, I did that first, zeroing out the scale with the jar on it and then adding my flour, 4.5 ounces per cup. Worked like a charm and made mix making super duper easy.
For some reason the steel-cut oats didn't yield as many servings as they should have. I think that was my scooping issue. Anyway, the oats may vary. You'll need a microwave to serve those so if you don't do microwaves, I'd probably omit that recipe from the plan.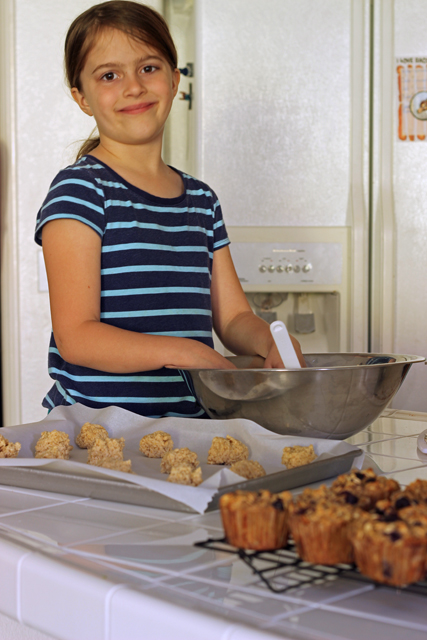 This girl was a great help in the kitchen! She loves, loves, LOVES to cook. She's incredibly disappointed when I try to teach the boys something. It will soon be her domaine.
So, we've got a fair amount of breakfast in the freezer ready to go for the month.
If you're venturing up to do some freezer cooking, I highly recommend clearing as much space in your fridge and freezer as you can. That's one thing I wish I had organized better. We really are needing a second fridge these days. Sigh. I found my dream refrigerator, but it's just a wee too much money for my budget at the moment.
Anyway, clean out the fridge before you get started. Chilling your food completely before freezing it is the ideal way to prevent freezer burn. Cold food freezes faster. So, there you go. Make some room so you aren't playing Refrigerator Jenga.
If you cooked the Yummy Breakfasts plan, I'd love to know how it went for you. If you did other freezer cooking, let us know what you did.
How have you been freezer cooking lately?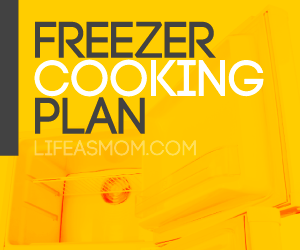 I've got lots of other freezer cooking plans for you to choose from, including:
:: Cold Weather and Company Dinners
:: Simple Summer Freezer Meal Plan 
:: Whole 30