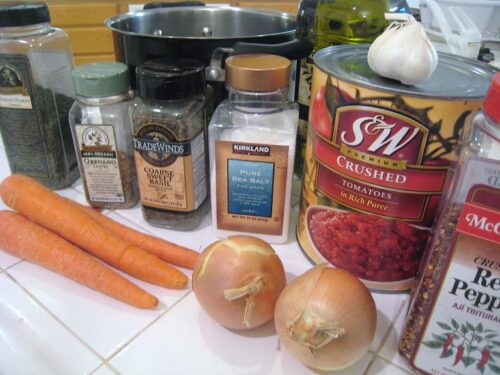 So, you've got your plan for freezer cooking. You've seen how an expert does it. You've done your shopping. You're all prepared for a big day of cooking. Now what? Bulk cooking can be intimidating, but it's so rewarding in the long run. You won't have to do much cooking — or dishwashing — during the weeks to come.
But, when you've got a fridge full of food, you need to be on your game. Here's my quick and dirty survival guide for you big cooking day:
Stay hydrated. Keep your favorite beverages handy and on ice, if applicable. If hubby, mom, or friend wants to take all the kids to Sonic during Happy Hour and bring you back a Vanilla Coke, so much the better. (Thanks, honey!)
Trash it! Have a fresh trash bag at the ready. You're going to go through quite a lot of packaging today.
Take a short break every few hours. Eat a snack, put up your feet, hug your kids. Don't forget the potty break.
Wear an apron. I don't know about you, but I like to wipe my hands off on an apron and I don't like splatters.
Wash dishes as you go. In the immortal words of Collette, "Keep your station clean!"
Chill. Have a cooler full of ice ready for quickly cooling food before stashing in the freezer. Never put warm food directly in the freezer. Cool it to room temperature
Keep your list and check it twice. Check off items on your list so you can see progress. Begin your freezer inventory right away.
Persevere. Keep the end goal in mind. This will save you time in the long run.