Curious about freezer cooking? Consider purchasing my cookbook, Not Your Mother's Make-Ahead and Freeze Cookbook from Amazon, Barnes and Noble, or your local bookstore.

It's chock full with over 200 freezer-friendly recipes, planning pages, shopping lists, cooking plans, and basic and advanced how-to's to making freezer cooking work for any home, family, and lifestyle.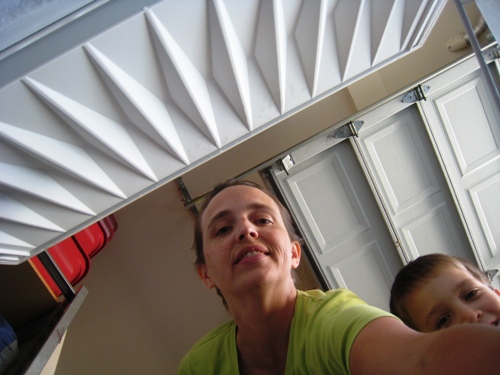 This is what it feels like to be one of the freezer meals in my deep freeze. I'm coming to get ya! FishBoy 6 is even smirking about it. Look at those laughing eyes.
Yesterday, I decided I needed to find out what really lurked in the depths of my freezer. Oh my! I found several prepped meals as well as lots of meats to make delicious dinners with. I haven't finalized a plan for cooking this month, but there was already the makings of 25 meals in my deep freeze and in my refrigerator freezer. Guess I've been doing good stockpiling.
A reader on Facebook suggested that I add another month's worth of cooking, rotate my stock, and then take December off. It's not a bad idea!
This weekend I'm working on a month-long meal plan with what we have and then as I see really good sales, I can buy to fill in the holes or plan for next month. I'm also coming up with a freezer cooking plan for breakfasts and lunches. Whaddya think? Covering all my bases, I am.
If you're just starting out in freezer cooking, you might want to check these past posts:

A Quick Start Guide to Freezer Cooking

How Freezer Cooking Saves Me Money
Is it freezer-friendly?
I realized that good freezer cooking recipes are hard to find. So, I'm going to start bookmarking mine here. I don't have the time to catalog them all in one fell swoop, but I will update as I find time. Maybe if you bookmark this page, you might find them easier to locate.
These are recipes that we love and which are all freezer-friendly.
Meats
Meatballs, Mashed Potatoes, and Gravy
Queso Fundido
Shredded Beef Filling
Chihuahua Chili
Meatball/Meatloaf Mixture
Seasoned Taco Meat
Lawnmower Taco
Chicken
Marinated Chicken
Shredded Chicken
Chicken Bacon Sub Sandwiches
Other Main Dishes Components
Pizza Kits
Crockpot Red Sauce
Cooked Pinto Beans
Side Dishes and Breads
Garlic Bread
Chocolate Butterhorns
Whole Grain Cinnamon Rolls
What kind of freezer cooking recipes are you looking for?
PS. Anyone interested in testing out this freezer inventory sheet? Let me know what you think, what you would add, and what you would change.