Freezer cooking in real life might not be as easy as it looks on Pinterest, but it is healthy and economical. And it helps YOU get ahead of the game.
Recently I was talking with a group of people who work in the food industry, and our talk turned toward freezer cooking. Well, you know that my eyes light up on that topic. Freezer cooking is in my wheel house. I was surprised at some reluctance to cook specifically for the freezer.
Here's my sales pitch:
In your life, there are many things that you will never catch up on. There will always be bills to pay, dishes to wash, and laundry to clean. It can feel like you can never catch up, let alone get ahead.
BUT…. when you cook meals for the freezer, you are ahead!
For a few blessed days or weeks, you are ahead in one area of your life. And it feels amazing. 
Freezer Cooking in Real Life
This month I did a ton of freezer cooking. We were finally able to restock after the termite tent; we were anticipating going out of town and staying with my inlaws. I knew I was going to be doing a Whole 30 this month. I also wanted to give my brother and sister-in-law some meals before she started chemo.
Plus, I wanted to be ahead in one area of my life.
Rather than cook from a freezer cooking plan, I made a list and simply started making things. Sometimes this works for me better than following a plan. Once I get into a groove, it's hard for me to stop!
I thought I would show what freezer cooking in real life looks like. In most cases I made triple batches. One to give to my SIL, one to take to my inlaws, one to eat at home.
Thursday afternoon: Freezer Cooking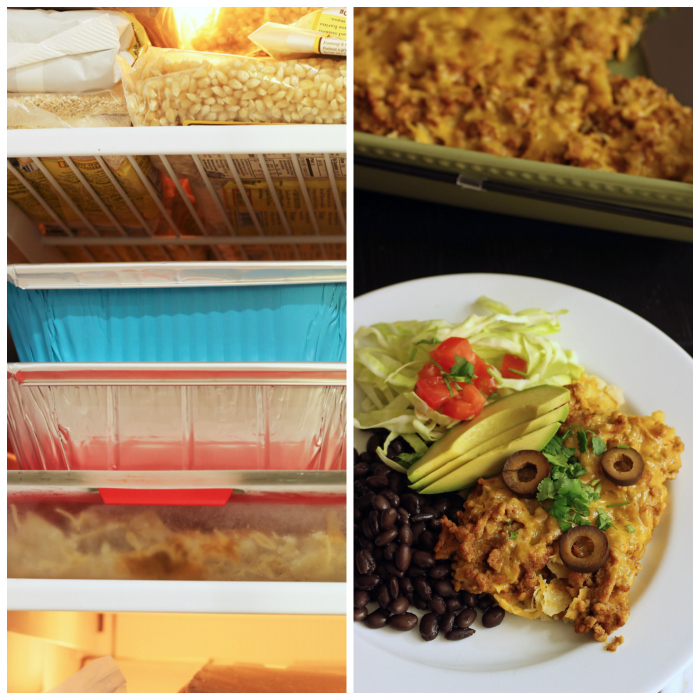 Taco Meat and Lawnmower Taco
I started out making taco seasoning mix and browning some meat. I packaged some of the meat up for taco kits, reserved some for burritos, and then made Lawnmower Taco.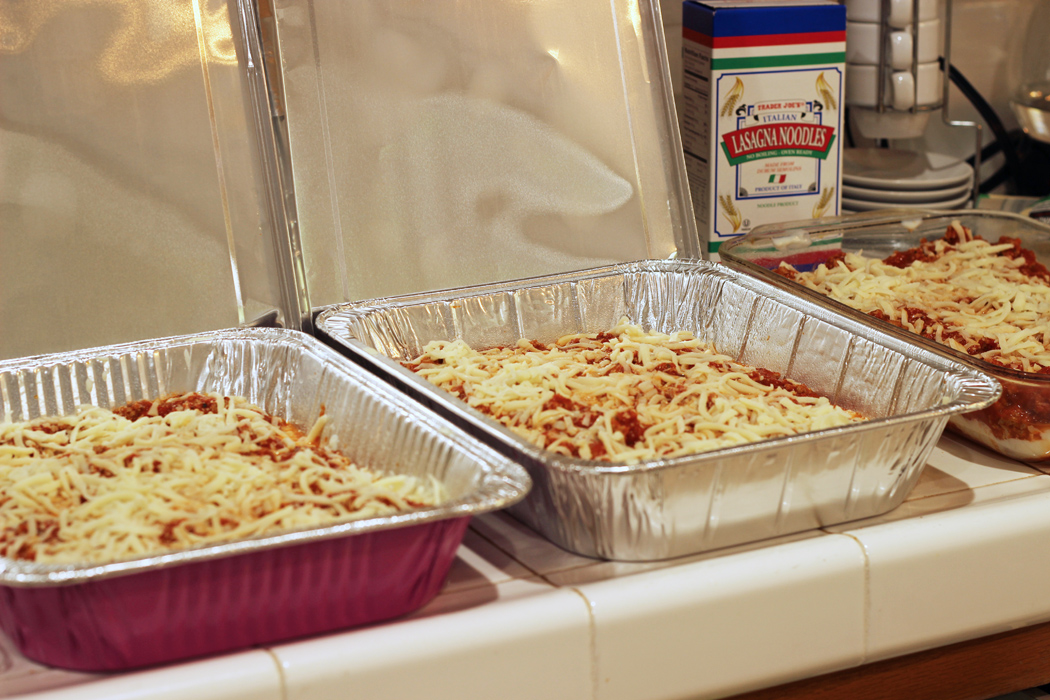 Red Sauce and Lasagna
Next I made a big batch of my favorite pizza sauce. It works really well in lots of other Italian dishes. I cooked it on the stovetop because I was short of time.
I made three lasagnas for the freezer, using the sauce and browned ground turkey. I packed up leftover sauce to have on pizzas and on pasta.
Meatballs
I made a double batch of my Hearty Gluten-free Meatballs. It was approaching dinner time when I was knee deep in meatball rolling, so I gave the job to FishBoy18 while I ran out for In-n-Out Burger.
Remember the point of my freezer cooking is to get ahead, and letting my people eat what I am cooking means I'm taking a step backward. No way!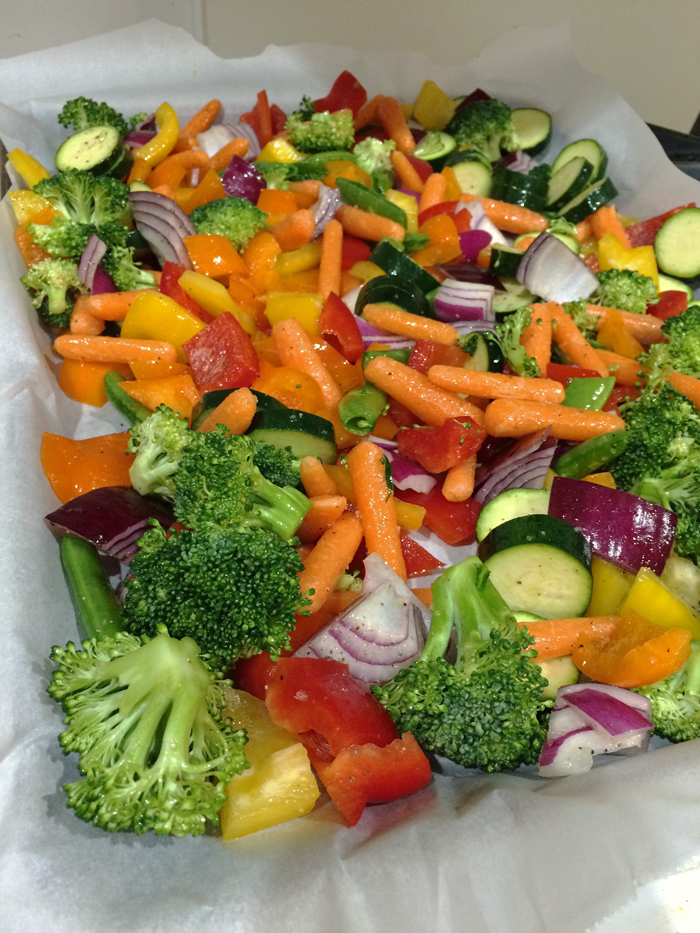 Roasted Veggies
Since the oven was hot after the meatballs baked, I roasted a pan of Jessika's Roasted Vegetables. I'm sorry to say that they didn't hold up well in the freezer. I didn't think I cooked them too much, but they were pretty mushy after thawing. Bummer!
I will try it another time, roasting al dente and we'll see what happens. In the meantime, it's not on my list of things to recommend. #reallife
Chicken Tenders
I also cooked a big batch of chicken tenders on the stovetop with Jamie's Spice Mix. This was for dishes I was going to assemble the next day.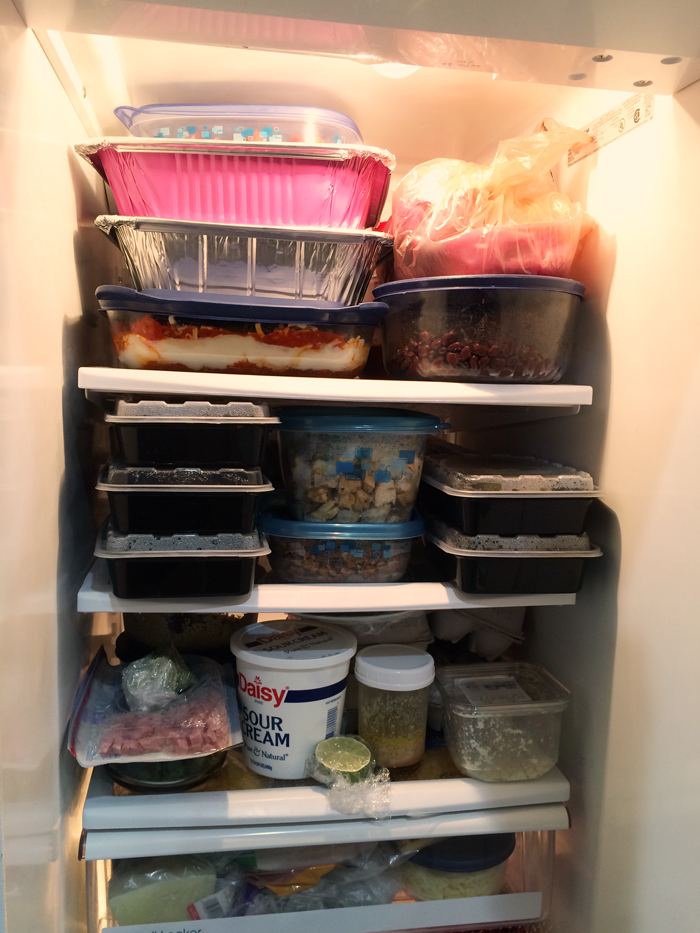 At this point this is what the refrigerator looks like! Yikes! I am a stickler for chilling foods completely before putting them in the freezer. So, my progress when freezer cooking is limited to the space on hand. We do not have a second fridge, though that would be a big help on freezer cooking day.
I called it quits for the night at this point.
Friday: Freezer Cooking
Chicken Bacon Subs
I made a dozen Chicken Bacon Subs with bacon I cooked up that morning. My kids love these sandwiches.
Dijon Pork Tenderloin
The next day I prepared a double batch of my Dijon marinade for pork tenderloin and dropped the marinade and tenderloins in ziptop freezer bags.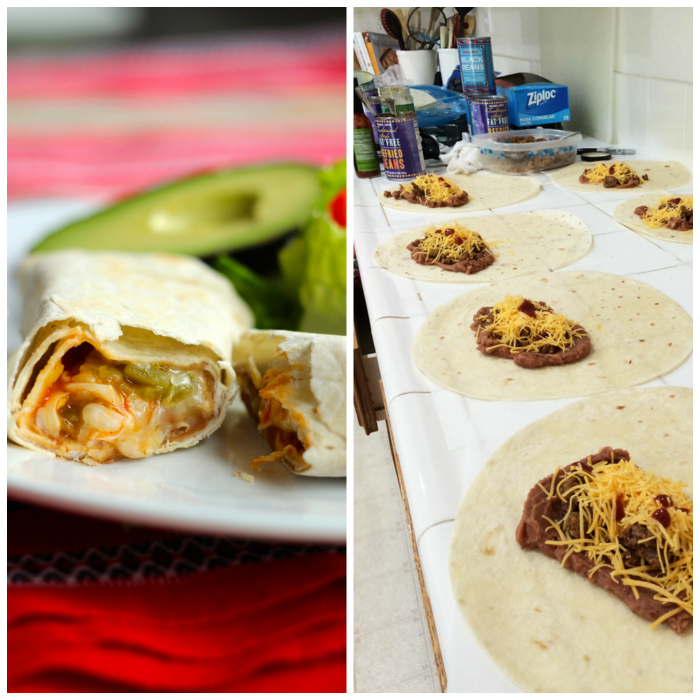 Freezer Burritos
I rolled over three dozen burritos, making some of each of these:
I listened to podcasts while I worked which made it pretty fun.
Enchiladas
I mixed up a big batch of my Enchilada Sauce and fried up dozens of tortillas. I made a batch of Spicy Sausage Enchiladas as well as a couple batches with chicken.
Macaroni and Cheese
This really is the Easiest Mac and Cheese. And the tastiest! I made three batches of this as well.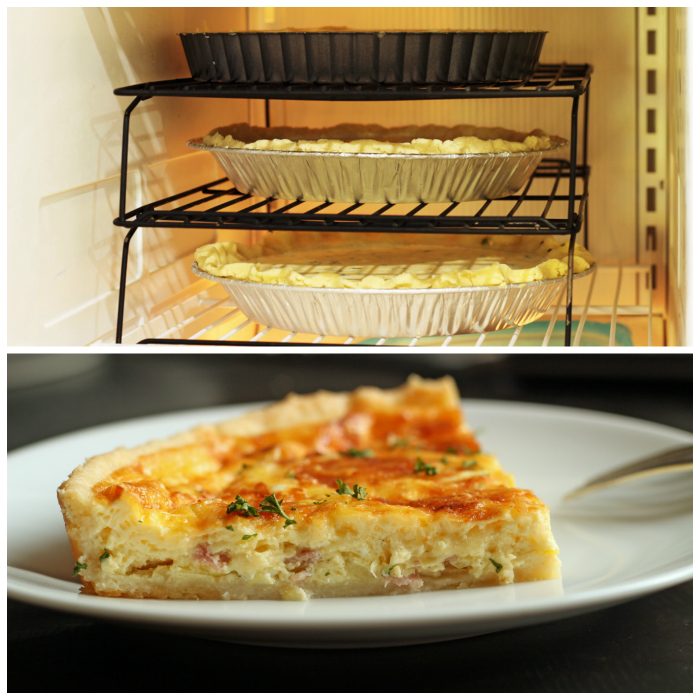 Quiche
I made three batches of this easy pie crust and rolled out the dough for quiche. I ended up using whatever little bits of stuff we had on hand: Cheddar-Spinach, Swiss-Ham, and Bacon-Cheese.
Cauliflower Rice
Since I knew I was going to be doing a whole 30, I made a batch of Cauliflower Rice to have as a back up for meals.
So, that's it! It took two days of my life, if you count the shopping, but it was totally worth it. It's been so refreshing to remind myself that there's a meal in the freezer instead of running out for burgers. And on the nights when I'm eating differently from the family, it's nice to know I don't have to cook what I can't eat.
What does freezer cooking in real life look like for YOU?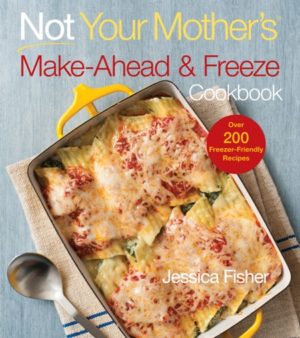 Want to know more about freezer cooking? Check out my book, Not Your Mother's Make-Ahead and Freeze Cookbook.
P.S. I bought the colored pans at Party City for 59 cents each. The lids were 39 cents each, but they were very sharp and I cut myself several times on them. I recommend the pans, but not the lids. Buy your lids at Smart & Final. (You're welcome. 😉 )