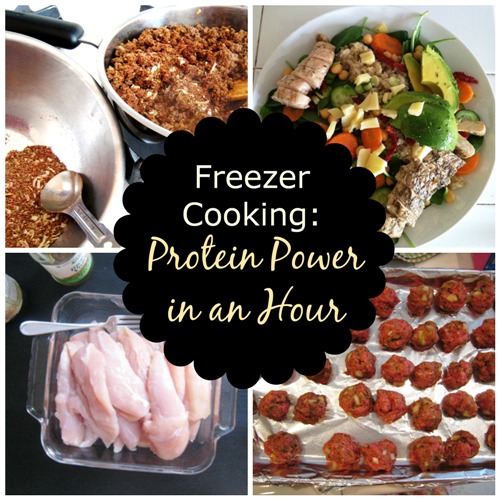 After a pretty crazy fall, I'm pretty excited to get back to my regular freezer cooking. I've got a dozen real food freezer cooking plans in the works to help you improve your family's diet. I'm going to be testing them out later this month once the Pantry Challenge is over.
Late last month, I did a power hour cooking session where I got quite a few proteins prepped for meals. Those meatballs, taco meat packages, poached chicken, and marinated chicken have come in so handy over the last week or so! It's such a great reminder of what great dividends you can reap from a little make-ahead cooking.
Currently, FishBoy11 is reading The Kitchen Counter Cooking School. He has already been discussing it with FishPapa how sad it is that folks don't know how to cook healthy meals. Say what? That's a reminder for this mama to make sure that I equip him with said kitchen skills.
Guess who's going to help me test some of those cooking plans later this month? Yep. That kid. All the kids enjoy cooking, but he's reading almost every cookbook he can get his hands on, so he's first in line.
Anyway, back to the cooking plan at hand….
Protein Power in an Hour
This plan is pretty straight forward and should only take you about an hour to prepare. I timed myself when I came home from the store with sale meat and chicken, and realized I just had to share this easy method with you. It features recipes from my cookbook, Not Your Mother's Make-Ahead and Freeze Cookbook which you can get for just $2.99 right now on Kindle.
Here are the recipes in this easy-peasy plan:
Herbed Meatballs, page 97 (1 batch; 4 meals)
Seasoned Taco Meat made with Basic Taco Seasoning Mix, page 90 (1 batch seasoning, 4 pounds beef or turkey; 4 meals)
Simply Poached Chicken, page 109 (2 batches; 4 meals)
Spicy Dijon Chicken, page 116 (2 batches; 2+ meals)
Basically, all you'll need is 8 pounds of boneless, skinless chicken and 8 pounds of ground beef or turkey plus some basic pantry staples. Oh, and an hour of your time.
You'll more than reap the rewards when you can pull dinner together in a flash over the coming weeks.
Download the cooking plan, print the recipes and labels. Shop, cook, freeze. Put your feet up. Could it get any easier than that?
Have YOU done any freezer cooking lately?
Tell us about it in the comments and feel free to share your freezer cooking post link so others can see first hand how great it is!