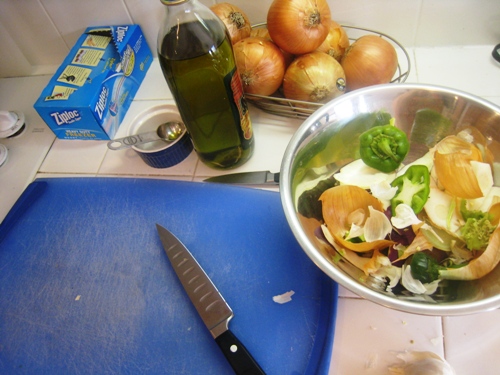 I spent the day in the kitchen doing some massive bulk cooking for the coming weeks. I started out with my prep list, chopping and slicing all the different ingredients that I would need during the day. It was a lot of chopping onions!
The prep list is so helpful in being efficient in your cooking session. You want to maximize your time and not repeat unnecessary actions.
Here are some tips to help make that prep work go smoothly:
keep a bowl handy for trash and trimmings so you don't needlessly walk back and forth to the trash
save a measuring spoon that you're going to reuse over and over again. Wash only if they get wet or if you're switching between savory and sweet
sharpen your knives
make sure you have lots of clean kitchen towels
empty the trash and recycling as soon as they get full
I ended up having a full day in the kitchen, but it was easier than it might have been because I did my prep work first.
31 Days of Freezer Cooking
For more ideas about how to make freezer cooking work for you, follow along with us here in October as I post 31 Days of Freezer Cooking. You can see past posts here.
For even more Freezer Cooking how-to's you can also buy my book, Not Your Mother's Make-Ahead and Freeze Cookbook.
Don't want to miss a post in this series? Subscribe to 31 Days of Freezer Cooking by RSS oremail.