I love me a good cookbook. Last time I checked I had three shelves full of them. And counting…. I think it's time to purge.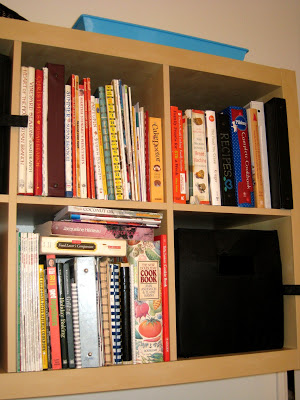 Or not.
I could spend hours in a book store, especially if it's the cookbook section. It's a family obsession really. Even FishBoy5's eyes light up at the sight of a book about food, especially if it has the Food Network symbol on it. Yeah, he's brand loyal. Unfortunately, FN doesn't have a freezer cooking book — yet. I'm just waiting for them to ask me to write it. You'd buy it, wouldn't you?
In the meantime, I thought I'd tell you about four make-ahead cookbooks that I have either purchased or checked out from the library. There isn't a glut on freezer cooking books out there, but that's okay. We'll figure it out on our own, won't we? Any of these would make excellent gifts for the friend who wants to test out freezer cooking or cooking ahead but isn't sure where to start or the home cook who wants to expand her repertoire.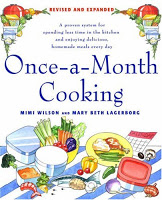 This baby is the Grandmother of All Freezer Cooking Books. Once-a-Month Cooking by Mimi Wilson and Mary Beth Lagerborg tells the story of two moms and how they bought themselves a boat-load of time and energy by cooking up a storm once a month and stashing it all in the freezer. The recipes are more your traditional freezer cooking fare, lots of casseroles, but good all the same. Recently they published an updated version called Once-a-Month Cooking Family Favorites. Both would be informative additions to your collection.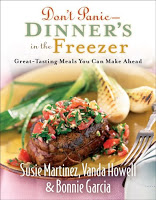 Don't Panic — Dinner's in the Freezer by Susie Martinez, Vanda Howell, and Bonnie Garcia, explains freezer cooking in a general way, including how to make the most of grocery store "loss leaders," the sale items offered at rock-bottom prices. Their method involves a weekly cooking day, based on what proteins are a great deal each week. Cook up a bunch of meals and freeze, slowly building a stash in your freezer.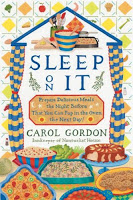 Sleep on It by Carol Gordon is not a freezer cookbook, but, instead, focuses on make-ahead meals. A compilation of bed-and-breakfast favorites, it features recipes that can be prepared several hours or even days in advance. Some can be frozen. I particularly like the appetizer and breakfast ideas. Froofy food without slaving in the kitchen? Great for the holiday season.
Dream Dinners by Stephanie Allen and Tina King features recipes that are used at the meal-prep kitchens of the same name. If you've ever had a night out at Dream Dinners, then you've probably enjoyed some of these recipes. I've never tried one of these kitchens, but I know people who've enjoyed them. The recipes in this book are formulated so that you can make a single batch to test it out and then make a triple batch to freeze. Recipes also range from appetizer to dessert.
Remember: A recipe book is only as good as your family's rave reviews after tasting the food. Read about what you can freeze so that you're inspired to adapt your own recipes for freezer cooking.
And don't forget….

3/21/13, edited to add: Since the publication of this post, I've gone on to write my own Freezer Cookbook.
You can read more about Not Your Mother's Make-Ahead and Freeze Cookbook over here.