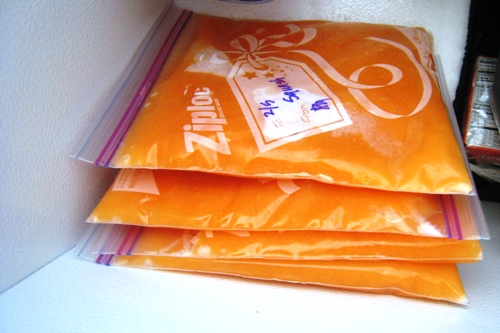 I use freezer bags to pack many of my meals and meal components for freezing. Last year, I bought a ton of them on Christmas clearance and paid a couple pennies a bag. I wash and reuse the ones that I've used for baked goods. If raw meat or messy sauces have been in them, they go to the trash.
Perhaps you've seen those cool machines that seal foods in plastic? I've never owned one, so I can't vouch for their effectiveness. But, I have found a way to seal my freezer bags on baked goods in a way that eliminates quite a bit of excess air, and therefore moisture, being trapped inside the bag. All you need is a straw.
DO NOT use this method with uncooked meats due to the bacteria that may be present.
Here's an ancient vlog demonstrating the straw method.
31 Days of Freezer Cooking
For more ideas about how to make freezer cooking work for you, follow along with us here in October as I post 31 Days of Freezer Cooking. You can see past posts here.
For even more Freezer Cooking how-to's you can also buy my book, Not Your Mother's Make-Ahead and Freeze Cookbook.
Don't want to miss a post in this series? Subscribe to 31 Days of Freezer Cooking by RSS oremail.