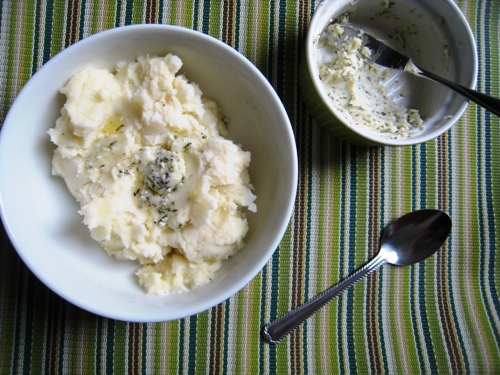 A compound butter is nothing more than good old fashioned butter, softened and combined with herbs, garlic, citrus zest, fruit, and/or cheese.
They are fabulous additions to grilled meats or vegetables dishes; the butter melts and creates an instant sauce. They are delicious stirred into mashed potatoes or soups. They are tasty spreads for breads and sandwiches. You can use sweet butters to spread on pancakes or other baked goods.
They also are great for freezing.
Today I'm over at Simple Mom, sharing one of my favorite recipes, Gorgonzola-Herb Butter, and offering tips to help you make your freezer one of your best friends. From the post,
[Freezer meals] are not difficult things to create, but on busy school nights or on weekends when I'd rather be with my guests than cooking, pulling something from the freezer is a boon. It's like I have a best friend waiting in the wings, ready to hand me a Platter of Awesomeness.
Hop on over, grab the recipe, and plan your next Platter of Awesomeness.
31 Days of Freezer Cooking
For more ideas about how to make freezer cooking work for you, follow along with us here in October as I post 31 Days of Freezer Cooking. You can see past posts here.
For even more Freezer Cooking how-to's you can also buy my book, Not Your Mother's Make-Ahead and Freeze Cookbook.
Don't want to miss a post in this series? Subscribe to 31 Days of Freezer Cooking by RSS oremail.