Forget the can. Make your own soup and freeze it. It tastes better and it's healthier for you, too. Soup is good food.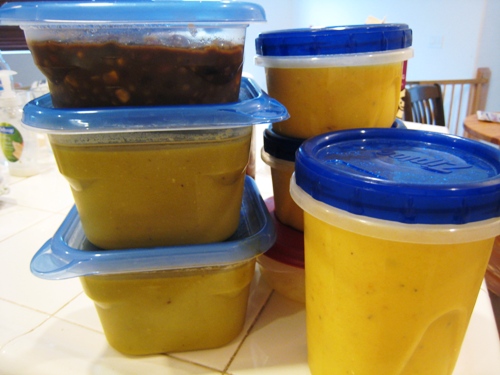 It's been years since I bought canned soup on a regular basis. My family doesn't even like it anymore. Homemade soup is so much better tasting and better for you. Why buy the can?
Well, for the convenience, of course. But, you can replicate that convenience at home. Simply freeze your favorite soups in portion size containers, 2 to 4 cups, depending on the soup and how many people you want to feed at once.
Spend a day making several different kinds, and you'll have a wide variety to choose from. Everyone can have his favorite!
31 Days of Freezer Cooking
For more ideas about how to make freezer cooking work for you, follow along with us here in October as I post 31 Days of Freezer Cooking. You can see past posts here.
For even more Freezer Cooking how-to's you can also buy my book, Not Your Mother's Make-Ahead and Freeze Cookbook.
Don't want to miss a post in this series? Subscribe to 31 Days of Freezer Cooking by RSS oremail.