It can be helpful for your own grocery budget to see what others spend and what kind of tricks they use to save money. Here's what we spend on groceries in February to feed our family of 8.
Woohoo! The end of another month! I can't believe how February treated us. Not only was it colder and rainier than it's been a very long time, but we were sick the entire month.
Granted, February is a short month, but as you know, our grunge started during the Pantry Challenge. No one in our family remembers what it is to be completely well, but man, are we craving it.
Now that we're in March, I'm more than ready for Spring to arrive. Ch-ch-changes are in order!
Some specific changes that we're working on around here involve food and grocery shopping specifically. I have been struggling to lose the weight I gained while on hyperthyroidism medication, but decided that now's the time to get back to where I was.
(I swear, illness really does take a huge bite out of life, doesn't it? Props to all of you who deal with chronic conditions!)
I know that a "diet" isn't the best way to go for me; instead, I want to develop a sustainable system of eating that I can do for the long haul. (Dream, right?) I've been doing some research and come to the conclusion that adding more vegetables to our family's diet is a step in the right direction. Not going vegan, or anything like that, but just readjusting the ratios a little bit.
I'll be honest, bread and cheese is an easy, cheap meal for me, so that's long been my go-to. In the last week or two, I've tried to bust out of that rut and make two to three vegetable dishes for our dinners and having big salads at lunch. I know having a variety will make this habit easier to adopt.
That said, I know having a variety will make grocery shopping more of a challenge. My last trip or two to the store was mainly to get vegetables! If you ask 8 people to fill half their plates with veggies, you're gonna run out!
As I told you last month, my local Ralphs store closed. It was very apocalyptic at the end, seeing completely empty shelves and bare floors. You'll notice in this month's round up that I stocked up on a few things.
Some things got gobbled down right away (looking at you, pistachios) while other items, like pasta and noodles and such will last us for several months.
I had a chance to try out the other Ralphs near me and it turned out not to be so bad. Found a few different clearance items in the last week or so which was reassuring.
Another change is that I'm switching up the pattern of my grocery shopping. I spend so much time grocery shopping and meal prepping on Sundays that it has ceased to be restful. So, I'm looking at moving around some of my weekly routines to be more efficient and to allow myself some true down time on the weekend.
Lastly, as I've mentioned before, I'm going to work to get our monthly grocery budget average to $1000. This will be a challenge, to be sure. Not only is this $300+ less than the USDA food cost reports say I need to feed my family, but with the increase in vegetables and proteins, it may become challenging to eat the way we want AND do it at this price.
Clearly, the pantry challenge helped, and there are ten more months in the year, but this is a pretty touch challenge. We shall see….
The Grocery Geek report
For those of you new here, Grocery Geek is my regular report of how I shopped for groceries, what deals I found, and my running total of how we're sticking to a budget for groceries.
Here's the rundown on my shopping this week. As you read, keep in mind who and how I'm shopping:
My grocery shopping profile
To update you on my grocery geekiness: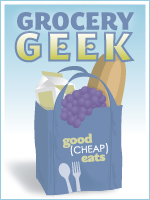 I'm feeding

eight people, ages 56, 46, 21, 18, 16, 14, 12, and 10. Five of those people are males. They eat A LOT!
I'm shooting for a budget of

$1000 this year, trying to beat what the feds think it will cost. Per the most recent

USDA food cost reports it should cost our family $1373.30 to eat all meals at home under the "thrifty plan" for people of our demographics.
We live in Southern California where produce is cheap, but meat and dairy are not.
I'm trying to feed us

mostly unprocessed foods, with a few "healthier" convenience items thrown in and

a junk food splurge* here and there. Currently we're striving for half vegetables at lunch and dinner. (Yikes!)
I

work at home and teach four of our kids, so I don't have as much time for fiddling in the kitchen as I would like.
I

no longer use coupons on a regular basis, though I do love

the coupons that Ralphs offers.
I have at least

ten grocery stores within 5.5 miles of my house. It is easy (for better or for worse) to stop at several stores to get the best deals.
We

mostly eat at home. My husband and college age sons pack lunch and breakfast to work, but sometimes have lunch out. My husband and I enjoy a date once a week. FishPapa takes one child out to "breakfast with B" once a week. We get take-out for the family on average once a week. That adds up to about 156 individual meals prepped at home. That's a lot!
BEFORE YOU JUDGE ME FOR EXTRAVAGANCE,

please read this post.
What I spent on groceries in February
Costco
olive oil $14.99
potstickers $10.99
avocado oil $9.69
guacamole cups $13.89
Greek yogurt $5.59
mayonnaise $6.55
butter $11.19
cheddar/jack shreds $10.99
pork tenderloin $14.70
milk $4.50
black beans $6.49
oats $8.99
ham $11.55
bacon $12.99
salami $13.89
kale salad $4.99
tortillas $3.69
mozzarella $10.39
sharp Tillamook $8.99
honey $12.99
spring mix $3.99
turkey breast $16.76
quinoa $9.99
peppers $6.99
mystery item I need to talk to Costco about $13.99
hummus singles $6.59
feta $6.89
Total spent $289
ALDI
chicken breasts $7.46
chicken breasts $6.50
chicken wings $8.70
chicken wings $8.44
Total spent $31
Ralphs
tea $1.87 – $2.99 store closeout
Cheezit's $1.99 chain-wide special
large shell pasta, manicotti, lasagna $1.37 store closeout
bulk bag rice $3.52 store closeout
bulk bag beans $5.54 store closeout
XL honey $7.12 store closeout
hominy $0.77 store closeout
yogurt $1.39
juice $1.99 store closeout
cream cheese $2.79
onions $2.49
organic fig bars $1.68 store closeout
organic oats $1.49 store closeout
steak $2.99/#
Total spent $78
Sprouts
baby carrots $0.88
broccoli crowns $0.98
onions $1.99/3#
cilantro $0.77
ginger $2.99/#
green onions $0.77
organic grapefruit $2.98/4#
organic celery $1.99
coleslaw $1.49
eggs $2.99
grass fed beef $3.99/#
Total spent $28
Ralphs
pasta $0.39 store closeout
canned artichoke hearts $2.77 store closeout
wasa crisp bread $2.77 store closeout
teas $1.72 to $2.99 store closeout
cactus $2 store closeout
orange juice $5.11 clearance
cookies $1.49 store closeout
beans $.89 store closeout
almonds $3.99
pistachios $1.25 store closeout
mushrooms $0.99 to $1.49 clearance
crushed tomatoes $1.99
oats $1.12 store closeout
apple sparkly $1.41
Total spent $53
ALDI
organic shredded wheat $1.39
organic romaine $2.95
green beans $1.19
seedless cucumber $1.25
carrots $0.95
frozen orange juice $1.19
applesauce cups $1.79
bananas $0.39/lb
apples $2.89/3# bag
asparagus $1.29
tortillas $1.29
pepperoni $2.19
strawberries $149
salsa verde $1.79
diced green chiles $0.59
chicken thighs $0.99/lb
chicken drumsticks $0.99/lb
Total spent $43
Ralphs
beans $1.00
Italian sausage FREE with digital coupon
french bread $1.59
Total spent $5
Sprouts
cauliflower $1.69/pound
parsley $0.77
bananas $0.59/lb
Total spent $4
Ralphs
spinach $1.29 clearance
milk $1.34/gallon store closeout (on accident; they weren't supposed to mark it down)
powdered and brown sugar $1.97 store closeout
flour $2.50 store closeout
Asian noodles $1.22 to $1.64 store closeout
rice paper $1.87 store closeout
enchilada sauce mini cans $0.72 store closeout
salsa verde $2.02 store closeout
pineapple $1.34 store closeout
canned milk $1.12 store closeout
wasabi $2.24 store closeout
salad kits $0.99 to $1.79 clearance
chocolate chips $1.49 store closeout
scottish oatmeal $5.24 store closeout
Total spent $64
Trader Joe's
sunbutter $4.99
almond butter $5.99
baby spinach $1.99
red wine vinegar $1.99
string cheese $2.99
soy sauce $2.99
ginger paste $1.99
hot sauce $2.29
bell peppers $0.99
mushrooms $1.99
Total spent $31
Ralphs
salad kids $1.49 on clearance
breakfast sausage $1.99
Total spent $13
Sprouts
melon $0.75
cucumbers $0.50
peppers $0.88
apples $1.29/lb
blueberries $1.25
parsley $0.77
avocado $1.50
baby carrot $0.98
organic celery $1.99
organic kale $0.99
roma tomatoes $0.98/lb
russet tomatoes $1.99
mushrooms $3.99
yogurt $3.39 BOGO
grass fed beef $3.99/lb
Total spent $85
ALDI
cottage cheese $1.99
whipping cream $1.95
sour cream $1.29
bacon $4.99
eggs $0.91
almonds $5.19
apples $2.89/3#
sugar $1.89
tomato sauce $0.29
coconut milk $1.59
cream cheese $0.99
peppercorns $2.49
baby lettuce $1.99
frozen boneless, skinless chicken breasts $8.00
cucumber $1.25
strawberries $1.49
Total spent $60
ALDI
sparkling water $0.65 after CRV
cottage cheese $1.99
frozen green beans $1.19
eggs $0.94
taco shells $0.99
strawberries $1.49
sugar $1.89
tortillas $1.99
bagels $1.99
half and half $1.95
green onions $0.89
pepperoni $2.19
cilantro $0.48
limes $0.20
jalapeños $0.99
canned tomatoes $0.75
tomato sauce $0.29
tomato paste $0.39
bananas $0.39/lb
white rice $4.49/10#
boneless, skinless chicken breasts $1.29/pound
Total spent $59
ALDI
sparkling water $0.65 after CRV
milk $2.25
sweet potato chips $1.89
Greek yogurt $3.69
mustard $0.75
hummus cups $2.99
crushed tomatoes $0.99
canned tomatoes $0.75
spaghetti squash $0.95/lb
eggs $0.94
applesauce cups $1.79
coleslaw mix $1.49
broccoli crowns $1.45
zucchini $1.19/lb
cottage cheese $1.99
peeled garlic $2.99
baby bella mushrooms $1.95
baby lettuce $1.99
onions $1.39
grape tomatoes $1.45
tortillas $1.95
blueberries $1.99
radishes $0.99
spinach $1.49
organic kale $2.95
frozen green beans $1.19
boneless, skinless chicken breasts $1.89/pound
Total spent $80
Costco
hot dogs $10.99
pesto $8.49
English muffins $6.79
cheddar/jack shreds $10.99
mozzarella $10.49
yogurt $5.89
Tillamook sharp $8.99
pepper jack $6.59
hot dog buns $2.29
tortillas $3.69
pitas $3.39
Total spent $90
Ralphs
mushrooms on clearance $1.89 to $1.99
chicken breast $1.49/lb
chuck roast $3.77/lb
ground chicken on clearance $2.49 to $2.99
bacon $2.99/pound
Total spent $51
Trader Joe's
frozen chicken tenders $7.49
gorgonzola $3.11
milk $2.79
pecans $4.99
Total spent $21
Albertsons
half and half $1.99
potatoes $3.99
Total spent $6
Vitacost
12 bags of Bob's Red Mill bread flour – $4.69 each
minus 30%
Total spent $56
Total spent this month: $1147
So, I went a wee bit over, but if you could see the stacks of noodles I've got stashed away! It will work out in the end.
Here's how things are averaging out:
January: $634
February: $1147
Average YTD: $890.50
If I can keep within the $1000 range going forward, we should be good.