Cookbooks can play an important part in our relationships as well as the food we put on the table. Favorite cookbooks are worth more than their purchase price.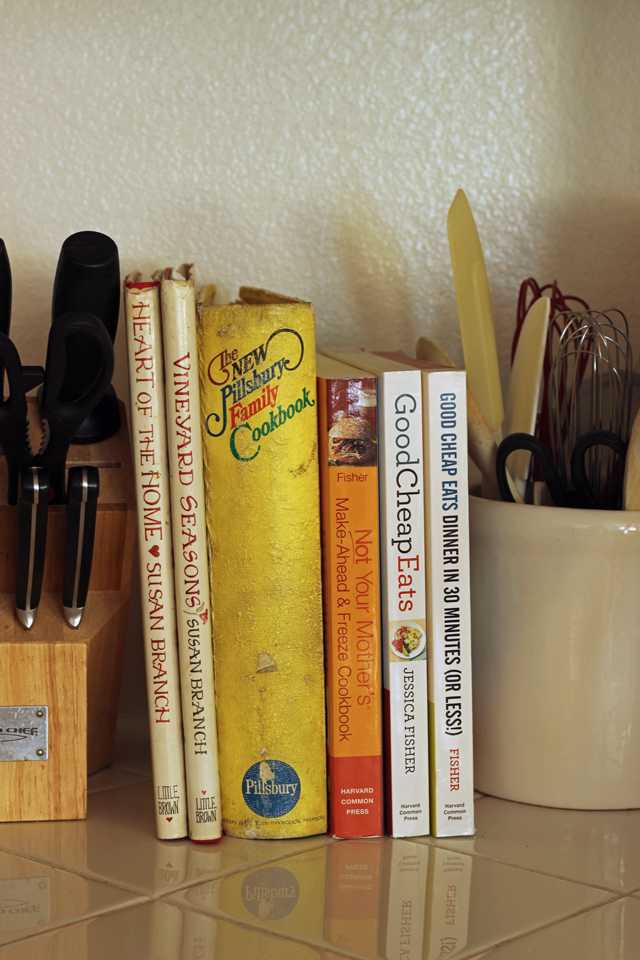 Cookbooks have personality. They become a part of our family. I know that I can get lost for hours, browsing my cookbook collection because it evokes so many memories.
My favorite cookbooks are those that are connected to an experience, ritual, or tradition in my family today or from childhood or those that I use all the time because their recipes are so reliable and pleasing to our family.
I love my vintage cookbook collection. My mom always cooked out of that Big Yellow Cookbook. That's the very one that she made most meals from while I was growing up!
(Don't worry, years before she was ready to pass it on, I bought my sisters their own copies off eBay, so there would be no hard feelings.)
I have a number of books that my Aunt Cass has given me from her childhood and young adult years. They are from the 1950s and 1960s, back when all cookbooks contained real ingredients instead of being branded with a commercial product. Cream cheese is cream cheese, people.
I discovered the Susan Branch Cookbooks during college when I was in France, believe it or not. My friend Julie had married a Frenchman and moved to France. She took her favorite cookbooks with her, even though it might be hard to find all the ingredients.
Over the years, I've had the privilege to write my own favorite cookbooks with recipes my family and I have created together. It's going to cost me a fortune to make sure all six kids each get a complete set, but it's worth passing on this important part of our life together.
Like I said last week, a cookbook, well used, allows you to get to know the author, imparts knowledge, and helps you make great memories with the people you love. I would love to know what's on your cookbook shelf. What must-have cookbook should we add to our collections?
What are YOUR favorite cookbooks?