The seasons are changing! With the arrival of fall comes a plethora of great flavors in fall produce. See a good deal or a great harvest, try one of these 78 ways to enjoy autumn fruits and veg.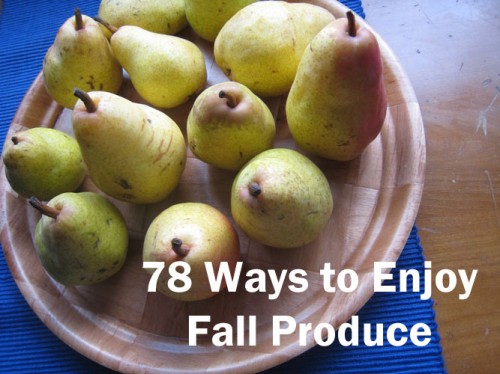 I love the coming of Autumn. I'd like to say that it's my favorite season, but really the beginning of every season is my favorite. I love the newness of the change of climate and the altered appearance of the foliage, whether it's fall leaves, bare winter branches, spring buds, or summer leaves.
And of course, I'm here for the food. Now that we get a weekly produce box, we're starting to eat more seasonally around here. And we're more than ready for Fall Produce! Apples, Pears, and Squash — Oh my! I relish every one of them.
This week, as the fall season starts to awaken, I thought it would be good to round up some recipes to make the most of fall produce. In this way, when you find a great sale on apples or your pear tree is ready to burst, you'll know what to do with the bounty.
Some of these are my own recipes, but many are from friends. Ready? Set? Eat!

Apples
As they say, an apple a day keeps the doctor a way. Apples are full of fiber and antioxidants; research suggests that they may reduce the risk of some cancers.
Plus, they taste great!
However, conventional apples are high on the Dirty Dozen list of fruits and vegetables with the most pesticide residue. For this reason, it's best to buy organic apples whenever possible.

Pears
Pears offer great taste, fiber, and vitamin C. It's important to purchase unripe pears. They ripen and bruise quickly after picking. Store pears at room temperature until ripe and then refrigerate them.
While pears aren't on the Dirty Dozen, they do rank in the top 20 of produce with high residue from pesticides, so organic is again the best bet with these.

Pomegranates
The pomegranate has been touted for centuries for its delicious taste and healing properties. It's fun to eat and beautiful to add to many a dish.

Mushrooms
Mushrooms are a good source of both vitamins and minerals. While they aren't technically a fruit or vegetable (they are considered fungi), they do grow naturally in the woods.
Their umami ("a savory, brothy, rich or meaty taste sensation") characteristics help them add flavor and richness to many meals. Go here to learn more about the benefits of mushrooms.

Winter Squash
Winter squash like butternut, spaghetti, or acorn differs from summer squash in that it is harvested and eaten when mature, that is the skin is a tough rind and the seeds are mature. They store well over the fall months and into winter.

Sweet Potatoes
Sweet potatoes are a root vegetable high in vitamins and minerals. The darker ones have more beta-carotene than the lighter fleshed ones. They are often misnamed "yams".
The rank on the Clean Fifteen in terms of pesticide residue.

Pumpkin
A gourd-like squash, the pumpkin is ubiquitous throughout the US in the fall in anticipation of Halloween celebrations. However, not all pumpkins are good for eating. Choose sugar pumpkins over the larger jack-0'lantern variety.

Kale or Other Greens
Kale is a type of cabbage that has seen new life as a trend. Kale chips and kale salads are much more common than they once were. This green leafy freezes well and actually improves in flavor after a frost.
It's considered part of the Dirty Dozen, so buy organic kale if you can.

Brussels Sprouts
Brussels Sprouts are another member of the cabbage family, its diminutive heads growing off a central stalk. It is best eaten fresh, not from frozen. Trust me on that one.

Cauliflower
Cauliflower, a relative of broccoli, is actually available in more colors than just white. Orange, green and purple varieties are also available. It's low in fat and carbs, but high in all kinds of good stuff instead, include folate and vitamin C.
Make the most of fall produce!
Not only will you save money by purchasing these items when they are most plentiful but you'll also enjoy them at their peak of freshness and flavor. I'm learning the value of eating seasonally. Not only is it cost effective and tastier, but it makes the arrival of the autumn months that much more precious and enjoyable.

URS Guidelines
Remember: Each week at Ultimate Recipe Swap, there is a posted theme. You are welcome to share any recipe that fits the theme and contains a link back to Life as MOM. If you're curious about the upcoming themes, I have a calendar here. This week's theme is Fall Produce.
If you have a recipe that fits the theme, please link it. However, things like Beef Strogonaff will be deleted from Chicken week because it doesn't contain chicken. Please keep this meme as helpful to others as we can.
And don't make me the bad guy!

What is your favorite recipe for fall produce?