Spend a few days or weeks eating up what's already in the freezer. You'll save money for a big cooking session and make some room in the freezer.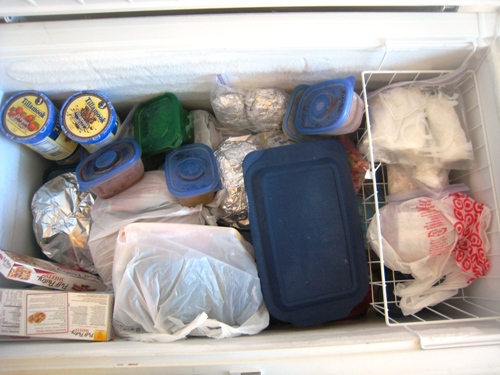 You may be really excited to start filling your freezer with all kinds of tasty, pre-made meals. I get that! Once you get the hang of freezer cooking, it can be addicting. Like the quilter who finds beautiful fabrics and stocks up but never gets it all sewn, it can be easy to fill the freezer and keep filling it.
Before you start on a big cooking spree, spend a few days eating down the freezer.
This will help you save money for a bulk grocery shopping trip as well as make room in the freezer for all the yummy meals you're going to make.
I'm living this out this month. I had planned a big cooking shindig — and then I looked in the freezer. Looks like we have some eating to do! Since we've had a lot of expenses getting our KCMO rental ready for a new tenant, we could use the cash to replenish our savings.
Eating down the freezer will help us save money and also make room for a big cooking day in anticipation of Thanksgiving and the busy holiday season.
31 Days of Freezer Cooking
For more ideas about how to make freezer cooking work for you, follow along with us here in October as I post 31 Days of Freezer Cooking. You can see past posts here.
For even more Freezer Cooking how-to's you can also buy my book,Not Your Mother's Make-Ahead and Freeze Cookbook.
Don't want to miss a post in this series? Subscribe to 31 Days of Freezer Cooking by RSS oremail