These easy, slow cooker pork tacos allow you to escape the kitchen and come home to a delicious meal all ready to go.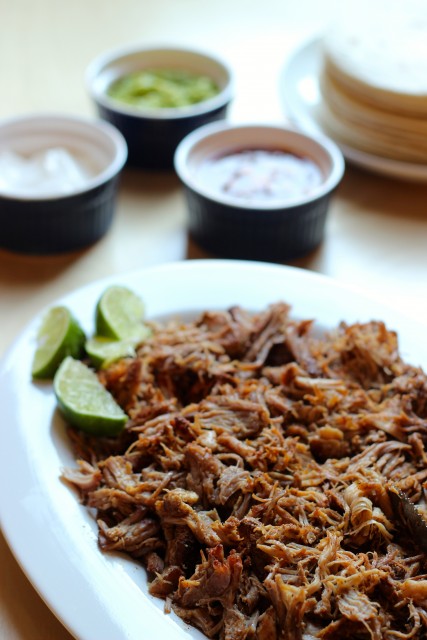 This is such an easy recipe, I pretty much don't need to post it. You could make this in your sleep. Your five year old could make this in his sleep. It contain a handful of budget-friendly ingredients and the slow cooker does 95% of the work.
You don't really need the recipe, right?
Yeah, you do. You need to remember that great tasting meals need not be expensive or complicated. They need to be fresh and flavorful. And then you're set.
These Slow Cooked Pork Tacos can be varied however you see fit. I prefer them pretty straight up: soft tortillas, hot shredded pork, a squeeze of lime, and salsa, sour cream, or guac for topping. If you prefer, you can throw on the cheese, lettuce, and tomatoes, but I don't think it needs it. In fact, if you wanted to go super-duper simple, you could just toss on chopped onion and cilantro and call it good.
Very good.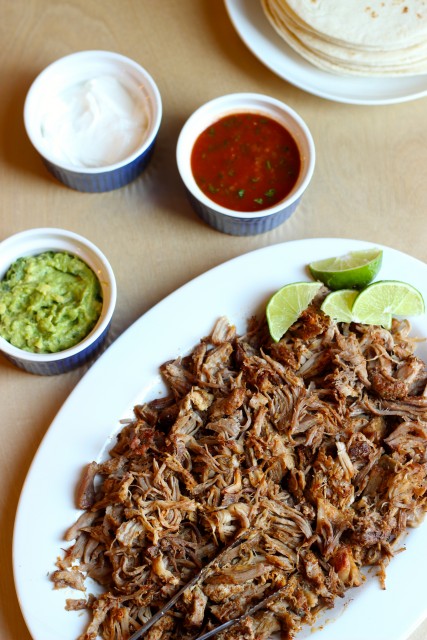 These tacos go great with Mexican Rice and the Cumin-Scented Cabbage Salad.
Slow Cooker Pork Tacos
Ingredients
2 to 4 pounds pork shoulder or pork butt roast
2 tablespoons to 1/4 cup homemade taco seasoning mix
corn or flour tortillas
salsa
sour cream
guacamole
Instructions
Place the pork roast in the crock of a 5-quart slow cooker. Sprinkle the taco seasoning all over. If you feel like it, you can add 1/4 cup water, but the roast contains enough liquid that it will be fine. Cover and cook on HIGH for 4 hours or on LOW for 6 to 8. The meat will be very tender and shred easily.
Shred the meat with two forks and adjust the seasonings.
Serve the meat with the tortillas, salsa, sour cream, and guacamole.
To freeze: cool the meat and package for freezing. Chill completely in the refrigerator before freezing for up to 2 months.
Yield: varies depending on the size of the roast