These easy, slow cooker pork tacos allow you to escape the kitchen and come home to a delicious meal all ready to go.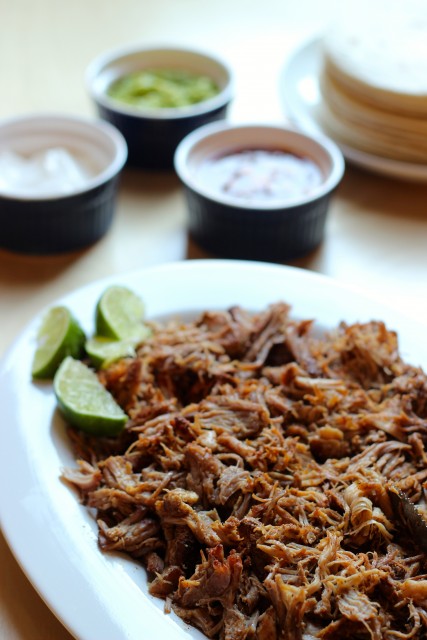 This is such an easy recipe, I pretty much don't need to post it. You could make this in your sleep. Your five year old could make this in his sleep. It contain a handful of budget-friendly ingredients and the slow cooker does 95% of the work.
You don't really need the recipe, right?
Yeah, you do. You need to remember that great tasting meals need not be expensive or complicated. They need to be fresh and flavorful. And then you're set.
Why You Will Love This Pork Taco Recipe:
Hands Off – You throw the pork in the slow cooker and let it do the rest. Then all you have to do is shred and assemble.
Customizable – You can customize these tacos however you want. Get fun with the toppings or keep it simple. Use whatever tortillas you have on hand. Up to you! Even use lettuce leaves if you want to keep it whole 30.
Makes Great Leftovers – This is a great make ahead meal and any leftovers can be store in your refrigerator for up to 4 days making a great next day lunch.
What Ingredients Do I Need To Make These Slow Cooker Pork Tacos
These Slow Cooked Pork Tacos can be varied however you see fit. I prefer them pretty straight up: soft tortillas, hot shredded pork, a squeeze of lime, and salsa, sour cream, or guac for topping. If you prefer, you can throw on the cheese, lettuce, and tomatoes, but I don't think it needs it. In fact, if you wanted to go super-duper simple, you could just toss on chopped onion and cilantro and call it good.
Here is a breakdown of recipe ingredients:
pork shoulder or pork butt roast
taco seasoning – you can use storebought or try making your own homemade taco seasoning mix
corn or flour tortillas – Try making your own corn tortillas!
toppings: salsa, sour cream, guacamole, cheese, lettuce, tomatoes, fresh lime
Very good.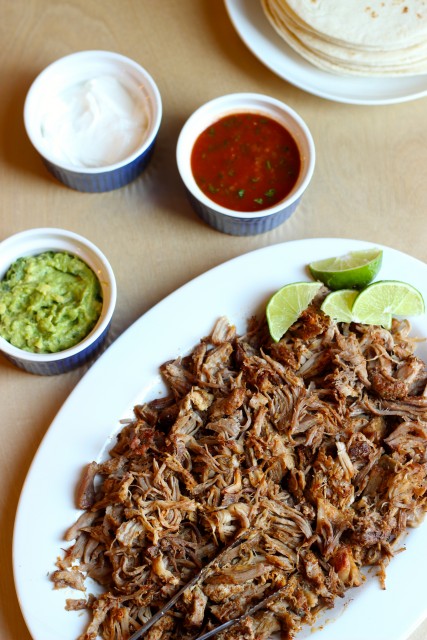 How Do I Make The Slow Cooker Pork For These Tacos?
This couldn't be simpler. Just place your pork into your slow cooker and then rub the taco seasoning all over the meat.
You can add 1/4 cup of water, but you don't have to. The roast contains enough liquid so it's optional.
And then cook the roast on low for 6 to 8 hours, or on high for 4 hours. Once it's done cooking the meat will shred very easily.
What Should I Serve These Slow Cooker Pork Tacos With?
These tacos go great with Mexican Rice and the Cumin-Scented Cabbage Salad.
Slow Cooker Pork Tacos
These easy, slow cooker pork tacos allow you to escape the kitchen and come home to a delicious meal all ready to go.
Instructions
Place the pork roast in the crock of a 5-quart slow cooker. Sprinkle the taco seasoning all over. If you feel like it, you can add 1/4 cup water, but the roast contains enough liquid that it will be fine. Cover and cook on HIGH for 4 hours or on LOW for 6 to 8. The meat will be very tender and shred easily.

Shred the meat with two forks and adjust the seasonings.

Serve the meat with the tortillas, salsa, sour cream, and guacamole.
Notes
Yield: varies depending on the size of the roast
To freeze: cool the meat and package for freezing. Chill completely in the refrigerator before freezing for up to 2 months.
Nutrition
Calories:
207
kcal
|
Carbohydrates:
1
g
|
Protein:
27
g
|
Fat:
10
g
|
Saturated Fat:
3
g
|
Cholesterol:
93
mg
|
Sodium:
206
mg
|
Potassium:
472
mg
|
Fiber:
1
g
|
Sugar:
1
g
|
Vitamin A:
117
IU
|
Vitamin C:
2
mg
|
Calcium:
19
mg
|
Iron:
2
mg