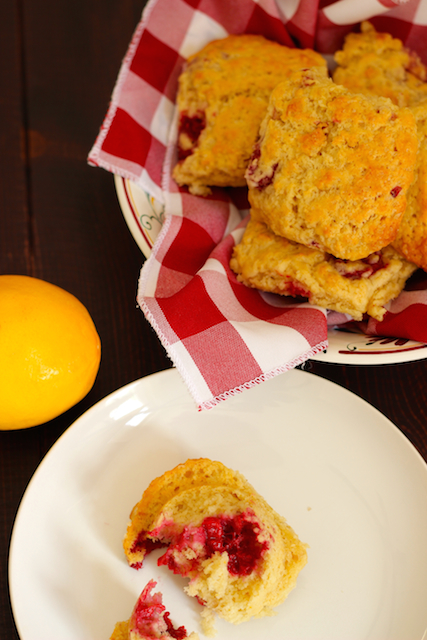 I graduated from college one term early and got engaged to be married a few weeks later. Since grad school didn't start until the following fall and I didn't want to move back to my hometown for the few months until the wedding, I got a job in a Santa Barbara bakery.
At Brigitte's we sold espressos and fresh brewed coffee as well as an abundance of freshly baked goodies. It was 1994, the era of the muffin, and the days before widespread Starbucks. A local bakery with fresh coffee was a beautiful thing.
Muffins were super big back then. They've held a special place in my heart, even now 20 years later. I know some people say they are cupcakes in disguise, but I think that really just depends on how you mix it.
Getting back in the muffin game.
I used to make muffins all the time, but it's fallen out of our habits for some reason. Time to get back into it, especially as summer approaches, and lighter fare is on the menu. Muffins are a great summer breakfast, especially with so much variety in terms of summer fruits.
Here are some ways that I make muffin-making easier:
I prefer to bake with parchment muffin liners, but we were out of them when it was time to take pics. Just ordered this mondo supply on subscribe and save, so we'll be good for five million years. I hope I like this kind!
I ordered this small pack that's a bit more expensive to arrive later this week. This way I can make sure I want five million years' worth of this kind. Hopefully, it will all work out. (What a lot of work for muffin papers!)
I am desperately in search of another Wearever muffin pan like the one I've had for 20 years. It's insulated, as was the trend back when I made my wedding registry twenty years ago, and bakes things perfectly. I cannot find one anywhere.
Let me know if you know where to get one or if you have a brand of pan that you love. I have a cheapo pan that burns every time. There isn't even a name brand on it; that should tell me something, shouldn't it?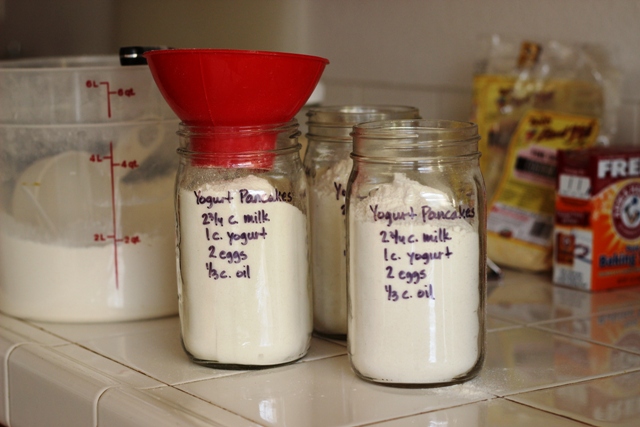 I used to store my homemade baking mixes in ziploc bags, but about a year ago, I switched to using quart-sized canning jars. I have a big collection of jars and plastic caps. I love the canning funnel for helping me reduce the mess.
I invested in canning equipment about fifteen years ago when I taught myself to make jam. The investment has been well worth it, especially since I've found uses for this stuff beyond canning. FishPapa uses the funnel to load ice into hockey water bottles. As canning season approaches, check your local stores for sales. This is when supplies will be at their peak.
Muffins, welcome back!
My Mix-and-Match Muffin Recipe is one of my favorites. Make up several jars or bags of mix and you can have fresh baked muffins in about half an hour. You can customize it with whatever fruits and goodies you have on hand which makes it super versatile. Happy-go-lucky if you will.
These Lemon Raspberry Muffins are a riff on that. They are tart and sweet and juicy, a perfect use for fresh raspberries. I've made them several times, leaning on unbleached, all-purpose flour. I'm itching to try a whole wheat version, but I cannot find a great price on whole wheat pastry flour. Stay tuned for a new adaptation once I do.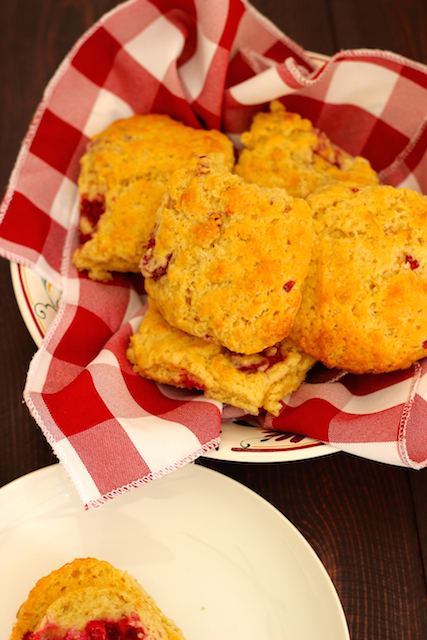 The batter makes 12 very full muffins. If you like, you can make more, smaller muffins, just adjust the cooking time. I use demerara sugar because it's the least processed of cane sugars. It has a little caramel flavor that I love. You can use regular sugar if you prefer.
Lemon Raspberry Muffins
Ingredients
1 1/2

cup

buttermilk

1/2

cup

neutral oil

2

egg

beaten

1

lemon, zested

3 1/2

cup

unbleached, all-purpose flour

1

cup

demerara sugar

plus more for sprinkling

4

tsp

baking powder

1

tsp

salt

1

cup

raspberries
Instructions
Preheat the oven to 350°. Line muffin tin with paper liners or spray with nonstick cooking spray.

In a large mixing bowl, combine the buttermilk, oil, eggs, and zest.

In another large bowl, whisk together the flour, sugar, baking powder, and salt. Fold the dry ingredients into the wet. Add the raspberries and gently fold them in.

Divide the batter into the cups of the pan, cups will be very full. Sprinkle the tops lightly with more demerara sugar.

Bake until golden brown and a tester inserted comes out with a few crumbs attached, about 30 minutes. Cool on a rack.

To freeze: cooled muffins can be stored in an airtight container in the freezer for up to 2 months.
Notes
Nutritional values are approximate and are based on making 12 muffins with the recipe. Use within 4 days.
Nutrition
Calories:
318
kcal
|
Carbohydrates:
49
g
|
Protein:
6
g
|
Fat:
11
g
|
Saturated Fat:
2
g
|
Cholesterol:
31
mg
|
Sodium:
238
mg
|
Potassium:
257
mg
|
Fiber:
2
g
|
Sugar:
19
g
|
Vitamin A:
89
IU
|
Vitamin C:
7
mg
|
Calcium:
109
mg
|
Iron:
2
mg
What's your favorite kind of muffin?