Love having a meal plan, but not in a place to make your own? Download FREE printable meal plans and grocery lists from Life as MOM.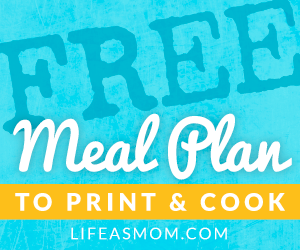 Last summer we talked about the importance of meal planning, which culminated in the Meal Planning 101 series. There I shared many different approaches to meal planning and making sure you have what you need to get a meal on the table each night — and save money!
Well, I came to realize that sometimes you just need someone to do the work for you. Delegation is a good thing, especially when it helps you over a rough spot in terms of time management or stress.
And if that delegation is FREE? Well, so much the better!
Over at Life as MOM, I've been sharing a weekly meal plan to print and cook. Currently, there are seven to choose from — with no repeats. You can rotate these weekly plans and have everything you need at your fingertips for a two month rotation.
Here's what we've got going so far:
Weekly plan #1 (jalapeno chili, lasagne, cheese soup, pork chops, pasta salad)
Weekly plan #2 (grilled fish, bolognese, vegetable soup, queso fundido, baken chicken)
Weekly plan #3 (Protein-Style, gluten/dairy-free adaptions)
Weekly plan #4 (meatloaf, enchiladas, pesto pizza, buffalo chicken, chili)
Weekly plan #5 (Dinners on the Go)
Weekly plan #6 (The Ham Plan)
Weekly Plan #7 (burrito pizza, tortellini soup, fajita omelet, chicken salad, steak gyros)
New meal plans will be going up each month, so if you don't already, consider subscribing to Life as MOM. Even if you're not a mom, there's quite a bit of useful info over there to help anyone.