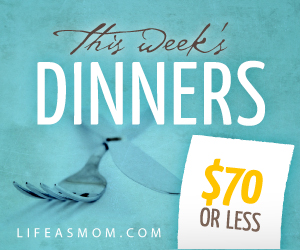 You know what they say, if you don't have a target, you'll never hit anything. This is true for so many areas of life, but quite importantly for financial goals. If we don't strive to achieve something, we'll more than likely achieve nothing. Success takes effort.
Cooking at home, frugal shopping, and meal planning can all play a huge role in helping you achieve your financial goals. One good way to get yourself motivated is to set a target (aka a budget) for certain expenses. Feeding a family of 4 for $10 is a great start. You can totally do this if you practice some common sense techniques for shopping and cooking. I can often feed MY family of 8 for about $10 as well.
To help you accomplish this, my sister Janel and I have created some comprehensive, weekly meal plans that fit the $10/dinner goal. Each week's menus include recipe links, grocery lists, make-ahead tips, and money-saving tricks — all with a $70/week price tag.
There are 4 weekly meal plans so far and they've met with rave reviews from readers. Grab them here:
Plan 1: Mostly Chicken (chicken sliders, chicken & bean burritos, salsa verde chicken, sausages and rice, tortellini pasta salad, soup, and pizza)
Plan 2: Mostly Meatless (green chile burritos, cheese enchiladas, egg sandwiches, Popeye's burgers, meat sauce and pasta, vegetable soup, pizza)
Plan 3: Pretty Meaty (pasta with meat sauce, chili beans soup, pizza, tacos, sandwiches, and chicken)
Plan 4: Comfort Foods (chicken pot pie, egg bake, beans and rice, mac and cheese, lawnmower taco, soup, pizza)
GRAB MORE FREE MEAL PLANS AT LIFE AS MOM.
Do you have a target price for dinner?