Here we are winding up week 1 of the 2020 Pantry Challenge, the first of our Grocery Savings Challenges. It's been a good week where we've eaten great meals, spent less on food, and used up some stuff on hand.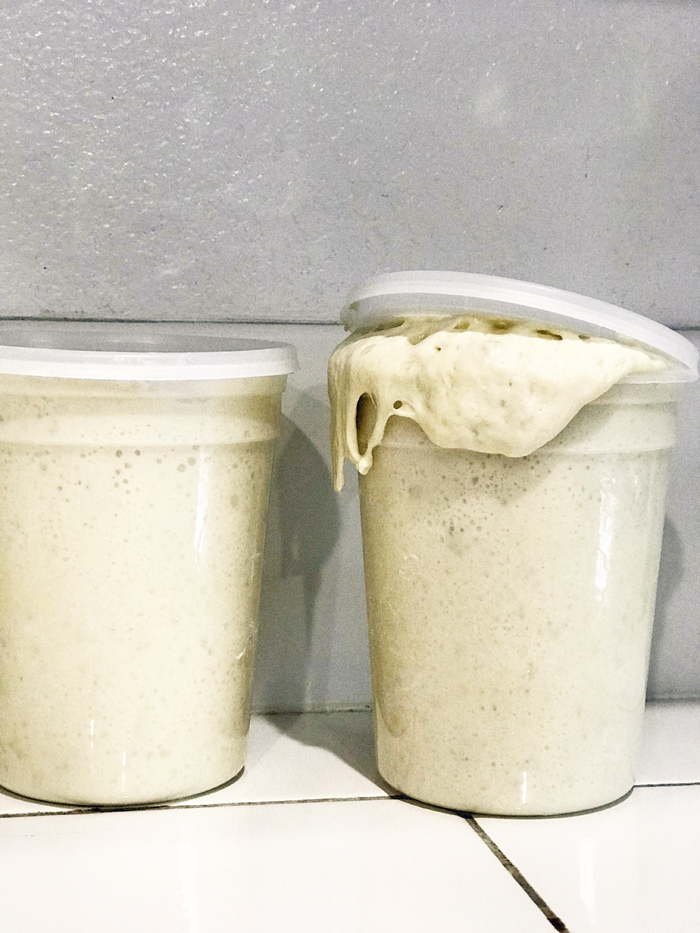 The last thing I did last night before I went to bed was feed my starter in anticipation of Baking Day/Pizza Night. It would appear that I didn't spread the starter out into enough containers. By 9 am, all three containers were bursting at the seams. Unfortunately, I lost a bit on the counters.
Sigh. Oh well.
If you've read my post on sourdough, you know that I don't throw away "discard". Instead I strategically make enough starter and use it up on a weekly basis. One of the recipes in which I use up excess starter is my Sourdough Pizza. (The recipe is coming next week!)
This morning I made enough bread dough for six boules as well as enough pizza dough for six pizzas. Yes, folks, I do know how to live things up on a Friday night. I bake.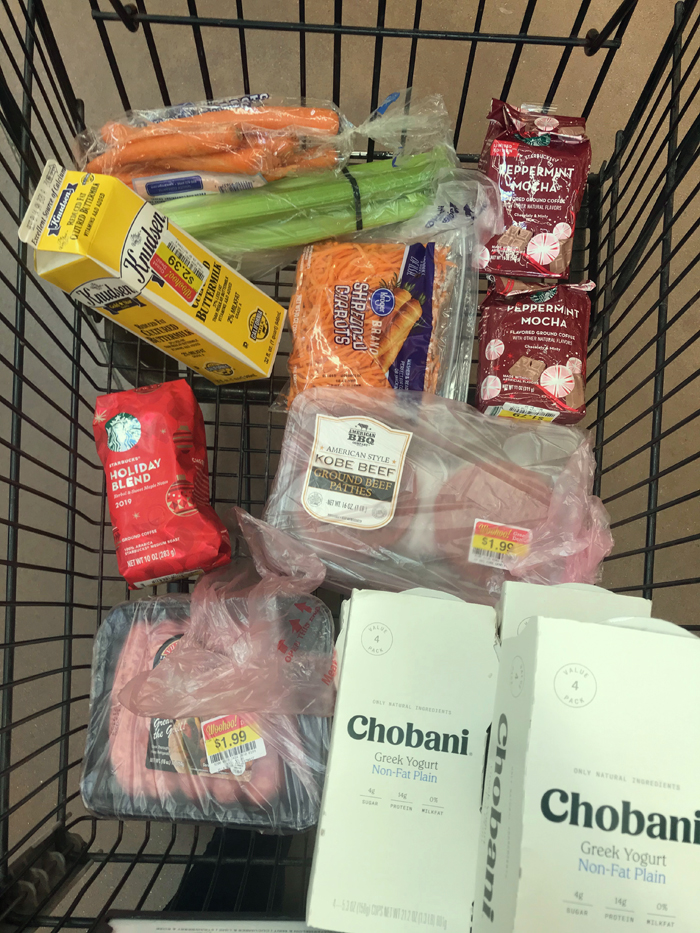 Grocery Shopping
But before any of that happened, I headed to Ralphs. I wasn't planning to do any more shopping, but… I found a coupon for just plain cash when I was cleaning off my desk and I noticed that yogurt was a weekly digital deal.
I had a short list when I headed to the store: yogurt, carrots, celery, and buttermilk, with the permission to pick up screaming clearance deals if I saw them.
Ask luck would have it, there were a few things that were too good to pass up.
Starbucks holiday coffees $1.79/package
Kobe beef $1.99/lb
Bratwurst $1.99/lb
bonus: the buttermilk was marked down as well
I ended up spending $22.16 for everything pictured, which I consider to be a pretty good haul. This brings my January spending up to $131. Seeing as the month is 1/3 over, I'm not too worried about it. We should still come in well under the 1/2 budget mark.
Breakfast
When I got home from the store, I made my Usual: yogurt, blueberries, and Muesli while some kids had eggs and toast and others had smoothies.
I've got another few days' worth of blueberries. After that I'll need to get back to the store for apples or more berries.
I know it probably seems uptight to stick to the same breakfast every morning, but it's worked so well to help me keep the weight off, that I really cherish it. Plus, it's incredibly enjoyable!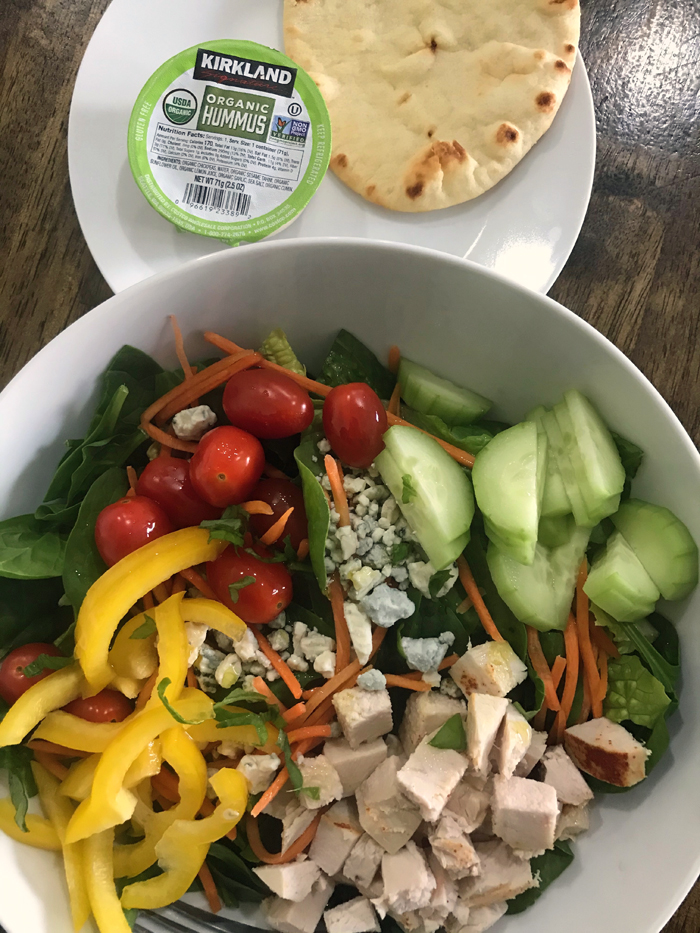 Lunch
For lunch I went digging in the freezer for sandwich bread. All the sourdough was gone, so the boys made sandwiches with a stray loaf of rye we had on hand. The girls made salads, as did I. I also grabbed a piece of naan from the freezer and a hummus packet from the fridge.
We used up the last of the chicken from Tuesday in sandwiches and salads. The fresh veggies I bought on Wednesday are already dwindling.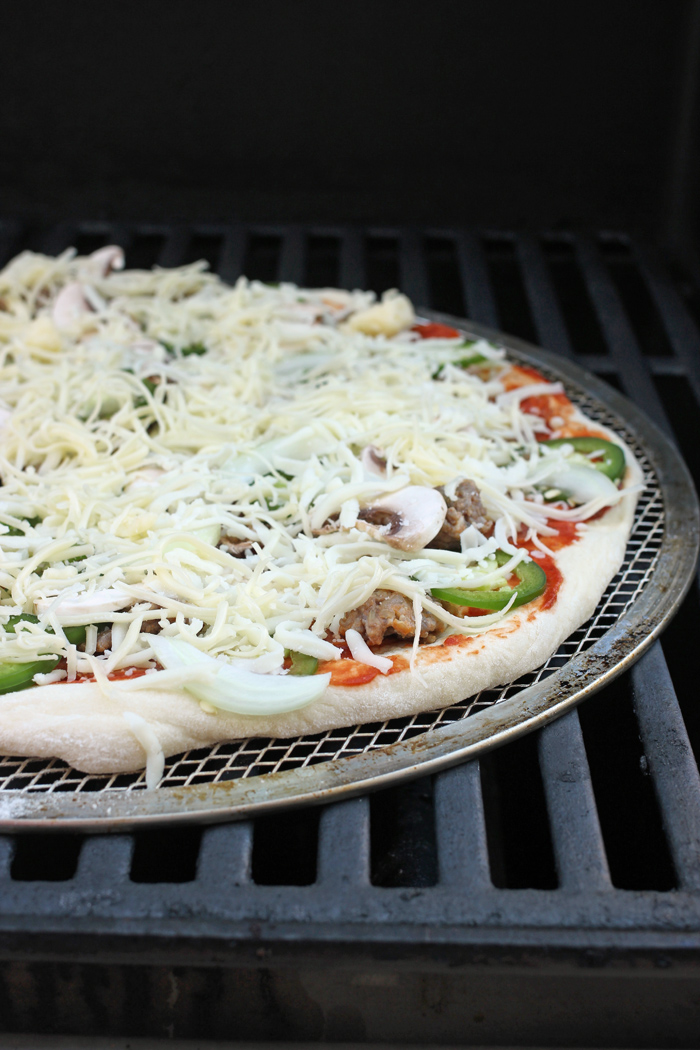 Dinner
Our regular Friday night dinner is grilled Sourdough Pizza. I made the dough earlier in the day, but FishChick13 and FishBoy15 did the prep work and assembled the pizzas while my husband cooked them on the grill.
We varieties that got made this week: pepperoni, pepperoni/mushroom, pesto/tomato, and the Kitchen Sink (sausage, pepperoni, mushrooms, peppers, jalapeños, onion)
We also made Homemade Ranch Dressing for dipping.
So there we go, done with week 1. We're still hanging on!
How's the challenge going for YOU?