This month, as part of this year's Grocery Savings Challenges, I'm trying to stay out of the stores and focus on using up what we have in the pantry, fridge, and freezer. Here's how we ate on Day 5 of our 2020 Pantry Challenge: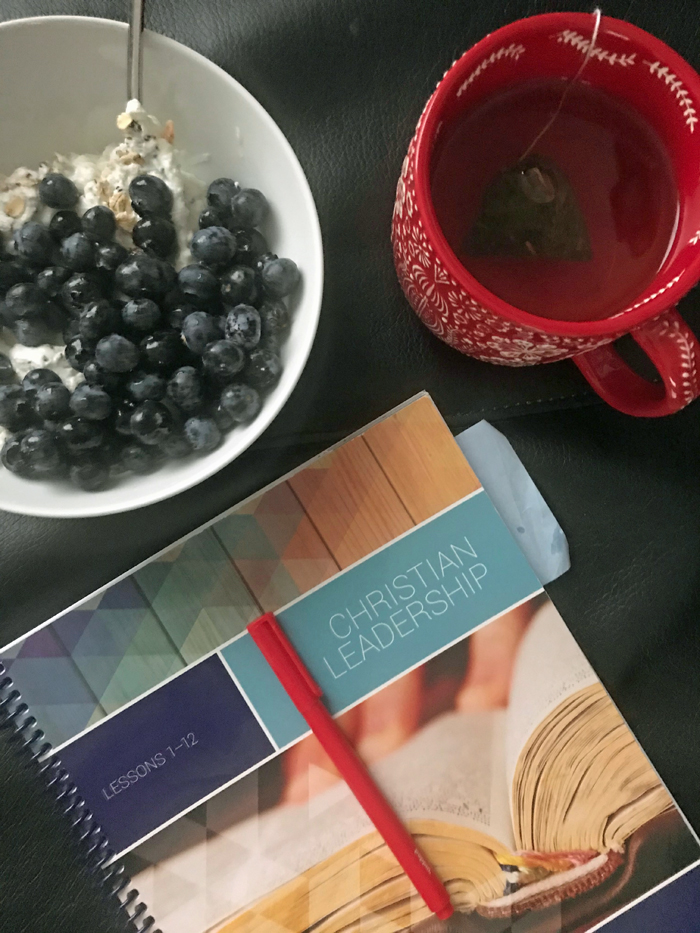 Here we are on day 5 of our pantry challenge. Honestly, it hasn't been that hard. Yet.
I know from experience that I'll probably be whining and complaining in a few weeks, but right now, I feel so rich with possibilities.
I misjudged how much the family would eat the last couple days, so now we've got extra chicken that needs eating before I cook something new. I had planned Lawnmower Taco for dinner (shh! don't tell the kids), but that's gonna get bumped for another night while we use up the chicken in Burrito Bowls.
Breakfast
You'll notice a theme when it comes to our breakfasts. For my part, I eat the same thing almost every day: 1 cup nonfat Greek yogurt, a batch of my homemade muesli, and a cup of crunchy blueberries.
They must be crunchy blueberries. I won't buy them if they're not hard as rocks.
This recent batch of blueberries from ALDI has been amazing — cheap AND amazing. That's a double win.
In the past, I've bought whole roasted almonds and chopped them for my muesli. This month, in order to shave some money off the grocery bill, I bought slivered almonds. I need to toast them to get the same taste and texture, but since I make several cups of muesli at one time, it's working out.
The kids had the last of the waffles along with smoothies this morning. I stock a smoothie bar in the freezer so it's very serve-yourself.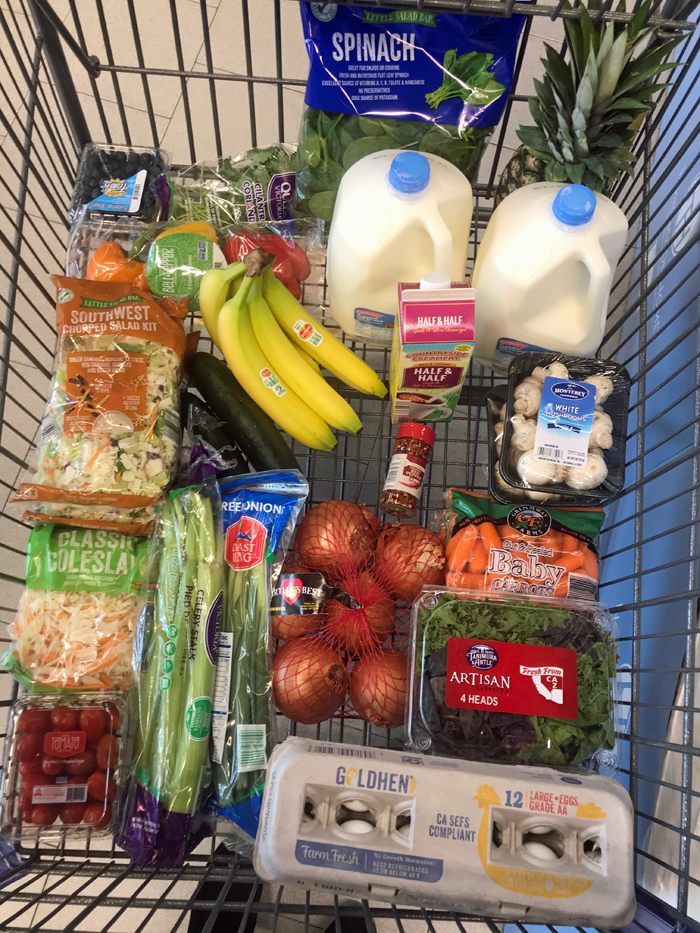 Grocery Shopping
On the way home from Bible Study, I stopped at ALDI for fresh produce, milk, and eggs. I try to time my shopping trips for when I'm already out so I can save gas and time.
I ended up buying blueberries, pineapple, bananas, carrots, celery, tomatoes, bell peppers, cucumbers, lettuce, celery, scallions, coleslaw mix, cilantro, spinach, mushrooms, Southwest Salad mix, crushed red pepper flakes, eggs, half & half, and milk. And yes, they had chicken marked down to $1.19/pound, so I did buy another flat.
I spent $42 which brings my monthly total to $109.
And since someone left their cart in the parking lot, I made 25 cents by bringing their cart back, too. That happened last time I was there as well.
PSA: You do get your quarter back, if you want it. 😉
Lunch
When I got home the kids were wrapping up their lunches. They had Chicken Salad Sandwiches.
I ate leftover Cauliflower Nachos as well as a bag of the Southwest Salad with some leftover chick peas and the last hard cooked egg. All super delicious and it felt good using up containers in the fridge.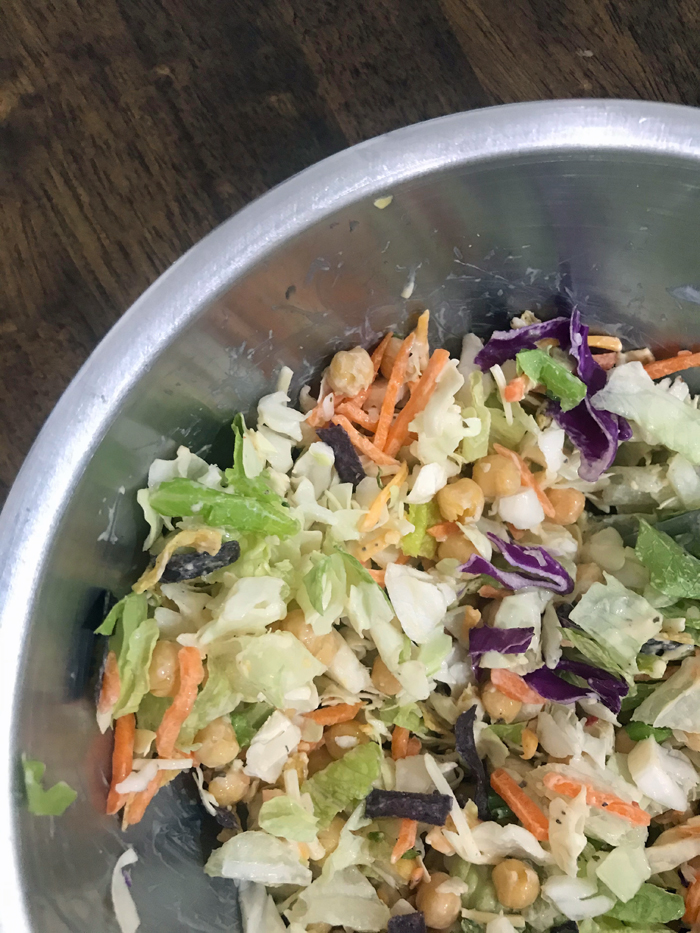 Dinner
Tonight Bryan and I have date night, so it will just be the kids. They're having Instant Pot Rice, Beans, and Chicken in burrito bowls with hot sauce, guacamole, and sour cream. It's one of their favorite meals.
Tomorrow night I will round up all the leftovers of the week and Make Soup from Leftovers.
So far, so good.
How is the Pantry Challenge going at your house?